Blue Hawks keep dominating with thrashing of Troy, 75-0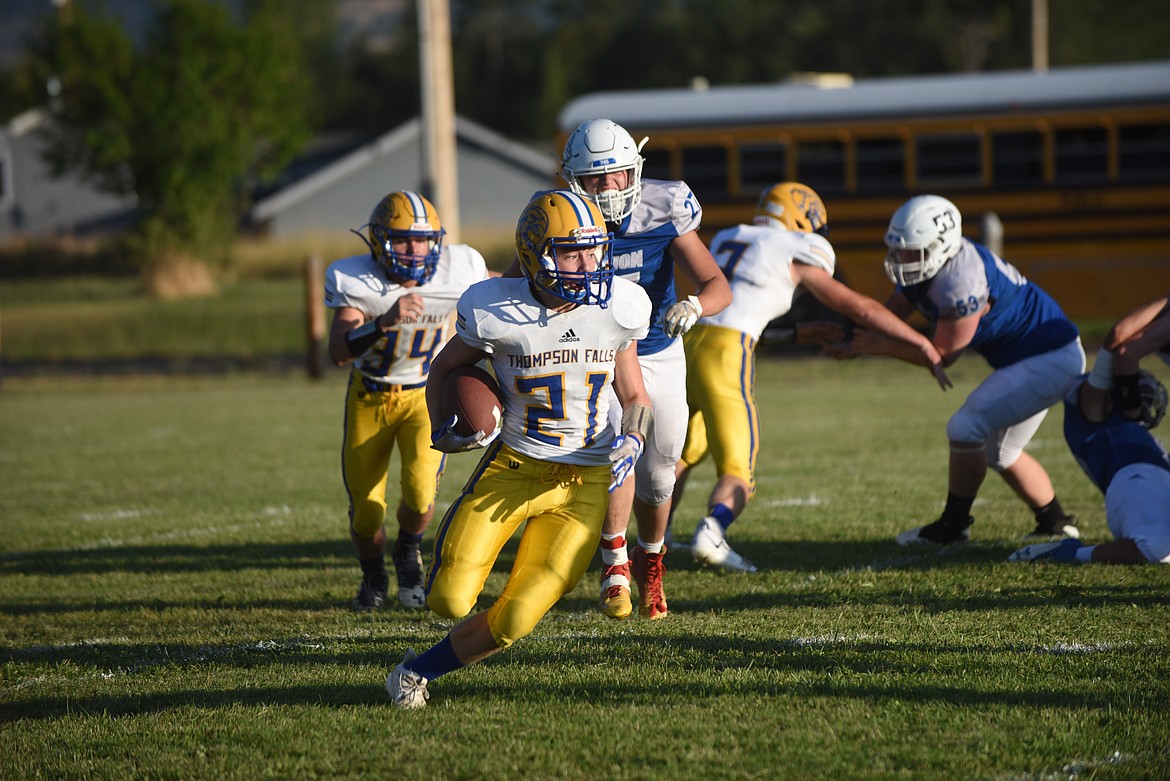 Thompson Falls' Trae Thilmony, shown here against Mission earlier this season, had a standout game for the Blue Hawks last Friday against Troy. Thilmony had three sacks while adding 63 yards rushing and one touchdown as the Blue Hawks won, 75-0. (Scott Shindledecker/Valley Press)
|
October 14, 2020 12:00 AM
Clark Fork Valley Press
The Thompson Falls Blue Hawk football team kept rolling with a 75-0 rout over Troy last Friday.
The Blue Hawks (7-0) rolled to their fifth shutout in six games. They led 42-0 at halftime and 59-0 after three quarters.
The Blue Hawks host Charlo (5-1) in their regular season finale before the playoffs begin. They remain in good position to be a No. 1 or No. 2 seed for the upcoming playoffs in the 8-man Western Conference.
According to information on maxpreps.com, a host of Blue Hawks players had outstanding games for head coach Jared Koskela.
Quarterback Roman Sparks completed all three of his passes for 103 yards and two touchdowns. Sparks ran seven times for 79 yards with one TD while also catching a 7-yard TD from Kade Pardee.
Pardee starred too, running nine times for 105 yards and three touchdowns.
The run game piled up 314 yards. Trae Thilmony had 63 yards on five totes and one score. Nick Tessier and Jordan Fisher each added rushing touchdowns.
Pass catchers Lucas Andersen (2-79, 2 TD) and Derek Andersen (1-24) led the way.
Derek Andersen had a big game on defense as the Blue Hawks spent a good chunk of the game in the Troy backfield.
Andersen had two tackles for loss, one fumble recovery and one interception.
Thilmony had three sacks while Dane Chojnacky had three tackles for loss and Will McPherson had two stops in the backfield.
Elijah Ratliff and Lance Palmer each had interceptions.
Troy fell to 0-7.
---