Superior welcomes a new Little Free Library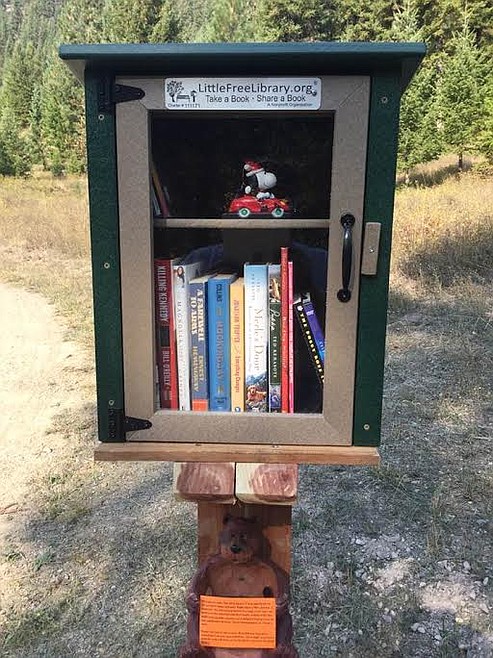 When driving up Deep Creek look for the Arnsan's Marine Corps flag and a U.S. flag that help mark the location of their Little Free Library. When you go to the Little Free Library website you can shop for your very own library box, or even gets plans to build one yourself. The Arnsans went with a library box made out of a composite material that is eco-friendly and uses plastic lumber made out of recycled milk jugs. This box easy to take care of and will withstand all of Montana's harsh seasons. (Photo by Dan Arnsan)
|
October 14, 2020 12:00 AM
By AMY QUINLIVAN
Mineral Independent
If you're fortunate enough to live in the beautiful Deep Creek drainage outside of Superior your daily drive down the country road will include taking in colorful autumn leaves and the local wildlife.
But lately there might be something new that you've noticed. Two miles in, tucked away on the left side of the road is a little green and tan cabinet. Inside are treasured books, and favorite stories once read and now seeking to be shared with friends and neighbors.
This quaint box perched above a friendly hand-carved bear is a Little Free Library recently purchased and established by the Arnsans, Dan and Barbara.
Part of a larger non-profit organization which began in 2009, individuals can buy these kits and register their libraries to join a network of community cultivators and page turners around the world.
"I have always thought it was a cool idea and a unique way of promoting literacy and a love of reading," Dan said.
It's rather fitting that Dan now has a little library of his very own. He recalled, "With my Master's in Library Science, I began my career at Carlsbad City Library, A beach town north of San Diego. I met Barbara there and we got married at the library."
Later in his work he explained, "I began teaching children's literature for Palomar College in the evenings which eventually became the second step in my career. I would advance to be college library director and finished my career founding a new branch library for the college. I retired with the title Professor/Librarian."
Once retirement brought Dan to western Montana, he was the president of the Mineral County Library Board for five years.
With a passion for prose Dan expressed, "I have seen so many success stories made possible by a love of reading. Children who have been read to by their parents have been infected with this reading love bug and will be better students in school. Plus, reading can make long Montana winters more bearable."
Dan had wanted to start this project for some time, but he mentioned the other motivation behind getting it up and running, "We all need a morale boost right now in these crazy times. It has helped my morale."
The Arnsan's Deep Creek Little Free Library officially "opened for business" Sept. 4. For residents in the area who are interested in perusing the box's collections the rules are simple. Dan stated, "The instructions are easy, take a book, leave a book (or CD or DVD)."
But he also emphasized, "I want to make it very clear that this is in no way a substitute for our wonderful Mineral County Public Library and its branches in Superior, Alberton and St. Regis. If anything, it is my little way of promoting our public libraries."
There is even a small sign below the library that reminds borrowers of this and how friendly and helpful the staff are at each of the branches.
"I hope my neighbors and others will stop by and see if there is anything of interest and take it home with them. They don't have to bring a book to exchange immediately. They can do that when they come back. They can even return the book they borrowed," Dan said.
In addition to providing new reading materials the Arnsans are hoping to supply visitors to their little library with a special trinket from time to time. Dan shared, "Like other older folks like Barbara and me, we have lots of stuff and most of it is good quality. We have no desire to sell knickknacks or Christmas ornaments so why not give them away and make people happy."
The Little Free Library organization all started with a man wanting to honor his late mother who was a former school teacher. It has grown to 100,000 little libraries in 100 countries. Missoula has over a dozen little free libraries.
When you join, you receive a plaque with a unique registration number, the Arnsan's number is 111171. At https://littlefreelibrary.org/ go to the map and enter the charter number.
If you live in the area, or you're just out for a drive near Deep Creek keep an eye out for the new library box.
Arnsan said, "There is a small U.S. flag and a Marine Corps flag on the gate, but the box is very visible and ready for readers to enjoy."
---