Horsemen outlast Seeley-Swan in Snow Bowl, 6-0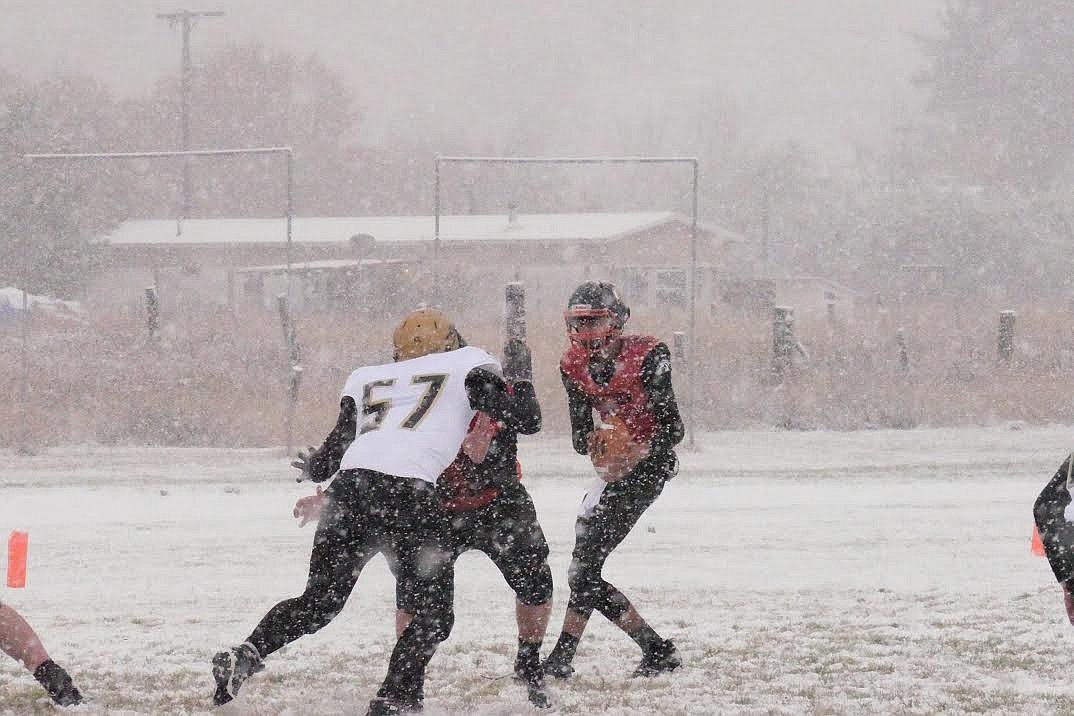 Plains QB Tristan Subatch with the ball looking through the snow for a receiver during Friday's game. Subatch ran for the only score in a 6-0 win to celebrate Senior Night. (Chuck Bandel/Valley Press)
|
October 28, 2020 12:00 AM
By CHUCK BANDEL
Valley Press
It was a game the seniors who were playing in their last regular season high school football contest will remember and re-tell for years to come.
The great 2020 Plains Snow Bowl. The legend will grow and so will the stories that will last a lifetime for those involved.
As the season's first snowfall piled up, two hardy teams who battled to a 0-0 tie entered the final two minutes of regulation play.
Plains senior quarterback Tristan Subatch, who along with his fellow 2021 graduates were honored prior to kickoff during Senior Day ceremonies, fought off blizzard-like conditions from the shotgun formation deep in the pocket.
Blinding snow made visibility all but impossible. But there, amid the white blanket that hours earlier was a green grass football field, Subatch spied a Plains receiver and his black and orange jersey through the falling flakes.
On a day when several inches of snow created a literal skating rink, Subatch let fly with a mighty toss. A Hail Mary throw pierced the blinding flakes of snow and numbing cold.
It was snared by fellow senior Gavin Regalado who had shaken free from a host of Seeley-Swan defenders just long enough to haul in the storm-splitting pigskin. The play was good for 30 yards and a first-and-goal on the Blackhawks 8-yard line.
Time was ticking away, now under one minute to play. On the next play, Subatch, the spindly 6-foot-3-inch QB, darted through the slippery pile of Seeley defenders and across the goal line for six precious points.
It was a small town Miracle on Ice, or in this case snow.
All drama aside, this game, which was seen by just a few very hardy souls on this wintery afternoon, had been a game of back-and-forth punts and offensive frustration.
Throughout the first 46 minutes of play, with the exception of a handful of 20-yard runs by both teams, neither team could break the touchdown barrier.
Punts and penalties reigned supreme. Cold made the ball slippery and hard to grip.
The visitors from Seeley-Swan had their opportunities throughout the first half. Stalled Horsemen drives, hard to hold onto footballs and penalty flags aplenty ruled the day.
Both teams turned the ball over to their opponent almost as often as they somehow managed to successfully punt on the slippery turf.
By halftime, with the referee crew no doubt thinking about how they were going to get to their second game of the day in Charlo with the snowy conditions growing worse by the minute, both teams had nothing to show for their offensive efforts.
Sacks abounded due to unstable footing. Drive after drive stalled like dead-battery pickup trucks.
But in the end, with the dismal prospect of an overtime facing two already cold and drained teams, the home town boys were heroes in the end.
For seniors, it will be a lifelong memory. It will be no less to underclassmen who took part and the parents, friends and family who sat through nearly three hours of snow and chilly temperatures.
Oh yeah, the will say, I was in that game or I was there.
With the win, Plains improved to 3-4 on the year, while Seeley fell to 2-6 as both teams concluded their regular seasons.
This, in the year of the virus, will be one to remember.
---