Doris Marcella Ruthford (Mencel)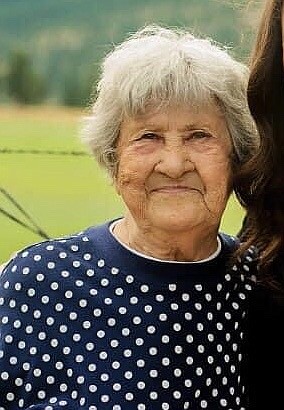 |
September 2, 2020 12:45 PM
Doris Marcella Ruthford (Mencel), 89, died of natural causes Saturday, Aug. 22, 2020, in Superior. She passed away peacefully, surrounded by her loving family.
Doris was born Dec. 7, 1930 to the late Walter and Stella Mencel in Duluth, MN, where she grew up on her family farm. As a young girl she understood the meaning of family and education and walked to and from school daily.
When she was 16 she had her heart flown away by Lt. Col. Robert Ruthford, who later she married in 1950, and had seven beautiful children. Doris was a dutiful military wife and mother, who loved her country and supported her husband as he carried out his service, traveling to various Air Force bases around the country and world.
During her free-time she enjoyed curling while living in Canada and throwing strikes on a bowling team in the lower 48. When her husband retired in 1971 they moved to Mineral County, where they continued to raise their children, grandchildren and great-grandchildren.
Doris was a meticulous homemaker who had unwavering love and devotion for her family and a steeped tradition of Sunday dinners.
A classy woman, who enjoyed a well-manicured lawn and flower gardens that could rival Sunset Magazine! She was the Martha Stewart of Thanksgiving dinners and Christmas's that Decked the Halls—it all had to be perfect and absolutely beautiful! Her home was always open for morning coffee or evening cocktails where her voice filled the room as she shared cherished stories and memories for generations to come.
She was a devout Catholic who brought her children up in the Catholic Church and she dedicated much of her free time volunteering each summer flipping hamburgers at the Mineral County Fair and cleaning the St Mary's Queen of Heaven Church.
Doris was one of a kind; all those who met her fell in love instantly and she always made time at Castle's to say a friendly hello or to catch up on the latest town gossip; often times putting her hand up to dismiss anything she didn't agree with.
Her warm smile, robust personality and contagious giggle will never be forgotten.
Doris is preceded in death by her mother, father, brothers William and Bob Mencel, and sisters Marion Erickson (Mencel) and Lucille VanGuilder (Mencel). She is survived by her sister Shirley Tollers (Mencel), brothers Lawrence and George Mencel; sons Tom Ruthford (Jeanice), Gary Ruthford, Joe Ruthford (Katie) and Paul Ruthford (Tamra); daughters Peggy Stevens (Charlie), Diana Campbell (David) and Minty Ruthford; 24 grandchildren; 45 great-grandchildren and 2 great-great-grandchildren.
Doris's steadfast love for her family will forever remain in our hearts. So take a moment to sit on your porch, watch the beautiful Montana sunset and lift your glass of Sutter Home White Merlot to cheers "Love ya Babes."
There will be private services for family members only due to COVID-19. In lieu of
flowers and cards, donations can be made to: Tough Enough to Wear Pink MT, 900 N. Orange Street Unit 106, Missoula, MT 59802, as Doris was a proud breast cancer survivor.
---