Daines effort keeps program alive to help rural firefighters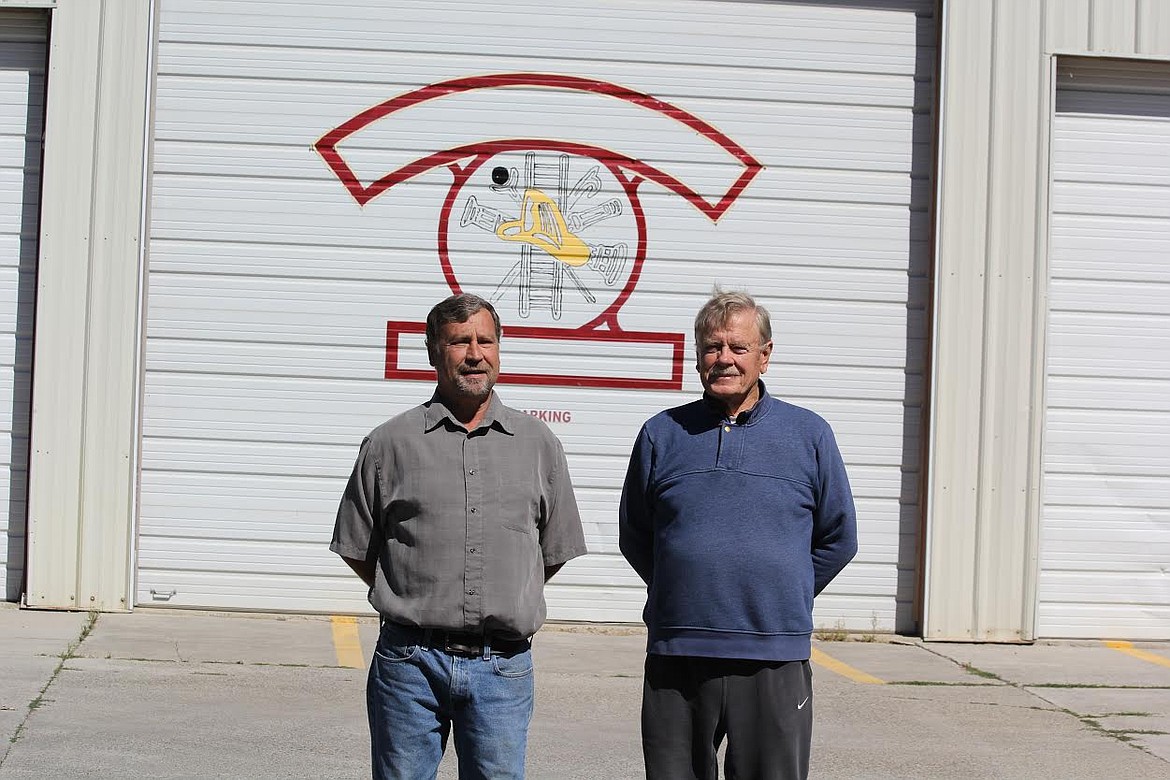 From left, are West End Volunteer Fire Department members Frank Magee and Bruce Charles. The two have worked to keep the department's gear and personnel up to par. (Monte Turner/Mineral Independent)
|
September 9, 2020 12:00 AM
By MONTE TURNER
Mineral Independent
When Bruce Charles of De Borgia took over as the West End Volunteer Fire Chief in 2005, the department had a 1962 fire engine in a tiny red building.
Charles started talking with other fire chiefs to see if they had anything that they weren't using that they would be willing to donate.
Jerry Dockter, St. Regis Volunteer Fire Chief, told him about the Assistance to Firefighters Grant which Charles jumped on and soon built up the department with two new fire trucks and all related equipment.
The grant became the honeypot for Charles and the West End VFD through 2012 when Charles left.
"Over the course of those seven years, we accumulated over $1 million in grant funding which brought this department and community equipment and training that we haven't had since," he said.
Enter Frank Magee, who has taken over as the chairman of the board for the fire department this year. He realizes they need some help with recruitment of new volunteer firefighters being the No. 1 priority.
Magee has pulled Charles out of his grant-writing-retirement-camp for some advice. Under the AFG umbrella is the Staffing for Adequate Fire and Emergency Response grant (SAFER) which was created to provide funding directly to fire departments to help them increase the number of trained "front line" firefighters in their communities.
The AFG is alive due in part because of Sen. Steve Daines as he was adamant to keep this going when it was scheduled to sunset. The U.S. Department of Homeland Security's AFG will be directing $197,131 to the West End Volunteer Fire District in De Borgia.
"This is about ensuring our firefighters in De Borgia have the critical resources needed to keep our communities safe during fire season," Daines said. "I will continue working to get our fire departments and brave firefighters the help they need."
Magee spent over 150 hours researching and writing the grant that was awarded to them at the end of August.
"One of the most important parts of this grant is the reimbursement to the firefighters," he said. "They will receive $25 per training session we hold which will cover their gas and clothes they mess up. $25 per call they assist in. If they are willing to go to a training session like Firefighting I or Firefighter II for 10 days at Montana State University or any other training, everything is covered. It will not be a detriment to their own pocket."
The big picture is that this department is going to have an ample supply of fully trained and physically fit firefighters with enough participating on every call while providing service to those in need during critical times.
For anyone who is interested in becoming involved with this reenergized fire department, contact frankmagee53@gmail.com or 208- 651-7700.
---