Clark Fork volleyball sweeps St. Regis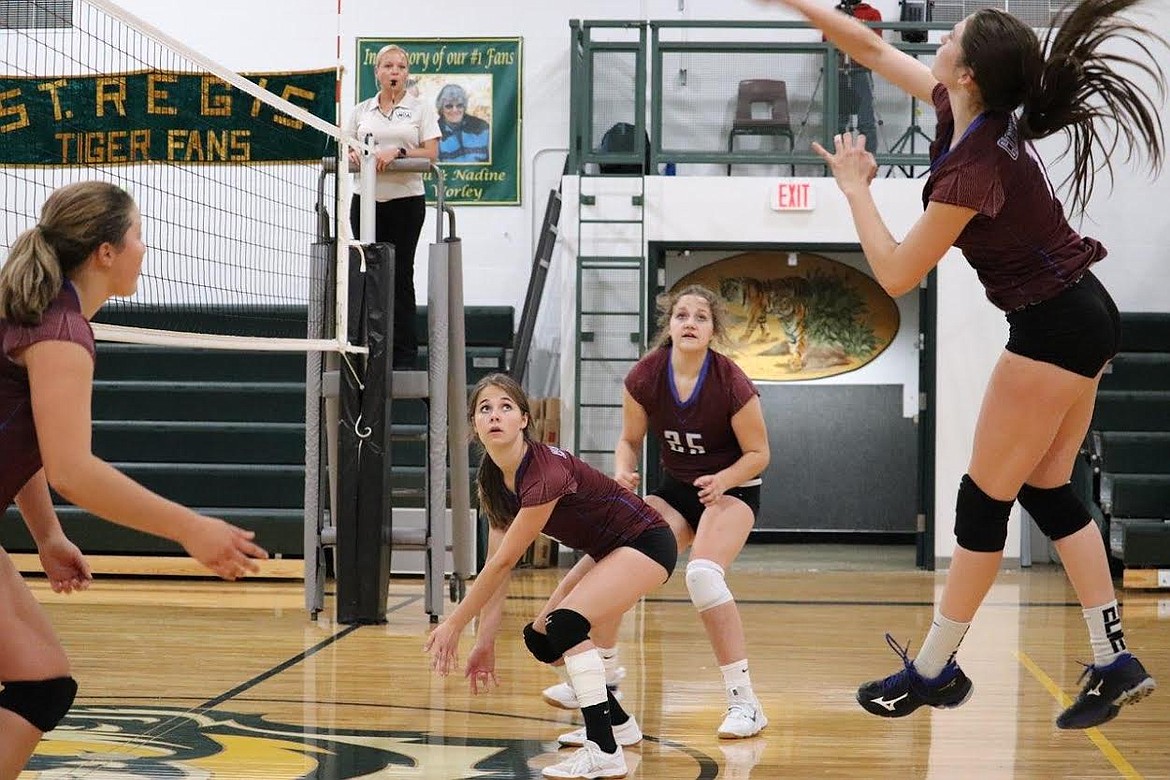 Clark Fork volleyball player Sorren Reese returns a serve against St. Regis last week. The Lady Mountain Cats won in three. (Photo by Kami Millender)
|
September 16, 2020 12:00 AM
By CHUCK BANDEL
Mineral Independent
In what turned out to be a fast-moving volleyball match, I-90 rivals Clark Fork (Superior/Alberton) and St. Regis faced off on the Tigers home court Thursday night with Clark Fork sweeping the host team, 3-0.
The game lasted a little more than one hour as the visiting Lady Mountain Cats took control early and never looked back.
After a hard-fought series of serve and volleys, Clark Fork used superior digging and returns to blow out to a 19-7 lead. St. Regis was unable to overcome that early deficit and fell 25-15 in game one.
It was more of the same in game two as the Mountain Cats built a sizeable early lead, then held off a furious St. Regis rally as they picked up their return game. With the score tied at 12, Clark Fork went on a tear that upped the score to 19-13.
They held St. Regis scoreless the rest of the way in recording a 25-13 win and a commanding 2-0 lead in the match.
St. Regis, as they had done a few days earlier against Plains, refused to give up and battled Clark Fork throughout game three. There were four ties and lead changes in the first half of game three as the Lady Tigers continued to battle despite their precarious 2-0 match deficit.
In the end, Clark Fork was able to hold off the comeback bid and pulled ahead for what would be a 25-18 win and a 3-0 sweep of the match.
Next up for Clark Fork is a trip to Plains this Thursday.
St. Regis hosts Mullan, Idaho tonight (Tuesday), then travels to Hot Springs this Thursday for a game against the unbeaten Lady Savage Heat.
---