Mask's big night keys Mountain Cat win over Mission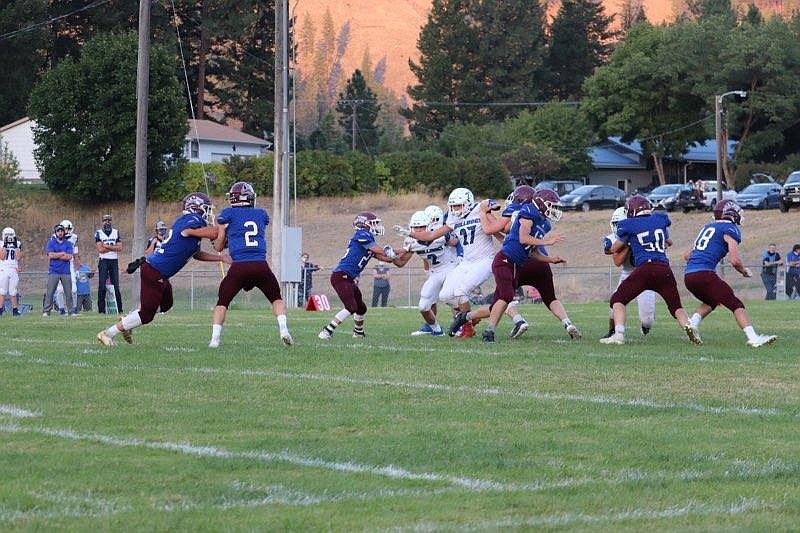 Clark Fork quarterback Bryan Mask prepares to throw a pass in Friday's game. Mask had a huge night, throwing for eight touchdowns and running for two scores. (Kami Millender photo)
|
September 16, 2020 12:00 AM
By CHUCK BANDEL
Mineral Independent
What do these statements have in common?
Einstein was a pretty smart guy. Navy Seals are pretty tough guys. Bryan Mask had a pretty good night.
Answer: they are all major understatements.
Mask, Clark Fork's senior quarterback, threw for eight touchdowns, ran for two scores and intercepted a pass on defense in leading the Mountain Cats to a 74-68 Homecoming win over the Mission High Bulldogs Friday night in Superior.
And for good measure, he was named Homecoming King during halftime ceremonies.
Clark Fork, coming off a rare and disappointing loss to Thompson Falls the week before, ended a one-game scoreless streak in a huge way, beginning with Mask's 34-yard scoring strike to sophomore wide receiver Orion Plakke in the opening minutes of the first quarter.
He followed that a short time later with a 62-yard TD throw to senior Jake Calloway, giving the Mountain Cats a quick 14-0 lead. Mission, from St. Ignatius, got on the scoreboard for the first time on a short two-yard pass to cut that lead in half.
But Mask was just getting warmed up, this time finding tight end Danner Haskins with a 12-yard scoring strike. Mission added another short TD toss before the end of the opening quarter, leaving Clark Fork with a 20-14 advantage.
The second quarter opened with another Mask to Plakke aerial score, this one from 19 yards out. Mission then marched down field and capped the drive with two-yard TD run.
No problem for the Mountain Cats on this night. Mask hooked up with Plakke yet again, a 38-yard end zone penetrating pass, followed thereafter by another touchdown throw to Calloway. Mission would score again on the ensuing kickoff, a 60-yard TD return for six.
Clark Fork responded with yet another Mask to Calloway touchdown connection to end the first half with the Mountain Cats holding on to a 46-40 lead.
The Cats continued their scoring onslaught in the second half with Mask running for a pair of touchdowns in the third quarter. However, the visiting Bulldogs stayed in the game with two scores of their own before the end of the third quarter.
Heading into the final 12 minutes of play, with Clark Fork still ahead by six, 60-54, Mask showed he was not done finding end zone paydirt.
He threw his eighth TD pass of the game in early going of the fourth quarter, when Plakke hauled in another one, this time from 32 yards out. Mission answered that score with another short ground score before senior Aaron Waddle capped the Cats offensive show as he ran in from five yards away. A 12-yard passing touchdown by Mission capped the evening's offensive display.
For the game, Mask completed 33 of 49 passes for a whopping 465 yards. Plakke hauled in four of the eight Mask touchdown throws while Calloway had three. Plakke had a total of 242 yards receiving on 15 catches and Calloway hauled in six throws for a total of 158 yards.
Joining Mask as Homecoming royalty was Bailey Milender.
The win upped the Mountain Cats season record to 2-1 while Mission fell to 0-3 on the year.
Clark Fork continues its 2020 campaign with a road game against Flint Creek this Friday.

---