St. Regis artist makes handmade jewelry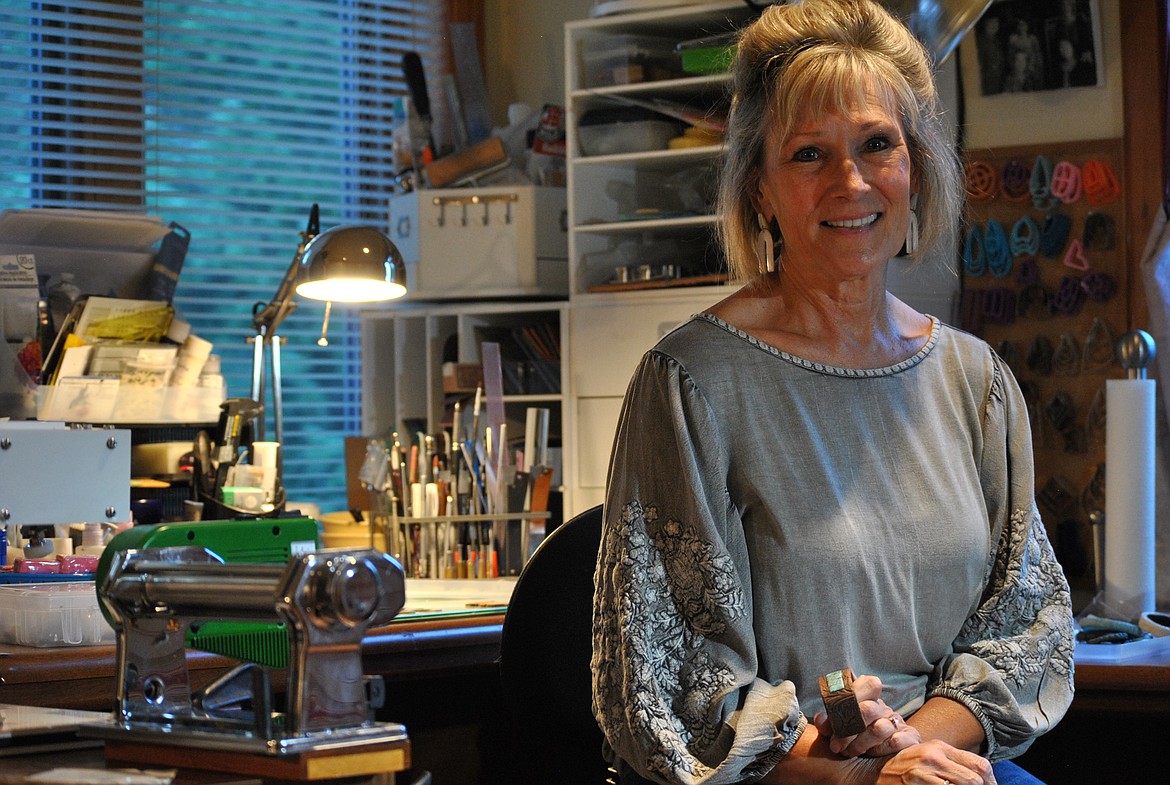 Cathy Hansen of St. Regis, displays one of her favorite bracelet cuffs that she creates out of her home jewelry making workshop. The X Bar 4 Studio is Hansen's personal business that features polymer clay jewelry pieces crafted with techniques she has diligently mastered over the years. (Amy Quinlivan/Mineral Independent)
|
September 16, 2020 12:10 AM
By AMY QUINLIVAN
Mineral Independent
Following a rewarding career working in various medical laboratories, St. Regis resident Cathy Hansen retired and discovered her niche, this time it's in her home workshop making unique handmade jewelry.
Now with her own personal business, the X Bar 4 Studio produces one of a kind jewelry pieces blending Western flare and Native American style creatively together.
"I have always had the need for creative ventures and come from a long line of creative women," described Hansen.
Hansen's grandmother taught her hand embroidery, and her own mother was an elaborate seamstress, sewing clothes for her and her sister, as well as quilts and other crafts. Her sister also inherited the crafty gene and is a skilled sewer and basket maker. Before Hansen learned the medium of polymer clay which later transformed into her jewelry making, she and her sister ran a business making handwoven clothes with a 60-inch floor loom.
She said, "However, it isn't exactly a very portable hobby and eventually as my passion for clay developed, I sold my loom and yarn to focus on clay."
Hansen's love for clay artistry grew while she still worked part time in hospital labs, running tests and crossmatching blood samples. But her passion for jewelry goes even further back. Hansen shared, "My love for jewelry really started as a teenager and as a college student, about the time most girls start developing their own sense of style and finding their vibe."
After college Hansen moved from South Dakota to the Wyoming. There she met and married Layne, her husband of 37 years. Together they have a daughter and a son, and two grandsons. But while still newly married and living down in Wyoming Hansen also found her another flame.
"When I lived in Cody. I came to love the western lifestyle as well as the people that encompassed it. That included the beautiful Native American silver and turquoise jewelry and also the gorgeous beadwork. And an appreciation of tooled leather as well."
Hansen's interest in jewelry design blossomed over the years, and over time she continued to develop her clay working talents. But early on there were few learning resources to follow or examples of what to use the clay for.
Hansen explained, "As more and more artisans started using polymer clay as an art medium, they were constantly expanding the possibilities of what could be done with it. More and more tutorials became available online and I learned many others techniques."
Soon she realized jewelry was the best format for honing her skills.
"Jewelry was a small and easy format to test these techniques. I kept making, and making and would be amazed at what was possible. I'd show Layne and as he's looking at the mountains of jewelry I was producing, he'd say "that's really cool, but what are you going to do with all this stuff?" recalled Hansen.
Slowly she started selling her jewelry to the girls at work and at small local craft fairs. She said,
"I knew, eventually, I'd like to have a business but I hadn't really found my voice. I was just putting my spin on someone else's idea."
Then she had an innovative breakthrough. Hansen expressed, "I loved western and Native American jewelry, but couldn't afford the big bold pieces I loved and coveted. That was my answer. I'd use the jewelry and artists I loved as inspiration to make my version in a different medium."
In 2015 Hansen pursued her vision and slowly established the X Bar 4 Studio. The name Hansen chose to use for her jewelry making business bares meaningful family and Montana significance. She stated, "My father-in-law Harland Rockwell Hansen registered the X bar 4 brand in Cascade County in the 1940s. It was used on a cattle ranch near Raynesford. After he was no longer ranching, he kept the brand registered. We inherited it, and it will be passed on to our son when we're gone. I am so very proud of that brand." She added, "To me that brand represents hard work, honesty and integrity and when I had the dream of creating a western vibe jewelry business, it only seemed right to honor it with our brand."
With much family pride behind her work Hansen dedicates several hours each week to the creation of her jewelry. Hansen figured, "I usually work two to six hours each day in my studio. Sometimes fulfilling orders, sometimes building up inventory for shows, and sometimes just experimenting and playing with new ideas or techniques."
Whether she's making a pair of earrings, a necklace, or bracelet, each accessory involves many steps. She explained, "It's hard to say how much time goes into most pieces, some surface techniques are more time consuming. And things get created in layers and get fired multiple times so I work on several things at a time."
Her studio houses drawers full of clay bricks, sculpting tools, paint brushes, rolling pins, you name it. "This here," Hansen said holding a large piece of threaded metal, "I got from the hardware store, I needed something that could make a grooved imprint."
Once the decorative part is finished Hansen gets to use some power tools. A bit of sanding, polishing, as well as drilling holes for and attaching the findings. Lastly, she prepares the cards and material the jewelry pieces will be displayed from. After snapping a picture of the jewelry in her makeshift photo booth, she uploads her prized pieces to her website to sell them.
But even a long day in her studio doesn't drain Hansen. "Really, it feeds my soul. I can't wait to work on the next thing! Polymer clay is such a versatile medium it perpetually captures my interest. And has the chameleon like ability to mimic many things, leather, semi-precious stones."
For example, Hansen remembers. "I actually had a jewelry dealer in Arizona tell me one time where the turquoise faux stone in the necklace I was wearing came from. He didn't believe it when I told him it wasn't turquoise and I'd made it from clay!"
Apart from the artistic avenue, the only part Hansen struggles with is actually having to manage the business part of her venture. She admitted, "I'm a bit of an introvert. And frankly, all I really want to do is stay in my studio and just make pretty things!"
In a typical year Hansen tries to make it four or five craft and artisan shows. One of her favorites is the Made in Montana wholesale show in Helena. She hopes sometime in the future to attend shows outside of the state and other western related wholesale shows as well. A goal of Hansen's she said, "It would be awesome to do Cowboy Christmas at the National Finals Rodeo!"
In the mean time she's in her studio adding new pieces to her collection, like bolo ties and also some barrettes and ponytail slides. Women who don't wear much jewelry often request these items from Hansen. She said, "It takes a while to figure out the engineering of it and make sure they are sturdy and function as they are supposed to."
For the remainder of the year it's uncertain how many craft fairs and show's Hansen will get to attend. And usually the fall, leading up to Christmas is her busiest season crafting new pieces to sell as gifts. To explore Hansen's array of jewelry pieces, visit her website at https://xbar4studio.com/.
Hansen affirmed, "The spring and summer are spent experimenting and developing new things." So, in the last few weeks of summer heat, Hansen will relish the coolness of her studio and craft with her hands and let the creative juices flow, just like the Clark Fork River does just outside her window.
Recent Headlines
---