Thompson Falls' Detlaff a double winner at Bigfork Invite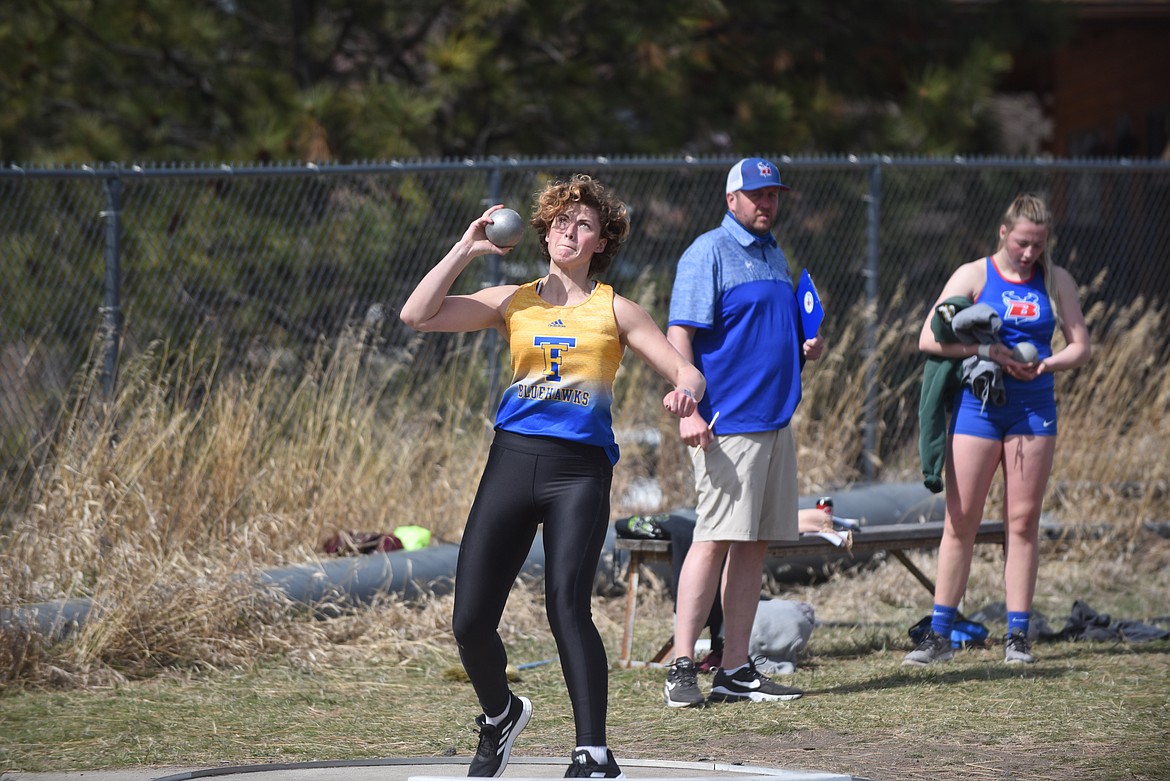 Thompson Falls senior Jody Detlaff was a double winner at the Bigfork Invitational Saturday. (Scott Shindledecker/Valley Press)
by
SCOTT SHINDLEDECKER
Clark Fork Valley Press/Mineral Independent
|
April 7, 2021 12:00 AM
After virtually two years away from varsity competition, track and field teams from Western Montana competed Saturday at the Bigfork Invitational.
The Whitefish girls dominated to claim first place in the team standings with 165 points while host Bigfork was the runner-up with 92.
Among Sanders County schools, Thompson Falls had a solid showing with 43 points, good for fourth. Plains was 11th with eight points.
The Lady Hawks had two champions.
One was senior Jody Detlaff, who won the shot put with a winning attempt of 30 feet, 9 inches. Detlaff completed a superb day with a third in the high jump (4-10) and a fourth in the discus (81-7).
The other champion was sophomore Chesney Lowe, who won the javelin with a toss of 109 feet, 2 inches. Lowe was fifth in the triple jump.
Their 4x400 relay, which included Chesney Lowe, Faith Palmer, Josey Neesvig and Hattie Neesvig was fifth.
In the 400 run, freshman Faith Palmer was 12th and Josey Neesvig was 14th.
Freshman Hattie Neesvig had a pretty good day with three top 10 finishes.
She was a runner-up in the triple jump at 29 feet, 11 1/2 inches, sixth in the high jump at 4-6 and ninth in the long jump at 12-11.
For the Trotters, their top performers included:
Freshman Amy Hill was second in the 100-meter hurdles in 17.51 seconds. Hill placed 15th in the 100 dash and was on the 4x100 relay, which was seventh.
Freshman Jaelyn Carr was seventh in the 400 run and on the 4x100 relay. Joining Hill and Carr on the relay were Peyton Wasson and Annika Rivinius.
Junior Adelle Ercanbrack was eighth in the 400 and 800 runs as well as the triple jump.
Freshman Wasson was 11th in the 400.
For Hot Springs, sophomore Josie Uski was ninth in the 400 run and 12th in the 100 hurdles.
Freshman Lauryn Aldridge was 11th in the javelin with a 74-foot toss. She high jumped four feet, four inches to claim seventh and also placed 15th in the long jump.
Complete results may be found at https://www.athletic.net/TrackAndField/meet/417895/results.
Plains and Hot Springs are back in action Friday at the Dave Tripp meet in Polson. Thompson Falls will be at the Frenchtown Invitational Saturday.
---