Clark Fork track teams perform well at Dilly Bar Invite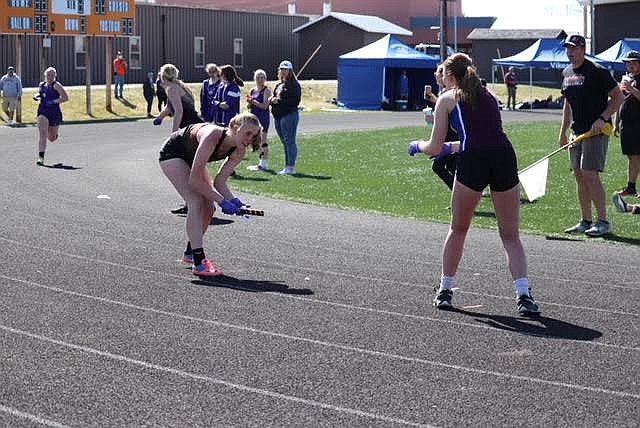 A Clark Fork relay team competes in a fun event where competitors wore masks and gloves in response to the coronavirus pandemic. (Photo courtesy Kami Milender)
by
Mineral Independent
|
April 21, 2021 12:00 AM
The Clark Fork Mountain Cats track and field teams competed at the Ronan Dilly Bar Invitational Saturday.
The meet included bigger schools such as Polson and Bigfork as well as Mission Valley standouts Ronan, Charlo and Mission.
Part of the event was a fun event where competitors wore gloves and masks during relay races in response to the coronavirus pandemic.
The Mountain Cats had several top 10 performances.
The Lady Cats had a good day with two winners and five other finishers in the top three.
Thrower Cassie Green won the shot put at 31 feet, 7 inches. She was third in the discus at 97-2.
Sorren Reese won the javelin with a throw of 103 feet, 10 inches and took second in the 1,600 run.
Isabella Pereira was second in the long jump at 14 feet, 10 3/4 inches and she added a third in the 100 dash.
Bailey Milender collected two top 10 finishes, fifth in the 100 hurdles and seventh in the javelin.
Also, Payton Milender was fourth in the pole vault, Molly Patko was fifth in the long jump, Lynette Nix was seventh in the 1,600 run and Isabelle Erker was eighth in the javelin.
Akasha Azure was ninth in the 3,200 run and Bailey Calloway was 10th in the 200 dash.
The relay teams placed second in the 4x400 and fourth in the 4x100.
For the boys, Decker Milender placed in the top 10 three times, including seventh in the 800 run, eighth in the triple jump and ninth in the pole vault.
Chandon Vulles also was a three-time top 10 placer. He was second in the javelin with a throw of 138 feet, 4 inches. Vulles was fifth in the discus and seventh in the shot put.
Carson Callison collected two top 10s with a ninth in the 100 dash and a seventh in the long jump.
Charlie Anderson was sixth in the shot put and seventh in the discus. Seth Richards was seventh in the high jump and ninth in the javelin.
Also, Wyatt Hayworth was second in the shot put and Jaxson Green was 10th in the discus.
---