Little Ninja Warrior classes fun for all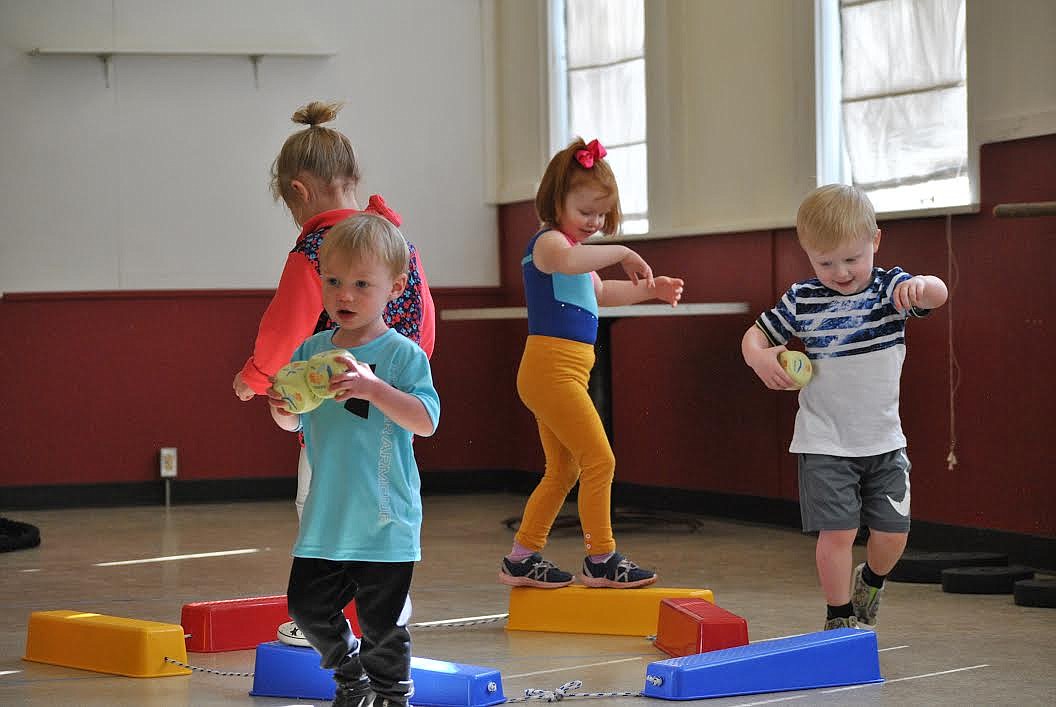 Avery Darlow, Noah Stenberg, and Violet Moree walk in a circle around the colorful balance board blocks. Lee Avery (front left) is busy gathering up foam exercise dice that the kids toss around the studio and enjoy gathering at the Little Ninja Warrior classes in Superior. (Amy Quinlivan/Mineral Independent)
by
AMY QUINLIVAN
Mineral Independent
|
April 28, 2021 12:00 AM
Running, jumping, climbing. Tugging, sliding, throwing.
It's a little bit chaos and a whole lot of fun when you're a toddler or preschooler taking part in the new Little Ninja Warrior classes at the old Superior Schoolhouse.
For the past month it's been a system of trial and error for Jennifer Dutson, owner of Good Vibe Tribe Yoga and Training that has taken up shop in the old Whipped Up Café space.
She has hosted kids camps during spring break, began tap dance and ballet lessons, while also putting on the Ninja Warrior type classes for little tots and bigger kids, too.
Dutson exclaimed to some new attendees last week, "It's an hour-long class of some structured activities, mixed in with lots of freedom to just let them explore what they like."
The large open room in the old school house is the perfect location to burn off some energy. Various tasks and stations await the children all around the room, like bouncing on a trampoline, crawling through a tunnel, or scaling a wooden plyo box.
As they freely explore, Dutson encourages each kiddo to try something new, or suggests a group element to the class. The oversized playroom is an ideal spot to foster physical activity while promoting sharing, and important social interactions.
For the parents if they choose to stay and observe all the action, it also creates an atmosphere for Mom's and Dad's to make new friends. It's really a win-win for everyone.
Bailey Moree is a mom from Superior, two of her daughters attend Dutson classes during the week.
She said, "We were so excited when we found out about the ninja classes! We were actually looking for something similar in Missoula but immediately jumped on this opportunity to do classes that were located within our community. Jennifer has such a great attitude, Violet and Rose both connected with her quickly. Violet really enjoys her class; she sleeps so well on Tuesday nights."
Although Dutson's weeks are now full of classes bustling with eager children wanting to learn and play it's been a long road to get here.
Dutson has lived in Superior off and on since 1996, and attended part of high school here but graduated in Astoria, Oregon.
In the last few years she explained, "I most recently lived in Twin Falls, Idaho, but completed my yoga training in Billings last year. Prior to that I owned a daycare in Williston, North Dakota, for a few years. I've lived everywhere and anywhere besides Montana but the more I've grown up, the more I've missed the mountains, the rivers, and the way everyone waves when you're driving down the road."
Dutson wears many different hats, as a mom, and manager at Durango's. On top of that she has is an International Sports Science Association certified personal trainer, a certified health coach, a certified transformation specialist, a certified body building coach, and she is also finishing her homework to earn her 500-hour yoga certification.
While she's always been an active person she shared, "I didn't become especially interested in learning more until I lost 120 pounds in 2019."
So, she has experienced quite the transformation herself.
"Good Vibe Tribe has been an idea of mine for a few years. I love helping others with their fitness journey, especially beginners. The kids' classes were not intended to be my focus but are a great starting point for a studio here because there is such a need for kid's activities here," said Dutson.
Right now, Good Vibe Tribe offers basic ballet class, as a starting point to inspire girls to learn ballet. She stated, "I would like to find a more advanced teacher so we can expand to a higher-level class. We have learned the most basic positions and movements so far and will be practicing those in various "Princess Ballet" classes for the first few months."
The Ninja Warrior 2-to-4-year-old class is a less structured active play time for the kids to attempt age-appropriate obstacles.
She described, "There are two 10-minute structured play times where we attempt a game to try to incorporate fitness and learning to follow instructions. The five and up, Ninja Warrior class is more structured with a mixture of HIIT activities and obstacle course type stations."
As a parent it's been very rewarding for Moree to see her daughters try Dutson's classes.
"Rose does the older class on Wednesdays and I love how it pushes her comfort zone. This last week they did monkey bars and I know the height bothered her, but it is all she has talked about all week and how she can't wait to try again next time."
Along with the weekly classes Dutson has been hosting Kids Kamp events which feature activities like rock painting, tie dye parties, and basic science projects. She said, "This is just a social event to give the kids something to look forward to and to give parents a break."
This summer she plans on hosting other events like vendor fairs, community garage sales, Moms Night Out craft nights, and also kids parties with an evening movie or craft to give parents a chance to have a date night or just relax while entertaining the kids.
Dutson hopes to include adult programs like yoga, and High intensity interval training, while continuing the children's classes.
She said, "As I gather more equipment and we learn by trial and error what the kids like or aren't interested in, the classes will evolve into more. The kids seem to be having fun and that is what matters most to me is mixing fitness and socialization to make fitness FUN and inspire them to be active."
Her new dance and exercise studio, working full time and recently accepting the manager position at Durango's has kept Dutson extremely busy.
She remarked, "My work week typically runs Monday through Saturday, with opening shifts at the restaurant and evening classes at the studio. My daughter comes to classes and we try to make the most of our time together playing Barbies or just cleaning the house together. When I get mom guilt, I remind myself that I am working this much to provide a better future for her."
For parents interested in getting their kids signed up for any of Dutson classes, or for any future adults' programs, they can check out the Good Vibe Tribe Yoga and Training Facebook page for information and a current schedule.
---