Montana communities come together against vandalism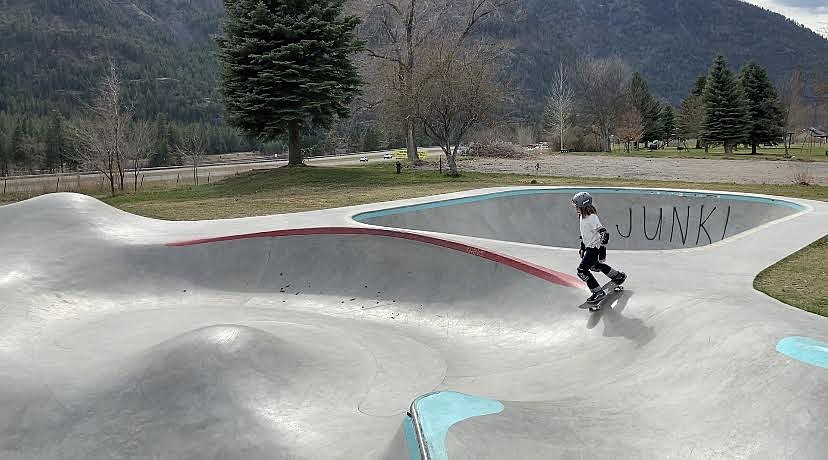 Anderson Schager rides his skateboard at the Alberton skate park. The park was recently vandalized with spray paint, but with the help of his dad, Jason, it will soon be cleaned. (Monte Turner/Mineral Independent)
by
MONTE TURNER
Mineral Independent
|
April 28, 2021 12:00 AM
It is heart breaking when vandalism occurs anywhere, but on a small towns' pride-and-joy, hackles raise up pretty quickly.
Yet Alberton is taking it in stride as they remove the spray paint at the skatepark that is one of their jewels with it being popular for kids here and even from Missoula.
As a matter of fact, it was a Missoulian, Jason Schager and his son Anderson, who discovered it. He and his family drive out every couple of weeks to enjoy this unique skatepark and spend some time away from city life.
"During the pandemic Anders was finishing up with his three-year chemo regimen along with other medications used to decrease his immune system to treat a very rare autoimmune disorder," Jason said. "I love skateboarding so I thought this would be a perfect time to teach him, his twin sister Bergen, and their younger brother Leif on how to skateboard. We primarily chose Alberton due to proximity to Missoula, smaller crowds, which has been perfect, but also because the park was made by one of my favorite park builders, Evergreen Skate Parks.
"Skateboarding and this park provided so much fun and family time during the pandemic. I must say, it was the silver lining during the pandemic for us!"
Jason was kind enough to provide PEAK (Promoting Excellence in Alberton-area Kids) with information about a company who can remove and clean up the damaged area, and he even offered to cover the costs (about $150) which was extremely generous but the skatepark has a maintenance fund.
However, this maintenance fund is reserved to make repairs over the years, and graffiti is not a repair.
"When the skatepark first opened in 2019, I spoke with Catherine and Billy Coulon from Evergreen Skateparks (the company that designed and help construct the park) and with Jeff Ament (bassist for Pearl Jam and generous donor) about the potential for graffiti," said Jaime Odell, PEAK Vice President. "They all said that spray painting (tagging) the skatepark can ruin the finish and the experience."
That is why Pro Wash of Montana was immediately notified and will have this taken care of lickity-split!
The owner, Chad Harberd, and his son are two more Missoulians who use the Alberton skatepark and are doing this for a greatly reduced price. The chemicals used to remove it can alter the finish of the concrete and diminish the quality of the ride by making those areas more slippery, which the Harberd boys know and feel they can get it lifted fairly easy with hot water and minimal or no use of chemicals.
Odell shares, "Our town has so much pride and excitement from our community's youth, their families, and other community members for this skatepark, and given the tons of effort it took from the community to help get this built, this is a huge disappointment. So much love and hard work went into this project by so many people; it's really hard to see someone disrespect all that effort."
The pride is obvious as the skate park is well respected when you witness adults and kids mentoring others about the rules to keep it in good shape (no pegs on bikes), sharing the space, providing skate tips to skating newcomers, and the enjoyment people express who like to watch the progression of skills or those who already have it down.
At this point there are no suspects of the nuisance crime, but if anyone has information and would care to remain anonymous call 406-848-4252 or go to thepeakfoundation@gmail.com.
Because of this speedbump, and in the spirit of Alberton, it was decided an additional fund will be set up for donations, with hopes it will not be needed for another tagging.
The PEAK website can help you with your kind offer.
"It took three years to raise funds for it and we'd love to see people enjoy it and respect it for the next 50," Odell expressed.
On a similar note, regarding outdoor activity that involves 'wheels and wood' the City of Superior is $6,500 away from having met their goal of building their own skatepark.
Brenda L. Schneider, Town Clerk/Treasurer has spent a few years searching and writing grants and looking for other revenue streams of fundraising.
Others have quietly been fundraising also but there is no organization helping the town find the money. This began when it was decided to close the public swimming pool, and this is where the skatepark will be built.
If a new swimming pool is built it will be located in the Eva Horning Park east of the tennis court.
---