Superior native writes book on personal health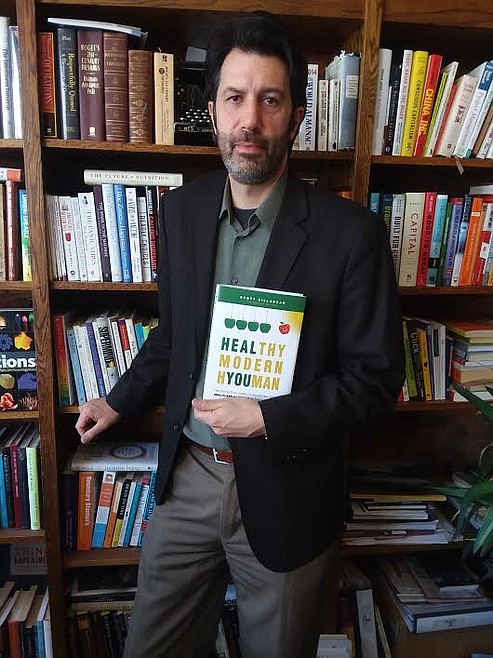 Superior native Scott Billadeau displays his new book, 'Healthy Modern Hyouman, The Definitive Guide to Achieving Overall Health And Happiness in the 21st Century' is being released Tuesday, May 4 with a book signing at the Stave & Hoop from 4-6 p.m. Monday, May 3. (Monte Turner/Mineral Independent)
by
MONTE TURNER
Mineral Independent
|
April 28, 2021 12:00 AM
Not understanding early childhood development, as most parents don't with their first born, Scott and Angela Billadeau suspected that the behavior of their son wasn't typical.
He was playing the guitar and piano, a lot, as well as using Scott's computer doing fairly intricate 'stuff' when he was 15-18 months old, but his vocabulary was far behind and then physical ailments developed much like epileptic seizures.
The pediatricians and doctors were unsure of what was the cause but soon after he turned 3, the diagnosis of autism became official.
Prior to even being married, Scott had started strong research in health and nutrition to combat his migraine headaches as conventional doctors could not seem to pinpoint the reason, but it was a naturopath that opened his eyes when she explained the difference between a carbohydrate and sugar.
"I reduced my intake of both, and the migraines disappeared", Billadeau said.
So, his feet were already wet from his personal research and now it would shift to understanding his son's condition.
"It wasn't surprising when I saw this as another tapestry of private and public interest. Very convoluted and frustrating, quite frankly. It was very nebulous and didn't make sense because there wasn't meaningful information on autism research or why this is happening; why is it now becoming an epidemic of its own at an exponential rate and why is no one doing anything or caring about it?

"And why isn't someone trying to do something about the cause of it? And why does everyone claim that there is no cause? That the causes are unknown and that there is no treatment. Nothing made sense".
Something was seriously amiss and he went full throttle into an investigation. This new direction dovetailed back into nutrition as he explained to friends and family how a body doesn't function as well when nutrition is insufficient, much less missing the mark altogether.
He decided to write his findings to make a little synopsis and intended it to be a 25-page pamphlet on the importance of diet and nutrition.
"And it is now roughly 200,000 words. I decided that the only way that I can explain health and nutrition is to explain the larger context around it which includes society, government, industry and so forth. If you don't have that context, none of it makes sense. If I don't provide the context, none of this will be believable," he said. "There are a lot of people who believe that companies won't do you harm - that the government is trustworthy - that if the CDC or FDA say it's safe, then it is," as he shared that he had to peel apart the onion for a long time to discover why our medical and pharmaceutical industries are so backward and erroneous.
"Greed and power are at the bottom of this and as a matter of fact I spent the first chapter of the book on where the money comes from", Billadeau explains.
His book, 'HEALTHY MODERN HYOUMAN, The Definitive Guide to Achieving Overall Health And Happiness in the 21st Century' is being released Tuesday, May 4 with a book signing at the Stave & Hoop Monday May 3 from 4-6 p.m.
This will be Volume 1 of 9, and as Scott likes to say, "It's the Harry Potter of health and happiness."
Scott Billadeau grew up in Superior and graduated with the class of 1989. With a business degree, a music degree and a master's in music technology, Scott served on the faculty of the University of Montana from 1997-2002.
He also has several patents for industrial related products and is a serial entrepreneur as the founder/co-owner of Liquid Planet, Pangea Restaurant and the Stave & Hoop which is a Speakeasy in Missoula.
"I am not the first person to do this research. Well, maybe this kind of research at this level. But I've always loved science and molecules and how those build up into biological tissues. I view almost everything as composition because of my musical background."
He is not a doctor. He has no financial connections to the medical, corporate or pharmaceutical industries so his career will not be destroyed and that is why he is speaking out.
"The reason that I am, hopefully, credible is I have no affiliation or conflicts of interest with anyone. I do not work for a publicly traded corporation, I do not work for a government agency, I no longer work for a university and I'm not affiliated with a political pack or group. I am just a guy, a dad, who really wants to know what is going on. And that's all I care about. I spent years and years doing my homework and now I'm reporting back. I have no agenda other than trying to tell the truth."
This book is not about autism. The book is primarily about science, health and nutrition starting at the atom and moving up. It is meant to be readable and digestible by anyone without having to dumb it down.
If medical doctors read it, they would immediately see that Billadeau has done his homework through intense study. And that he navigated his way through propaganda and marketing of medicine and pharmaceuticals to get to the core.
"There are a number of people who have tried to tell the truth and have been ostracized, shamed, ignored, literally removed from their positions. Happens all of the time. I just started asking basic questions to doctors, scientists, universities and getting on-line. Very few had any answers at all, and very few made sense, so I just kept digging. And it started to unravel, and I kept pulling on the thread and after eight years, I finally got down to what I feel is the root cause."
"Get ready for a wild ride of truth," says Holly Rollins, Ed.M Harvard University who is one of many endorsers on the cover.
Quoting Mark Twain, Billadeau notes "'It's easier to fool people, than show them that they have been fooled.' Here is what's really going on in science, medicine and health, and here's why you have been fooled. I've read many, many hundreds of health books and there is nothing like this. No one wants to read a medical textbook on science and medicine, and this is not that at all. At times it's entertaining and even a mystery novel," as he agrees that he has opened Pandora's box about science, medicine and modern society.
But to the beginning of this article, is autism preventable? "Yes. It's a man-made disease", he states matter of factually, "and it now affects 1 in 20 boys".
Scott's book can be found at www.healthymodernhuman.com.
Recent Headlines
---