Mineral Pharmacy is a family business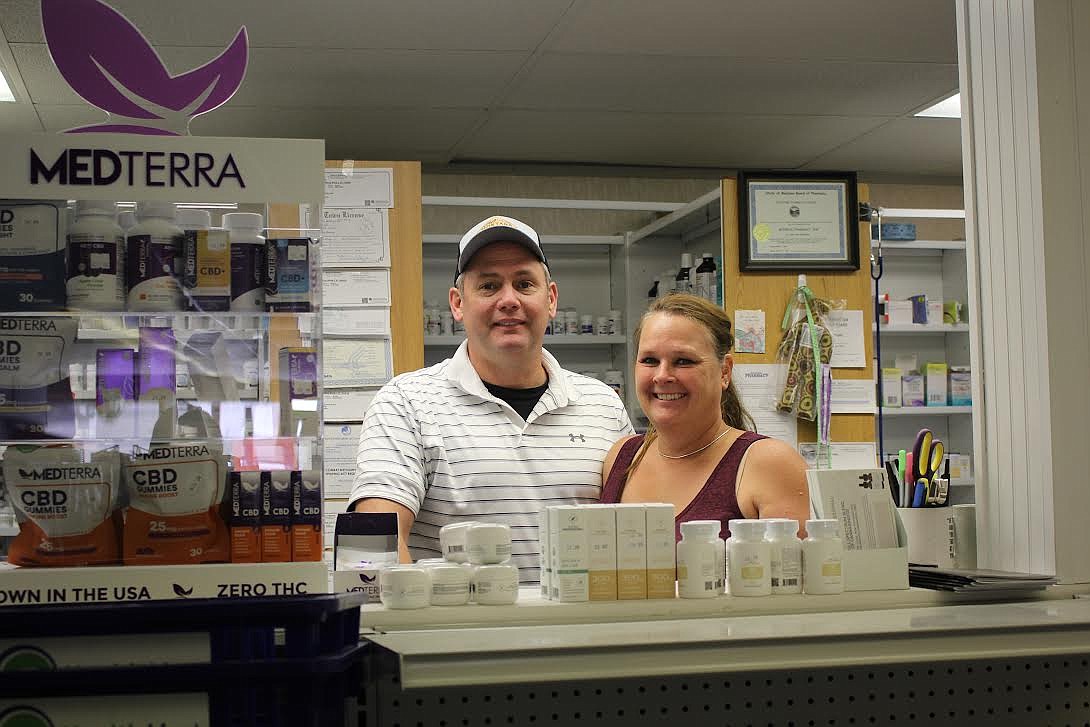 Justin and Andi Holmes are the new owners of Mineral Pharmacy in Superior. (Monte Turner/Mineral Independent)
by
MONTE TURNER
Mineral Independent
|
August 4, 2021 12:00 AM
Family run farms and ranches have been disappearing to multinational corporations who have made agriculture into a gigantic business.
Trucking businesses that were common to have generations take the reins are sliding away. Auto dealerships and retail outlets that have been run for generations in the same family are becoming rare.
The next generation isn't interested or the property has become a goldmine or the industry itself has shrunk to the point that a living can't be made the way it had.
Those family businesses that remain in the lineage appear to have a strong customer base that is loyal than many of the big box stores because of familiarity of knowing the people while watching their offspring grow up in the businesses and eventually take over proprietorship.
Mineral Pharmacy in Superior has new owners, but Andi and Justin Holmes have kinfolk behind the counters in all their locations.
"Andi grew up in Plains and I am from Thompson Falls," Justin said recently as he stocked shelves at their newest acquisition.
The couple had spent 10 years in the Tri-Cities (Washington) but when Andi had the chance to work at the Plains Pharmacy in 2005, they packed their bags.
After working there for a few years, the owners decided to sell, and the Holmes jumped on it. This purchase was followed by acquiring the Thompson Falls Family Pharmacy a few years later, and most recently, Mineral Pharmacy at 207 River Street.
"Curt (Schwaderer) approached us when they decided to sell several years ago, but we weren't in the position at the time," Andi said.
Curt and Marlys Schwaderer sold the Mineral Pharmacy in 2017 and those owners have sold to the Holms.
The family ties are apparent in each of the pharmacies. Ashley Holmes is their eldest daughter and is a pharmacist at Plains Pharmacy. Kayla Rinker is their other daughter, and she works as the pharmacy tech in Thompson Falls.
Ryan Hamilton is a cousin of Andi's and graduated from the University of Montana Pharmacy School this spring and is the pharmacist at Mineral Pharmacy.
"I like to think that they bought this for me as my graduation gift," Hamilton joked.
They have an aunt who delivers prescriptions twice a week to Hot Springs and another cousin who is a clerk in Plains.
"This was a good investment for us as we always wanted to bring family members into the business," Andi said.
Andi is a pharmacist and Justin is a pharmacy tech and they divide their time between all three properties depending on the day of the week but for now, most of it is in Superior as they get their feet under them.
"Customers will soon notice that we will be offering more over the counter drugs, more greeting cards and more candies and gifts," Justin said.
Their new hours are 9 a.m.-5:30 p.m. Monday through Friday and they are closed on the weekends.
Recent Headlines
---