Twenty-five years of Block Management Access in Montana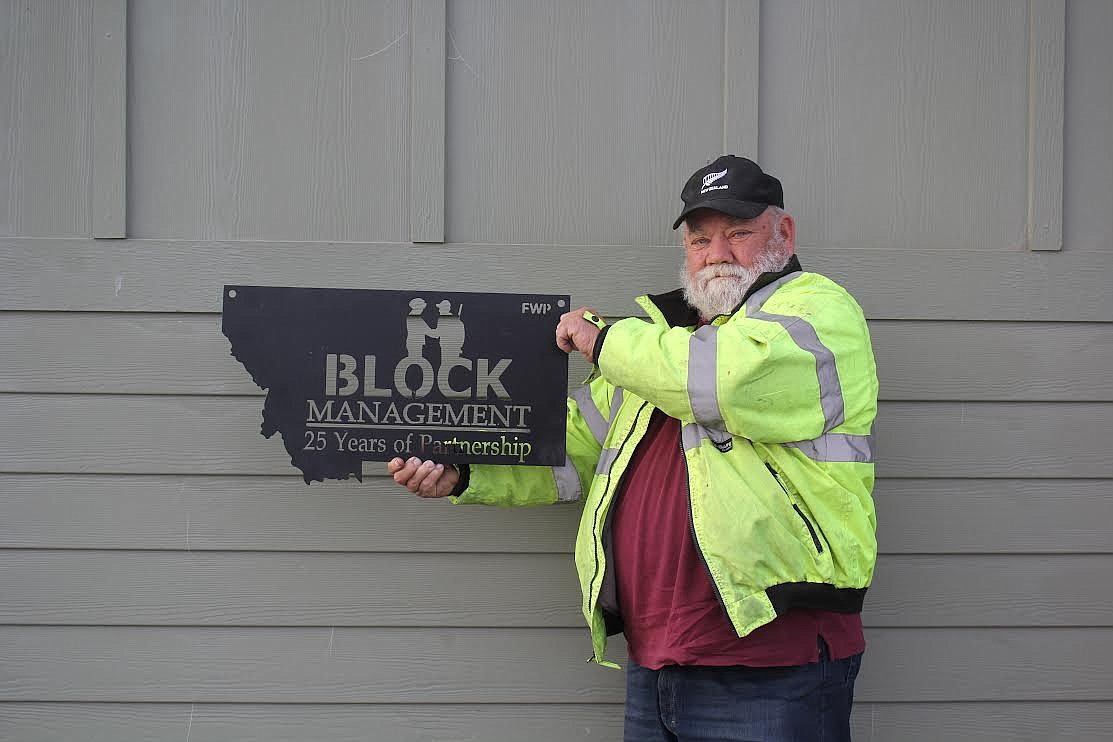 St. Regis resident Denley Loge has participated in Montana Fish, Wildlife and Parks' Block Management Access program for 25 years. (Monte Turner/Mineral Independent)
by
MONTE TURNER
Mineral Independent
|
December 1, 2021 12:00 AM
Montana's culture of hunting on private property remains the same in many areas as it was a half century ago.
The hunter(s) drive up the driveway of the property owner to their house and walk up to the back door. (Having a youngster accompany the adult is beneficial by letting them see and hear what the upcoming interaction entails, and many times their presence closes the deal of the request).
They pet the friendly dogs that greeted them as they wait for someone from inside to come to the door. The hunter smiles and introduces him or herself and cuts to the chase by asking if they would allow them to hunt on their property with assurance that they will respect the property and leave gates as they find them.
An offer to share any of the game they may harvest is a nicety but not necessary and usually not accepted from the landowner. If all goes well, the landowner gives permission and maybe suggests a location or a heads-up about a road being washed out or other hunters that were ahead of them.
Hands are shaken (even if permission is denied) and the walk back to the rig is either mild disappointment or excessive glee.
This scenario has shifted over the years, however, with landowners becoming weary of constantly being asked permission or the selling of the property to someone who would rather not allow unknown individuals onto their land for their own reasons.
Hunting on private property is such a privilege that it is not uncommon for some landowners to charge per hunter per day or lease the entire season to
outfitters or hunting groups who monitor for trespassers as it's now become their private hunting preserve.
Hunters in Mineral County have over 90% of the land open to public hunting, which is a phenomenal amount of acreage, and it is hunted daily for the 5 weeks of big game season.
But there are also private property owners who have opened their land to the public through the Fish, Wildlife & Parks Block Management Area Program (BMA).
This formally started in 1985 and then greatly expanded in 1996. It's a cooperative program between private landowners and FWP which helps landowners manage hunting activities on their property and provides the public with free hunting access to private land.
Kendra McClosky, FWP Region 1 and 2 Block Management Coordinator, has held this position since 2011 and explains the basics of how the program works. "Private landowners are compensated for the possible impact on their property. This would be if weeds from hunters are tracked into their property, or a fenced gate is left open, and the landowner has to go out and gather their cows or a fence is damaged. The payment is to offset what happened or may happen to cause the landowner heartburn. It's an impact fee."
Denley Loge of St. Regis has much of his land enrolled in the BMA for several reasons.
"I feel good that I have allowed the access to thousands of hunter days through the years. The interaction with hunters is always enjoyable when I get the chance to visit. I especially enjoy when the successful hunter is a youth, with their first animal. The smile on the face is so memorable," Loge said.
Landowner participation in BMA is voluntary. Contracts are negotiated annually in the spring and summer. After enrollment is complete, FWP publishes a Hunter Access Guide, which lists all block management opportunities available for the current season.
Block Management guides are made available on or before Aug. 15, annually. Approximately 1,200 landowners in the Big Sky Country have enrolled about 7.1 million acres of land in the Block Management Program.
"I was allowing hunting by permission and the FWP offered the program to me, and I had hunted on Block Management in eastern Montana and liked the idea of the program to keep access to more hunting areas," Loge said. "This
hunting also helps me with wildlife management when I have had excessive wildlife damage. The opportunity to share so many species of animals bring satisfaction to the hunters as well and I feel the quality of the hunt has been good most of the time," he said. 
Those enrolled in the program receive up to $13 per day, per hunter. There are a few other landowners in Mineral County who are enrolled in the BMA and Loge tips his hat to them as allowing your neighbors access to feed their families is part of his DNA.
With 2021 being the 25 th year of the BMA, Loge received an award as he's been with the program since it's statewide expansion in 1996.
"Statewide, 42% of private landowners who agreed to allow public hunting through the Block Management system have received their 25-year award for
displaying in a location of their choice," reports McKlosky.
By following the rules for the BMA, as well as demonstrating courteous, legal and ethical behavior, sportsmen and women can do their part to assure
future access to private lands in Montana.
Recent Headlines
---