Missing woman's mother not happy with search effort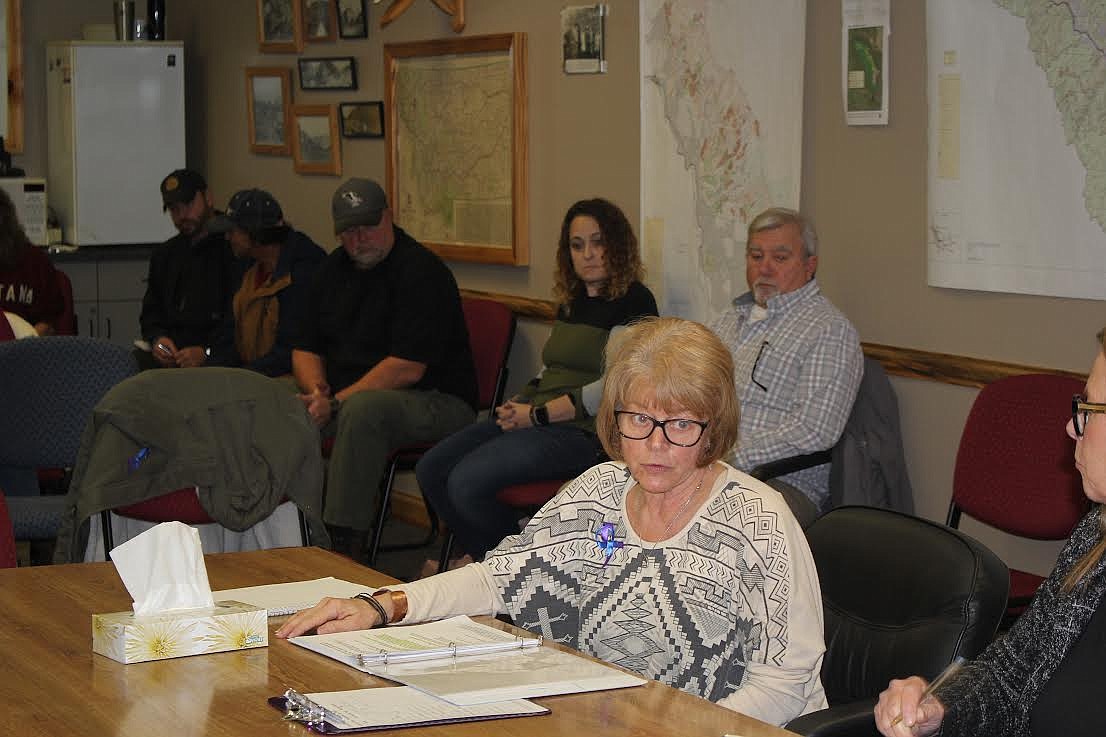 Angela Mastrovito, the mother of Rebekah Barsotti, made formal complaints against the Mineral County Sheriff's Office in the search for her daughter during a recent county commissioners meeting. Barsotti has been missing since July 20, 2021. (Monte Turner/Mineral Independent)
by
MONTE TURNER
Mineral Independent
|
December 8, 2021 12:00 AM
Rebekah Grace Barsotti, 33, has been missing since July 20 of this year and the reward for new information that directly results to her recovery is $12,000.
She was last seen at the Town Pump in Superior, Montana, and her car with personal items was found at mile-marker 72 off I-90 near Alberton, Montana.
This is a popular location for semi-trucks to rest and in the summer a place for the public to access the river for swimming. Since her disappearance there have been several agencies involved in the search.
The Mineral County Sheriff's Office, Mineral County Search and Rescue, Missoula County Sheriff's Office, Missoula SAR, Two Bear Air, and dive teams responded from the Flathead County SAR, Kootenai County (Idaho) SAR and Minnesota.
Her dog, Cerberus, was found 10 miles downstream several days later and his body was sent for an autopsy. After exhausting all leads and conducting extensive water, ground and air searches there are no more leads and there are no suspects in her disappearance.
Officials have said that all signs of Barsotti's disappearance point to a drowning, but Barsotti's family feels there were gaps and delays in the investigation.
Her mother and stepfather, Angela and Gerry Mastrovito, have moved to Missoula from Virginia and stated that they are not leaving until Rebekah is found.
"There's really nobody working on it," said Angela Mastrovito. "I appreciate the law enforcement efforts from both counties, but Mineral County is a small county, and they lacked the manpower to effectively assign somebody to be on this case."
She expressed her dissatisfaction on Nov. 26 to Mineral County Commissioners Roman Zylawy and Laurie Johnston during a scheduled agenda item.
About 15 supporters of the Mastrovitos were in the conference room along with Mineral County Sheriff Mike Toth, Undersheriff Wayne Cashman and County Attorney Ellen Donahue.
She accused Sheriff Toth of being unwilling to accept services/assistance from a vetted and reputable non-profit agency, FindMe Group, who does not charge to assist.
Also, she alleged he released inaccurate information along with lack of due diligence to follow up on information provided to the investigation.
Sheriff Toth explained that this is an ongoing investigation and that there is information that cannot be shared as it would clearly jeopardize the case.
The Mastrovitos have requested that the Division of Criminal Investigation of Montana take over the case. Sheriff Toth shared that DCI was already informed on the situation and communication has been ongoing, but that he and Donahue will invite them to look over the case again to see if there is anything they may have missed or should have done, that can still be accomplished.
Rebekah Barsotti is a Caucasian female, 5-feet, 5-inches and weighs 135 pounds. She has sandy blond hair, blue eyes with a tattoo on her right foot and another on her left rib.
To report anonymous tips, call Missoula Crimestoppers at 406-721-4444.
Recent Headlines
---