Lady Hawks twice victorious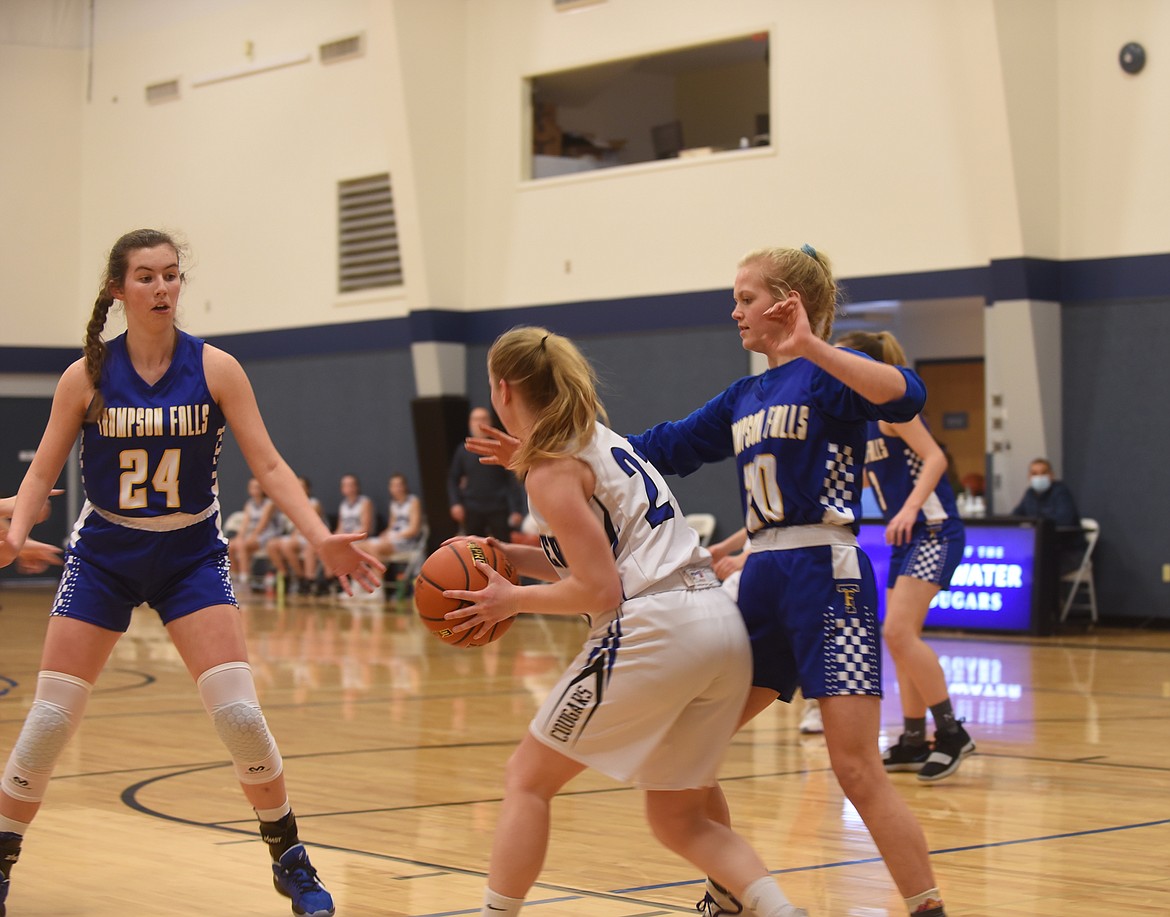 Thompson Falls basketball players Megan Baxter (24) and Faith Frields (20) put defensive pressure on Stillwater Christian School's Marae Tintzman during their game last week. Baxter scored 30 points in her teams' win last week. (Scott Shindledecker/Valley Press)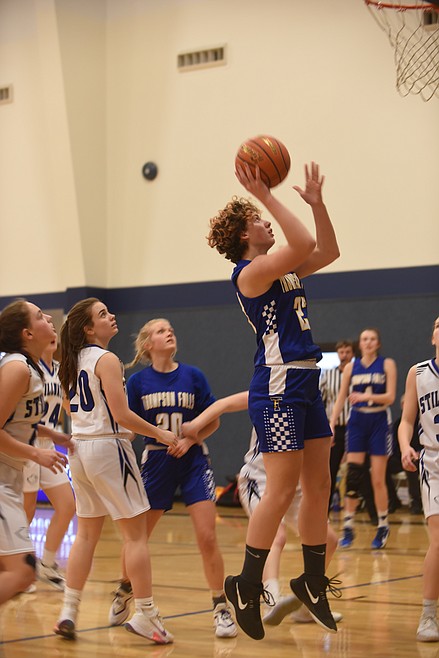 Thompson Falls basketball player Jody Detlaff puts up a shot last week against Stillwater Christian School. (Scott Shindledecker/Valley Press)
Previous
Next
by
SCOTT SHINDLEDECKER
Clark Fork Valley Press/Mineral Independent
|
February 17, 2021 12:00 AM
Megan Baxter was on fire Thursday night in Kalispell as she scored 30 points to help Thompson Falls to a 78-49 win over Class C Stillwater Christian.
The Lady Hawks bolted to a 9-2 lead, but the Cougars trailed just 13-8 after the first quarter.
But by halftime, Thompson Falls led by 20 points, 39-19, and were never challenged.
Two other Lady Hawks joined Baxter in double digits as Jody Detlaff scored 14 and Ellie Baxter scored 10.
Megan Baxter started strong with a big first quarter in which he she scored seven of her teams' first nine points and assisted on the other basket, by Ellie Pardee. Baxter scored on a putback, turnaround jumper and layup from a good pass by Pardee.
In the second quarter, when the Lady Hawks' lead ballooned from five points to 20, Baxter got some more help from her teammates.
Detlaff scored her first bucket, then Baxter scored inside and Detlaff scored on a fast break. Ellie Baxter's 3-pointer was nothing but net with 5:44 left to make the lead 14 points, 22-8.
Stillwater Christian coach Dan Tintzman called timeout to try and stop the Lady Hawk's momentum.
But the visitors weren't fazed by the stoppage in play.
Caity Alexander scored, then Detlaff and Baxter tacked on buckets to make it 28-14. The Lady Hawks kept it up with a 6-0 run to make it 34-14. Baxter capped her big first-half with a bucket off an offensive rebound with three seconds left to make it 39-19.
Thompson Falls led 58-37 after three quarters and the lead continued to expand in the fourth.
Ellie Baxter hit a 3-pointer to make it 69-40 with 4:35 left.
A Detlaff putback made it 71-40 with 4:14 to play.
Elli Pardee nearly hit double digits with nine points and Caity Alexander added six.
Saturday, the Lady Hawks beat Bigfork, 60-53, as Baxter kept a hot hand with 19 points.
Faith Frields tallied 11 for Thompson Falls while Detlaff added eight for the Blue Hawks.
The Lady Hawks play at Libby Tuesday and host Florence Saturday to end the regular season.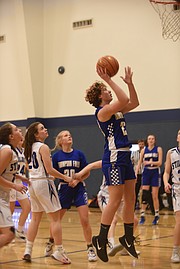 ---