Plains Paradise Senior Citizens Center kicks off fundraising event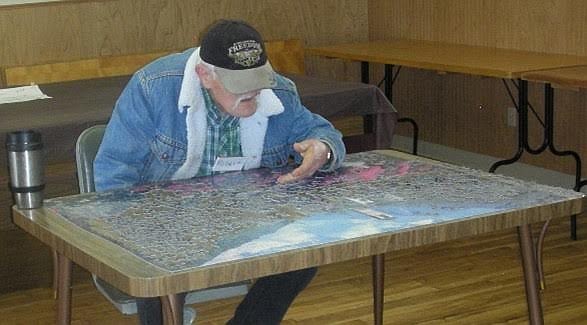 A Sanders County man works on a puzzle at the Plains Paradise Senior Center. The center is beginning a fundraising campaign to help keep it operational. Similar to many non-profits, the center has struggled with having enough money to achieve its mission. (Photo courtesy Plains Paradise Senior Center)
by
Clark Fork Valley Press
|
February 17, 2021 12:00 AM
The Plains Paradise Senior Center was challenged by Covid-19 this last year to continue serving our senior citizens.
Despite these challenges, home delivered meals continued without interruption.
Sit-down meals were discontinued, but grab-and-go meals were implemented.
However, income is down considerably, while expenses remain approximately the same.
The Plains Paradise Senior Center urgently needs help from the community it serves.
Last year it was also discovered the air conditioner needs to be replaced. The cost will be $12,400. Since Covid-19 has stopped our normal fundraising events, we are looking to you, our community, for your support.
The center is the focal point for senior activities. The building is currently being used for bingo (open only to members and their guests), bunco, Mavericks Square Dancers, Back Country Horsemen, commodities distribution, private parties, and other community events.
Without an air conditioner, the income from those activities and hall rentals will be considerably reduced.
Be looking in your mailboxes in the Plains and Paradise areas for opportunities to give.
But as always, you can give now. If you have any questions, please call one of our board of directors.
The officers are Sherryl Wachob, president, 826-3748; Nita Dyches, vice-president, 406-203-7867; and Linda Bursell, secretary/treasurer, 826-3564.
The Plains Paradise Senior Citizens Center is a 501(c)3 organization so all donations are tax deductible and greatly appreciated. Our mailing address is PO Box 935, Plains, MT 59859.
---