St. Regis Tigers win 14-C District Championship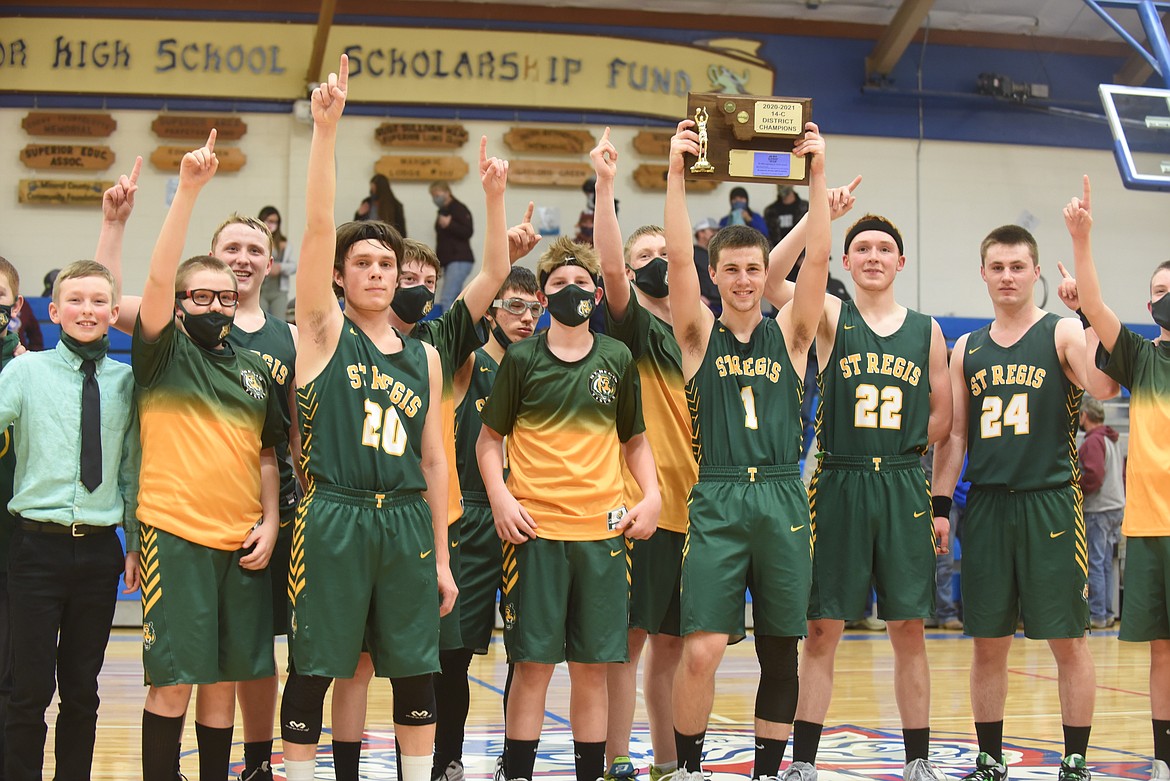 The St. Regis boys basketball team celebrates with the District 14-C trophy after beating Clark Fork, 58-55, for the championship Saturday evening in Superior. Clark Fork won both regular season meetings, but the Tigers overcame a seven-point deficit in the fourth quarter to claim the title. (Scott Shindledecker/Mineral Independent)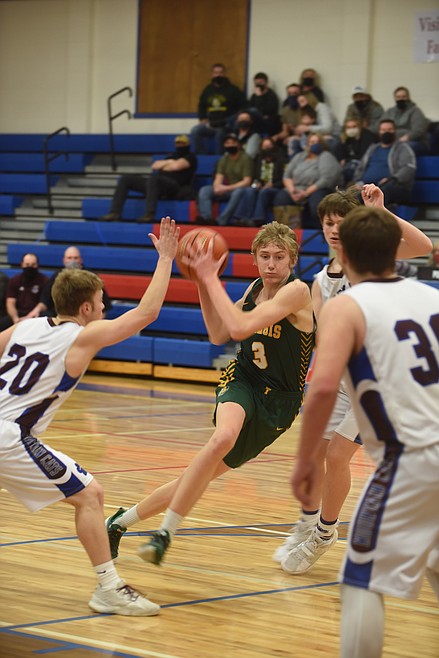 St. Regis senior forward Andrew Sanford helped the Tigers beat Clark Fork, 58-55, Saturday night for the District 14-C championship. Sanford scored 17 points and blocked several shots. (Scott Shindledecker/Valley Press)
Previous
Next
by
SCOTT SHINDLEDECKER
Clark Fork Valley Press/Mineral Independent
|
February 20, 2021 11:20 PM
The St. Regis Tigers basketball team didn't care that Clark Fork had beaten them twice during the regular season or were favored to win the 14-C District title game behind four seniors who have played together since eighth grade.
They definitely weren't bothered by a seven-point deficit entering the final quarter or that they were playing at top seed Clark Fork's home court of Superior High School.
For the Tigers, they had business to finish and they did with a 58-55 win over the Mountain Cats last Saturday. A year ago, the Plains Trotters beat St. Regis 55-45 for the 14-C title.
"The kids are on cloud 9 right now," said Tigers head coach Jesse Allan. "They were very motivated to sustain the success of 2020 and they didn't listen to the expectations of others."
When the Mountain Cats moved to 14-C from 13-C, their four standout senior players - Danner Haskins, Bryan Mask, Carson Collision and Aaron Waddle - expected to win the title.
After a season-opening loss to Seeley Swan, Clark Fork rattled off 11 straight wins and claimed the regular season 14-C title with a 10-0 mark. Two of the wins came at the expense of the Tigers, but both games were close. Clark Fork won 51-48 in early January and 68-57 in late January. The second game was tied 28-28 at halftime, but as forward Andrew Sanford battled four trouble, the Mountain Cats faltered in the second half.
Last Saturday, Sanford wasn't in foul trouble and brothers Caleb and Adam Ball were undaunted in their efforts to slow Mask and Callison.
"Andrew changes a lot of shots and he played determined," Allan said. "For Adam and Caleb, they were fearless. We needed them to be physical and they were. We needed Callison to be kept off the glass and Haskins had a big game against us last time."
Allan said he was accepting of Aaron Waddle getting "his points."
"You just don't stop a kid like Waddle. He's so strong and really can finish," Allan said.
Waddle finished with a game-high 24 points, but Mask and Callison combined for just eight points.
Nonetheless, things were looking good for the Mountain Cats when they took a 50-43 lead to the final eight minutes. Waddle, Haskins and Mask each hit 3-pointers in the final 1:57 of the third to build the lead.
But Alberton-Superior found the proverbial "lid" covering the basket in the fourth quarter and only scored five points. Three of those came on a Haskins' 3-pointer with one-half second left.
In between that bucket and Orion Plaake's layup at the 5:24 mark, there was a bunch of misses and some turnovers, too.
The Tigers began their comeback 1:23 into the fourth when Tanner Day hit a 3 to make it 50-46.
After a great hustle play by Waddle to set up Plaake's layup, Caleb Ball hit a 3 with 5:13 left to make it 52-49.
Clark Fork head coach Erik Johnson called timeout and implored his players to "get out on 'em!" It was a reference to the long-distance shooting prowess of the Tigers, particularly Caleb Ball.
A minute later Sanford was fouled and hit both shots from the stripe to make it 52-51.
As the Mountain Cats clung to the narrow lead, neither team scored until Caleb Ball hit a 3 with 2:13 left to give St. Regis the lead for good, 54-52.
Turnovers, missed shots and free throws ensued in the next few minutes before freshman John Pruitt hit two free throws to give the Tigers a 56-52 lead with 24 seconds left. The pressure was intense with the situation and one-and-one bonus, but Pruitt, who had nine points, calmly hit both.
Caleb Ball sealed the deal with two free throws with six seconds left.
"We had a real gut check at the beginning of the fourth, but the fearlessness of a couple of guys made all the difference," Allan said.
Both teams move on to the Western C Divisional in Deer Lodge which begins Thursday.
St. Regis plays at 1:15 p.m. against the fourth-place finisher, Shields Valley, from 12-C. The Tigers were 2-2 in the divisional in 2020. They fell to Manhattan Christian, then beat Seeley and Harrison-Willow Creek before bowing out to Twin Bridges.
Clark Fork plays at 4:45 p.m. Thursday against the 12-C runner-up, Manhattan Christian.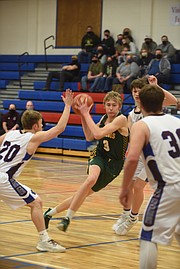 ---