Clark Fork girls basketball wins challenge game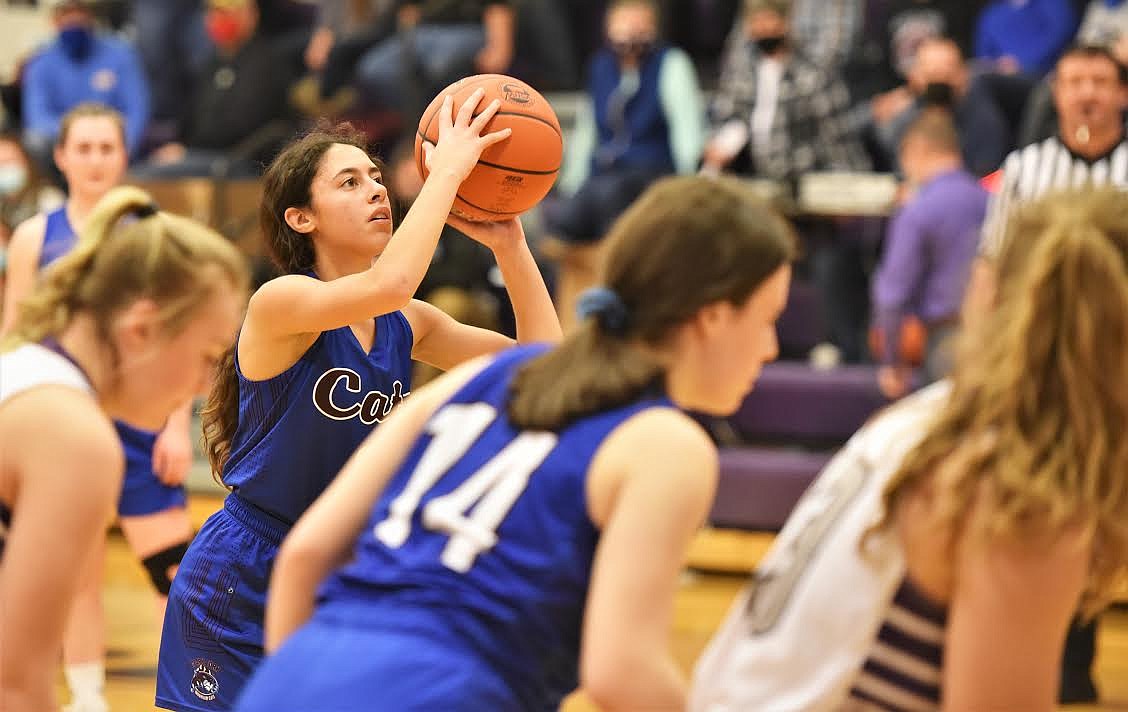 Clark Fork's Isabella Pereira focuses as she prepares to shoot a free throw Saturday night in the District 14-C title game. Pereira led the Lady Cats with 15 points. (Scot Heisel/Mineral Independent)
by
Mineral Independent
|
February 23, 2021 12:00 AM
GIRLS BASKETBALL
DISTRICT 14-C
CHALLENGE GAME
Clark Fork 33, St. Regis 22
The Lady Cats punched their ticket to the divisional playoffs with a low-scoring win over the Lady Tigers.
Clark Fork led 20-9 at halftime.
Payton Milender led the winners with 12 points and Isabella Pereira scored seven. Cassie Green scored six while Molly Patko and Lanie Crabb each scored four.
Macie Hill led St. Regis with eight points and Averie Burnham scored six.
Clark Fork will face Ennis at 7 p.m. Wednesday in the Western C Divisional at Deer Lodge.
QUARTERFINALS
TUESDAY, Feb. 16
No. 3 Noxon 44, No. 6 Hot Springs 27
Noxon led 25-6 at the half. Emily Brown led the Lady Devils with 13 points and Avery Burgess had 11 for Noxon.
Lizzy Fisher topped the Savage Heat with 11 points.
No. 4 Plains 44, No. 5 St. Regis 43
A big second half led the Trotters to their fourth straight win and into the 14-C semifinals.
Trailing the Tigers 24-15 at halftime, Plains cut the lead to four after three quarters and then exploded for 17 points in the fourth to pull out the win.
THURSDAY, Feb. 18
Semifinals
No. 1 Charlo 53, No. 4 Plains 25
Charlo cruised to a 53-25 semifinal win over Plains behind 10 points apiece from Kassidi Cox and Liev Smith and nine from Hayleigh Smith. Kimberly Curry had 12 points to lead the Trotters.
No. 2 Clark Fork 36, No. 3 Noxon 28
Darby Haskins' 14 points helped Clark Fork stop Noxon in a semifinal.
Vanessa Horner scored 11 and Chelsea Vohs eight for the Red Devils.
FRIDAY, Feb. 19
Loser Out
No. 5 St. Regis 38, No. 3 Noxon 35
Baylee Pruitt led the way with 18 points and St. Regis edged Noxon. Macy Hill added eight for the Tigers. Avery Burgess scored 10 and Chelsea Vohs eight for Noxon.
No. 4 Plains 51, No. 6 Hot Springs 23
No other information was available.
SATURDAY, Feb. 20
Championship
No. 1 Charlo 60, No. 2 Clark Fork 30
No. 5 Charlo rolled to the 14-C title with a 60-30 win over Clark Fork. Connor Fryberger led the Vikings with 15 points, Mila Hawk added 11 and Hayleigh Smith 10.
Isabella Pereira led Clark Fork with 15 points. Lanie Crabb and Payton Milender each scored six.
Consolation
No. 5 St. Regis 48, No. 4 Plains 37, OT
The Lady Tigers fell behind 11-5 after one quarter, but eventually forced overtime and then dominated overtime, 17-6.
St. Regis is 4-9 while Plains ended at 6-7.
St. Regis is scheduled to play Clark Fork Monday in a challenge game.
REGULAR SEASON
Thompson Falls 64, Libby 32
The Lady Hawks led 24-2 after the first quarter and 41-9 at the half.
Led by Megan Baxter's 14 points, the Hawks had five players in double digits. Elli Pardee scored 12, Faith Frields and Jody Detlaff each scored 11 while Riley Wilson scored 10.
---