Plains Horsemen open with two tough losses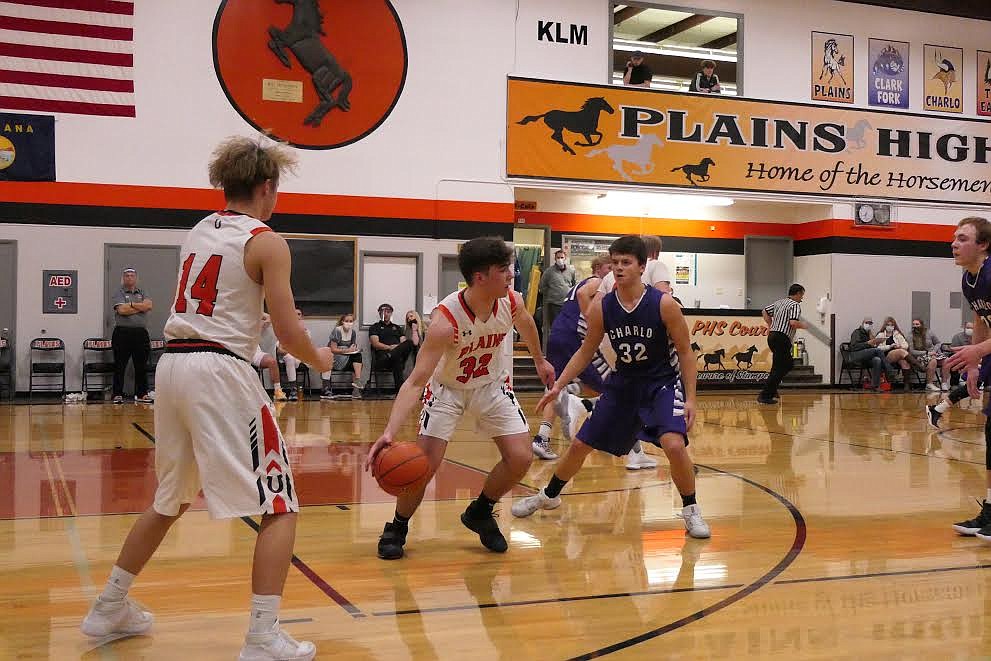 Plains' Nathan Feliksa is guarded by Charlo's Nathan Clark during last week's game. (Chuck Bandel/Valley Press)
by
CHUCK BANDEL
Valley press
|
January 13, 2021 12:00 AM
The Plains boys basketball team continues to struggle to find itself, to establish a rhythm and secure that all-important first win they know will come.
But it was a tough weekend for sure for the Horsemen as they dropped a pair of games to tough, talented opponents.
Friday they took to their home court to face an always tough Charlo team in the season opener for both programs.
Things looked good, and perhaps an omen of better times ahead, when the Horsemen jumped to an early lead, finishing the first quarter with a 15-11 lead behind solid play from seniors Nathan Feliksa and Tucker Foster.
By halftime, the two teams were knotted at 22 each as both team's defenses created havoc for the offenses.
Things started to click in the second half for Charlo, as Phil Marquez and Roper Edwards began to find the basket. By the end of the third quarter, Charlo had built a 10-point lead heading into the final eight minutes of play.
Things would have been worse for Plains had it not been for a buzzer-beating three-point heave from Foster, who finished the game with a team-high 14 points.
The Horsemen would come no closer than 10 points the rest of the way, falling behind by 15 at one point in the final eight minutes of action.
Edwards matched Foster's 14 points for game-high honors while Marquez added 13 for the Vikings. Feliksa chipped in 12 points for Plains.
Things didn't get any better for the Horsemen the next night when they traveled to St. Ignatius to take on the Mission Bulldogs, which earlier in the week took an unbeaten Thompson Falls team to the wire before losing by two points.
Against Mission, the Horsemen fell behind early and could not climb out of an 18-7 first quarter deficit. By halftime the run and gun Bulldogs had built a 43-13 lead and never looked back.
At the end of three, Plains trailed 58-19 heading into the final eight minutes of the game. The Horsemen did manage to outscore St. Ignatius 8-4 in the fourth quarter but the damage had already been done.
Parker Flock, Plains' 6-4 senior post, led the Horsemen in scoring with eight points, while the Bulldogs had three players in double figures, paced by 12 points from Isaiah Nasewtewa.
The pair of losses left Plains with an early season 0-2 mark, while St. Ignatius improved to 1-1.
Plains has a scheduled home game against Noxon this Friday, Jan. 15, but that game is likely in jeopardy due to a coronavirus situation in Noxon. Their next game is Saturday when they travel to Superior to take on 2-1 Clark Fork.
---