Plains Trotters swept to open season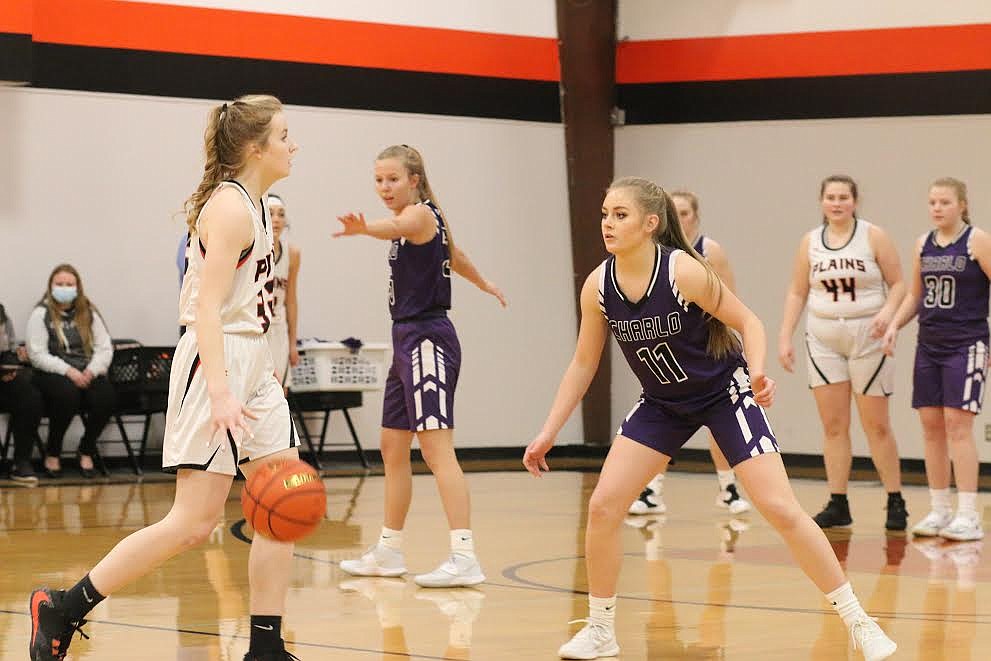 Plains' Kimmy Curry brings the ball up court against Charlo Thursday evening. (Chuck Bandel/Valley Press)
by
CHUCK BANDEL
Valley press
|
January 13, 2021 12:00 AM
Two games and two lopsided losses against two good opponents is not a good way to start a season to say the least.
After opening their season with a 51-11 loss to a talented and unbeaten Charlo team, the Plains Trotters girls basketball team faced the unenviable task of traveling to St. Ignatius to take on the Mission Lady Bulldogs, where they fell 70-37.
Things can only get better for the Trotters, who have a talented core of young players including a solid core of juniors.
But for now, 2021 is looking like a learning curve year.
Against Mission Saturday night, Plains fell into a deep hole early and never recovered, trailing 25-4 after the first quarter and 35-13 at the half.
Eight Lady Bulldogs scored during the game in which four of those players scored in double figures, led by 15 points from Kooper Page.
Page's total was matched by a 15-point effort from the Trotters' Kimmy Curry, a promising 5-8 sophomore who led the Trotters with 15 tallies.
Showing a never quit attitude, Plains battled Mission to a 15-15 fourth quarter tie.
The loss, along with the season opening loss to Charlo dropped the Trotters to 0-2 on the year.
Against Charlo, Plains fell behind early, 9-0 in the first quarter by the senior-led Lady Vikings.
The margin grew in the second quarter as Charlo built a 25-6 halftime lead.
The second half did not get any better for Plains as Charlo, behind a game high 10 points from senior forward Conner Fryberger padded its lead by outscoring the Trotters 12-1 in the third quarter.
Heading into the final eight minutes of play, Charlo had a commanding 37-7 lead. They outscored Plains 14-4 in the fourth quarter to complete the lopsided win.
The Trotters have a scheduled home game with Noxon this Thursday, Jan. 15, a game that may be in doubt due to virus issues that recently surfaced in Noxon.
After that, they are scheduled to travel to Superior Saturday night to take on the 2-1 Clark Fork Lady Mountain Cats.
---