Wind storm wreaks havoc on Northwest Montana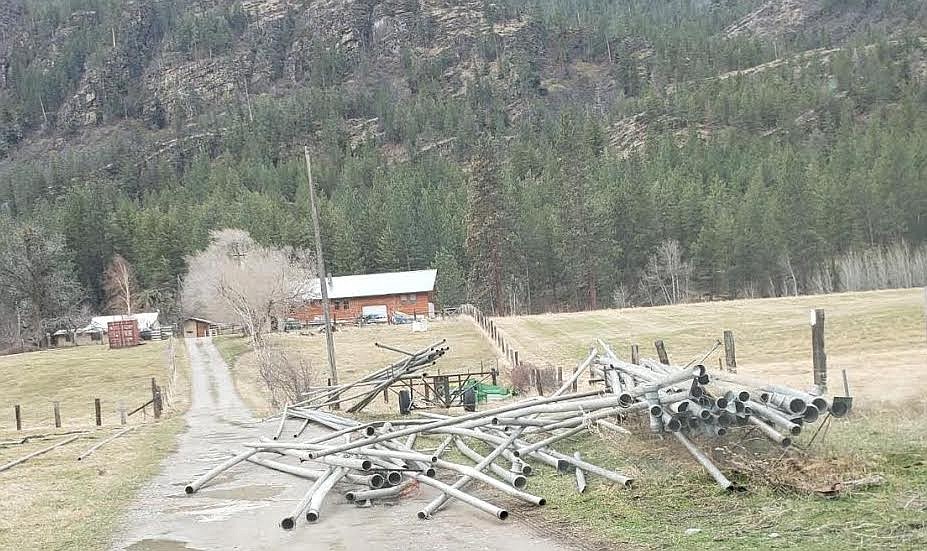 Strong winds knocked out power, cell and internet service as well as damaging vehicles and property Wednesday morning in Sanders County. It also scattered irrigation pipe from its stack at a local farm in the Paradise area. (Photo courtesy Lee Ann Overman)
|
January 14, 2021 12:00 PM
High winds knocked out power all over Northwest Montana Wednesday and some areas are still without electric, phone or internet service Thursday afternoon.
Trees fell on vehicles and homes throughout the region while the wind scattered debris far and wide.
Unofficially, some ranchers reported wind gusts of 70 miles per hour in Sanders Countyß.
NorthWestern Energy reported 476 outages in Sanders County and 636 in Mineral County as of 2:38 p.m. Thursday.
A Mission Valley Power outage map showed a handful of locations still without power in Lake County Thursday afternoon.
Avista showed tens of thousands of outages in neighboring Idaho counties, Kootenai, Shoshone and Bonner as of 2:30 p.m. Thursday. Eight Mineral County customers were without power, too.
Damage from the storm was widespread, according to reports complied by the National Weather Service in Missoula.
Traffic on U.S. 93 south of Lakeside was temporarily blocked after power lines came down across the highway. Power lines also blocked Montana 83 north of Swan Lake. Downed trees temporarily blocked both lanes of Montana 35, and in Thompson Falls a number of large trees fell across Prospect Road.
Motorists described having difficulty maintaining control of their vehicles, too.
The top wind gust recorded in the Flathead Valley reached 63 mph east of Kalispell near Echo Lake. Gusts of 50 mph were recorded at Glacier Park International Airport, at Creston and along the Finley Point area of Flathead Lake.
Mountain locations saw gusts of more than 100 mph.
The highest wind gust recorded in the state was a 125 mph at the top of Mt. Sentinel in Missoula.
According to Associated Press reports, a woman in her 40s died after a tree fell on her car and trapped her inside, according to Spokane City Fire Chief Brian Schaeffer. In Oregon, authorities said Jennifer Camus Moore, 50, was driving a vehicle believed to be swept away in a vehicle after a landslide hit Interstate 84, authorities said.
---