Clark Fork wrestlers slam Glacier JV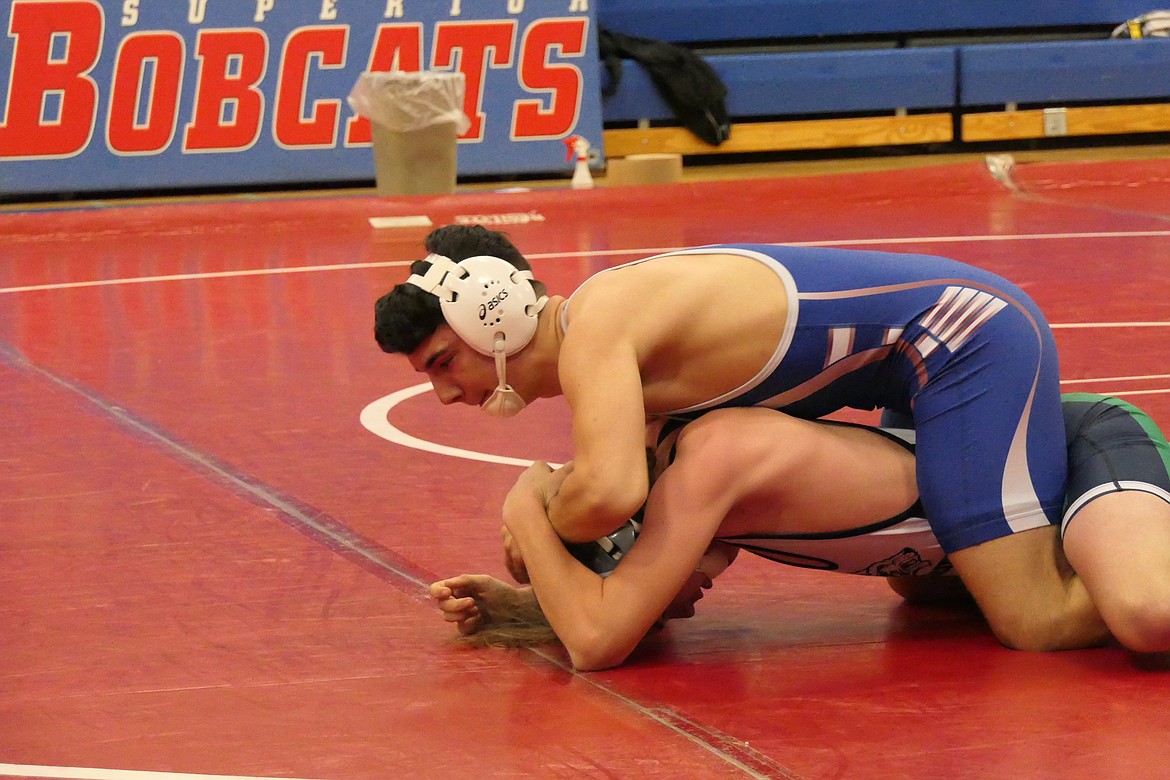 Clark Fork wrestler Thomas Anderson works on pinning a Glacier High School junior varsity opponent, one of his two pins during the match. (Chuck Bandel/Valley Press)
by
CHUCK BANDEL
Valley press
|
January 20, 2021 12:00 AM
Two matches into the 2021 Montana Class C high school wrestling season and one thing is becoming clear: Clark Fork will be a factor.
That fact was on display last Thursday when the young and talented Mountain Cats dominated the Glacier High School (Kalispell) JV team in a dual meet on the mats at Superior High School.
Paced by depth throughout the weight classes, the Mountain Cat grapplers won 12 of 16 matches, including 11 individual matches by pins.
The lone non-pin in the victory column was a hard-fought 12-8 victory by 120-pounder Lucas Kovalsky over Glacier's CJ Johnson.
Three Mountain Cats recorded two falls apiece against their Wolves opponents, all of which came in less than two minutes.
Decker Milender, one of a group of sophomore standouts, pinned both of his foes in the 126-pound category, stopping Curtis Wiley in 1:22 and taking down Johnson in one minute.
Clark Fork senior Thomas Anderson pinned both of his opponents in two different weight classifications, beating Glacier's Sam Neese in 1:26 at 152 pounds, before moving up to the 160-pound division and recording a fall over Josh Webb at the 1:46 mark.
Fellow senior Hunter Haskins was also a two-class winner by pin, halting Webb in 1:16 at 160-pounds, then overwhelming Aiden Krause at one minute even in the 170-pound category.
Other winners for the Cats included 145-pound sophomore William Buchanan, win by pin at 145 pounds in 1:19, 170-pound sophomore Carter McLees who won by fall in 2:16, and sophomore Chandon Vulles, win by pin at 285-pound.
Clark Fork junior Carter Woodson, also was a winner by pin in the 182-pound class, dropping his opponent in 1:30, as was 103-pound sophomore Ryder Hansen, who won by fall in a hard-fought 5:30 over Glacier's Garrett Bosch, who earlier pinned Clark Fork freshman Micah Acker in 46 seconds, also at 103 pounds.
Mountain Cats coach Charlie Crabb was clearly pleased with his squad's overall performance against Glacier in what was a hastily arranged match brought about by Covid-related schedule changes.
"Overall, I liked what I saw, especially in some of the tighter matches," Crabb said. "I think our shape (conditioning) and constant movement really helped. Again, there are always places to improve but I do believe we are better than last week and I hope we continue to improve".
The Mountain Cats are scheduled to appear next in a tri-dual match against Darby and Plains/Hot Springs in a match this Saturday in Hot Springs.
---