Superior recycling center running well in third year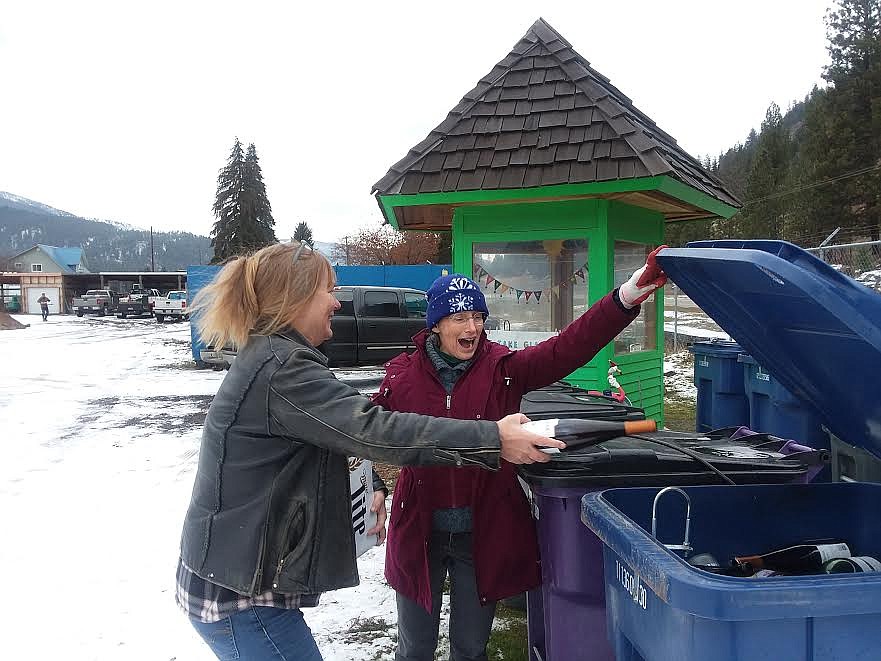 Superior recycling coordinator Emily Ornelas, right, laughs with Dianne Hill as she deposits bottles in the new glass recycling bin. (Monte Turner/Mineral Independent)
by
MONTE TURNER
Mineral Independent
|
January 20, 2021 12:00 AM
The Superior Recycling Center on West Mullan is humming right along as it enters its third year in business.
"The people that have recycled are on board. We're trying to make this as easy as possible for those that haven't given it much thought before. You know, we are so blessed to live here with the beautiful scenery and the recreation opportunities that recycling anything we can, just makes sense," said operations manager Emily Ornelas. "One of the best ways to help our natural resources is by using less of them."
Ornelas is also on the town council and when the recycling idea was introduced four years ago she was enthused.
"Brenda Schneider with the city handles the finances but the rest of us are volunteers," she said.
First of all, there is no charge to anyone who brings in their recyclables. This is stated to put the rumors to bed that it costs money every time you take items to the center.
But donations are deeply appreciated as this is the one stream of revenue that is critical and fluctuates. Secondly, they have a co-mingle bin that is the epicenter of the recycling setup and it is unique for Superior.
Republic Services understands that this is a small operation staffed entirely by volunteers, so they are allowing several products to go into a single container. This eliminates the staff from sorting and moving items to their correct locations when placed in the improper bins, and it saves the recycler from having to go to different locations to deposit what they are recycling.
Plastics are high-traffic items so No. 1, 2 and 5 are accepted. These need to be rinsed before they are accepted with the caps and lids removed.
Do note that all of those plastic bags you have from grocery stores are not acceptable at this center. They don't meet the criteria for this recycling operation.
When it comes to paper, it's easier to explain what they can't take: Fresh pizza boxes due to the grease and food debris. And paper that has a wax coating like milk and juice cartons, but you can rip the spiral binder off of your 2020 calendars and take them in along with your cardboard, newspapers, magazines, phone books, office paper and junk mail so they can be reincarnated.
Speaking of junk mail, you'll notice a bin inside the Superior Post Office where unsolicited mail that doesn't interest you can go so you won't even have to take it home now. Tin and steel cans go into the co-mingle container as well.
They do need to be rinsed out, but the labels can remain. As far as aluminum drink cans, they also have a home in the co-mingle receptacle, but you'll notice they have a special area.
Ornelas said they take these to Axman Recycling where they get around 22 cents a pound that equates to around $60-$70 for three large bags.
"I know that some people are uncomfortable when we watch them throw their items into the bins, but there is a good reason for that. If left unmanned, garbage will be tossed in and that would close the entire program down because if the total weight is more than 2% of recyclable items, we are charged a lot more," Ornelas said.
The bins are taken to Missoula where they are squished into bales and while on the conveyor belt a computer can detect items that are not supposed to be in there. When that happens, another invoice is sent to cover non-welcome garbage and it's a hefty bill, too.
One of the three revenue streams the Superior Recycling Center has is the cardboard pickup on Wednesdays which is a great service for the business community. This is where another volunteer crew drives to the companies that have contracted for a flat rate for removal of cardboard. It is only offered in Superior.
The second means of income is from city taxes out of their solid waste budget which amounts to $200 a month. The third are donations. Donations that are deeply appreciated and needed because every time Republic dumps the gigantic container, it costs the program $471.
Glass recycling was recently added which is conducted by a different company out of Missoula and their cost for each dump is $300. This has been requested from the beginning but until Glass Recycling Works set up shop, there wasn't a center nearby that would take glass.
For these items, think food and drink-based glass with the lids removed but the labels can remain. What is not acceptable in this bin are light bulbs, mirrors, windowpanes, etc. Ornelas said 3,000 pounds of glass was collected for the first dump.
Click on the 'Recycling Menu' at www.townofsuperior@blackfoot.net for a comprehensive list of what the center accepts. It is open from 10 a.m. to 4 p.m. Wednesday and Saturday.
---