Thompson Falls Lady Hawks win big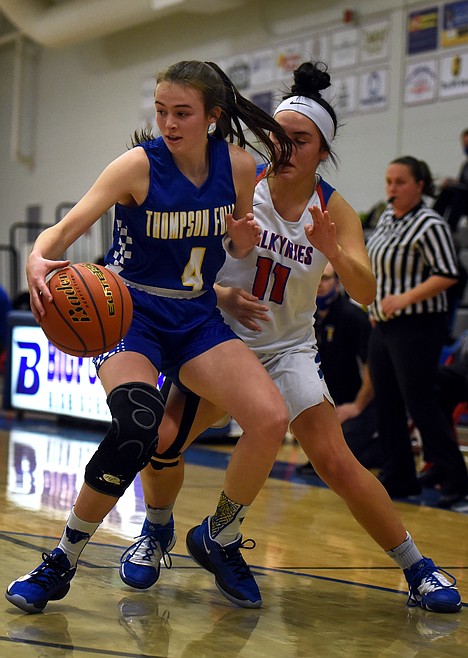 Thompson Falls' Ellie Baxter scored 17 points to help the Lady Hawks beat Bigfork, 67-51, last Thursday. (Jeremy Weber/Valley Press)
by
CHUCK BANDEL
Valley press
|
January 20, 2021 12:00 AM
The Lady Hawks appear to have taken flight in the Western 7-B Montana high school girls 2021 season.
With a lone setback to Eureka's girls in the rear-view mirror, the Thompson Falls girls got back on track this past week with a pair of convincing wins over two teams from two states.
Saturday afternoon the Lady Hawks jumped to a commanding early lead and never looked back as they rolled past visiting Wallace, Idaho, 75-35 in a hastily scheduled non-conference game in Thompson Falls. Deer Lodge cancelled their game with the Lady Hawks earlier in the week.
Four Lady Hawks scored in double-figures during the game, in which the host team utilized superior rebounding and defense to take a 24-6 lead after the first eight minutes of play.
Megan Baxter had a game-high 20 points and helped the Lady Hawks set the tone early with command of the boards and dominating defense in the middle.
The second quarter was more of the same as the Lady Hawks controlled the boards and scored inside and out on their way to a 22-12 advantage that propelled them to an insurmountable 46-18 halftime lead.
A total of 10 Lady Hawks got their names in the scoring column during the rout. Joining Baxter in double figure scoring were Ellie Baxter with 16, and 10 points apiece from Jody Detlaff and Faith Fields.
Thursday, Thompson Falls handled 7B foe Bigfork, 67-51, on the road.
The Lady Hawks took control in the second quarter, outscoring the Valkyries 19-11 for a 33-25 halftime lead.
The Baxter girls led the way for the Lady Hawks offensive show, with Ellie Baxter tossing in 17 points and Megan Baxter adding 16.
Thompson Falls padded their halftime lead by outscoring Bigfork 21-14 in the third quarter.
Four Lady Hawks scored in double figures during the game. In addition to the Baxter's outputs, Fields scored 12 points while Detlaff added 10.
The Lady Hawks are 5-1 overall and 3-1 in the conference.
Next on the agenda for the Lady Hawks is a home game Tuesday versus Stillwater Christian, followed by a road encounter with Mission Friday.
---