Great Burn Conservation Alliance seeks volunteers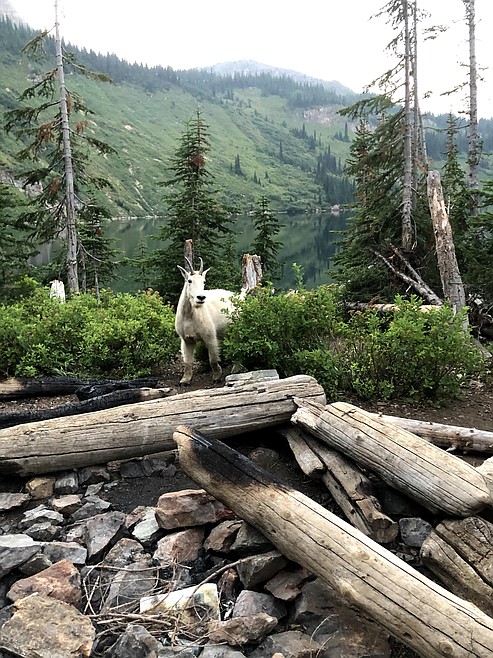 Mountain goats frequent the Heart Lake Trail area. (Great Burn Conservation Alliance photo)
With the snow now gone in the high country, workers are getting the trails ready for hikers.
The U.S. Forest Service is clearing them and the campgrounds are being spruced up as this summer could outpace last summer for eco-tourism since so many visitors discovered Mineral County during the pandemic.
The Great Burn Conservation Alliance, formerly known as the Great Burn Study Group, has initiated a program that will get locals out hiking as well as providing customer service for our tourists.
The 'Trail Ambassador' program is being conducted with collaboration between the Forest Service and the Montana Department of Fish, Wildlife & Parks as all three entities joined forces to make this work.
Because this is new and depends on volunteers to make it successful, they are starting with the trailhead at Heart Lake. This area in the Great Burn Proposed Wilderness is not only beautiful, but is easily accessible, making it a perfect destination for families or beginner hikers and backpackers.
A couple of miles into the lake to picnic, fish, explore, read, rest and appreciate the surroundings has made this destination, quite possibly, the most popular hike in Mineral County.
The Heart Lake area is also home to a native mountain goat herd. Goats are naturally curious and love salt, so they become habituated to humans when they are allowed to lick sweaty backpacks or eat human food.
Like bears, this behavior over time can create dangerous situations for the goats, Fido and hikers and campers. Recently, the Heart Lake goats have been getting a little too close to visitors in camp.
Injuries or accidents between goats and humans can lead to trails being shut down or the removal of goats.
This is where the Trail Ambassadors come in. Ambassadors will serve as a friendly, informative presence in the Heart, Pearl, and Dalton Lake areas.
Because this area has so many new outdoor enthusiasts to the area and new to camping, ambassadors will provide useful information about wildlife (especially goats), camping at Heart Lake, trail access, safety and leave-no-trace practices to visitors in the area.
"Our goal with the Trail Ambassador program is to put folks on the ground during busy summer weekends to answer any questions folks may have about the area, educate them on how to deal with goats or any other wildlife in camp, and perform light campsite maintenance. The end goal of the program is to keep the goats wild, Heart Lake pristine, and campers happy and safe," said Hayley Newman, Great Burn Stewardship and Outreach Director.
This is a great way to get out for a hike while simultaneously performing an important conservation service. Easy training is at their website; https://www.greatburn.org/ambassador and Newman is delighted to visit with you at 406-546-2329 or hayley@greatburn.org.
---