Mineral County Commodity Supplemental Food Program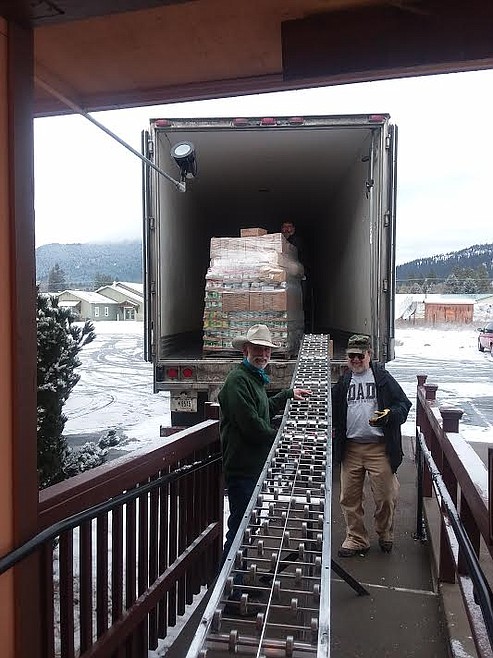 Tom Heacock, left, and Scott Burrows get ready to unload the truck that brings to pallets of food from Missoula.(Monte Turner/Mineral Independent)
by
MONTE TURNER
Mineral Independent
|
March 3, 2021 12:00 AM
Like a well-oiled machine, the volunteers make the task of unloading, repackaging and boxing food to be distributed to individuals and couples over age 60 on a limited income in Mineral County.
This bi-monthly program aided 80 people Wednesday, Feb. 24 and there is a waiting list of 10 more who could use the groceries.
"But we still want those who are eligible to apply because these numbers change drastically all of the time and we want people to know it's here to help them," said Matilda Sink.
Sink and her partner David Walker have taken over the organizational portion of the program since October 2020.
Prior leaders, Donna Richter and Patti Curtin, have too much on their plates.
"I just couldn't devote 100% to the program with my other duties at the West End fire department, ambulance and Quick Response Unit as it requires phone calling and tons of paperwork to make it operate smoothly," said Richter. But she is still on the front line helping package and distribute boxes to those in DeBorgia, Haugan and Saltese.
Curtin now works for the Mineral County Attorney's Office. Her responsibilities allow her little or no free time to prepare and organize which needs to be done during work days and hours.
The team of volunteers is committed and arrives at the St. Regis Community Center by 9:30 a.m. on the third or fourth Wednesday every other month, depending on when the food arrives at the local warehouses.
Pat and Everette Coulter have been consistent helpers the last three or four years since they retired to St. Regis from Spokane. Pat smiles as she said volunteering in her community is exceedingly rewarding.
"I've volunteered my entire life. It gives me a great feeling to be able to help my neighbors," Pat said as she and Everette loaded each box with packages of white and brown rice, peanut butter, powdered milk, pasta, dry Great Northern and Pinto beans, Del Monte fruit cocktail, instant potatoes, canned beef and boneless chicken.
Nearly 200 cases arrived and are then broken down so that every box receives the same grub. Some recipients will swap items with each other, which is fine as the commodities are for whatever their needs may be.
Most locals refer to this kindness as simply 'commodities' which is serviced by the Western Montana Area VI Agency on Aging in Polson and under the umbrella of the Mineral County Pioneer Council's non-profit status.
Learn more about eligibility requirements at www.mcpioneercouncil.com.
Recent Headlines
---