Thompson Falls teams head to Eureka for divisionals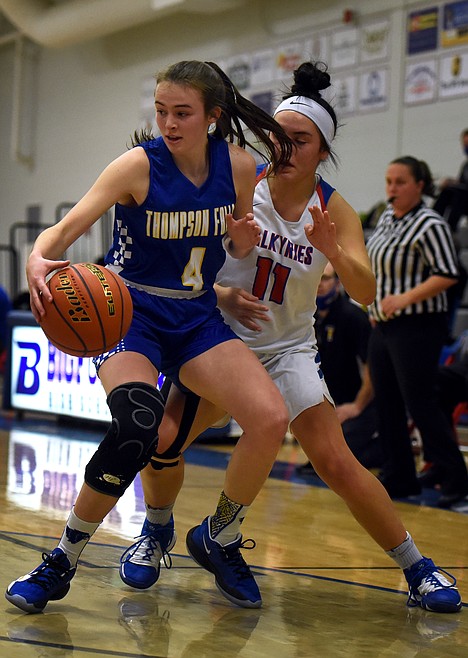 Thompson Falls' Ellie Baxter against Bigfork Jan. 20. (Jeremy Webster/Valley Press)
by
SCOTT SHINDLEDECKER
Clark Fork Valley Press/Mineral Independent
|
March 3, 2021 12:00 AM
It's time for the Western B basketball tournaments as both Thompson Falls squads vie for a spot in the state playoffs.
Lincoln County High School in Eureka will host and play begins Wednesday for the girls and Thursday for the boys.
In the first girls game, Eureka plays Deer Lodge at 1 p.m. Wednesday, followed by Bigfork and Missoula Loyola at 3 p.m. Mission faces Anaconda at 5 p.m. and Lady Hawks tackle Florence-Carlton at 7 p.m.
The semifinals will be Thursday with one game at 6:30 p.m. and the next at 8:15 p.m. If the Lady Hawks win Wednesday, they'd play Thursday's late game.
The title game is set for 7:45 p.m. Friday.
Thompson Falls is 13-2 and averages 64.2 points per game while allowing just 40.5 points per game.
Megan Baxter leads in scoring with 17.5 points and 11.6 rebounds. Jody Detlaff is next in scoring with 11.5 points/game and 8.4 rebounds/game. Ellie Baxter checks in at 10.5 points/game, 5.2 assists/game and 7 rebounds/game while Elli Pardee is averaging 7.2 points/game and 3 assists/game.
For the boys, action begins at 11:30 a.m. with Eureka facing Floence-Carlton. The Blue Hawks will face Loyola at 1:15 p.m. Bigfork faces Anaconda at 3 p.m. then Mission tackles Deer Lodge at 4:45,
A Thompson Falls win puts it in a Friday semifinal game at 2:15 p.m. The title game is at
6:30 p.m. Saturday.
Dante Michelli, Kade Pardee, Nathan Schraeder, Cody Burk, Tristan Subatch and Justin Morgan lead the team in scoring and most other categories.
---