Lady Hawks wrap up season in Eureka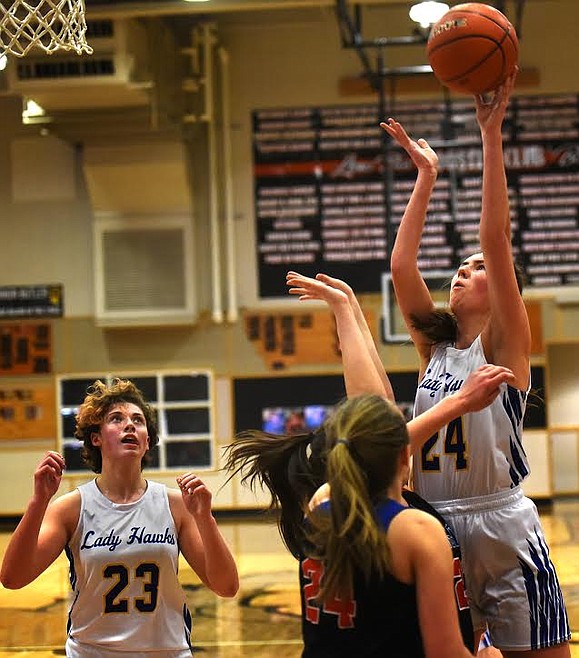 Thompson Falls' Megan Baxter goes to the basket against as teammate Jody Detlaff waits for a possible rebound in the Class 7-B District tournament in Eureka. (Jeremy Weber/Valley Press)
by
Clark Fork Valley Press
|
March 10, 2021 12:00 AM
The Thompson Lady Hawks wrapped up their 2021 season with a 1-2 record at last week's District 7-B tournament in Eureka.
The Lady Hawks (14-4) had a good beginning with a 48-26 win over Florence-Carlton Wednesday, but fell out of the running for the championship after a 54-38 defeat to Anaconda.
Friday, a narrow, 52-50 loss to Bigfork, was the end of the line for the Lady Hawks.
Here's a look at each game:
WEDNESDAY, March 3
Thompson Falls 48, Florence-Carlton 26
Jody Detlaff led a balanced scoring effort with 12 points while Faith Frields scored 11 and Megan Baxter had 10.
THURSDAY, March 4
Anaconda 54, Thompson Falls 38
Anaconda held a three-point halftime lead in the semifinals and secured a spot in the title game by outscoring the Lady Hawks by 10 points in the third quarter.
Megan Baxter scored 16 points while Detlaff added eight for Thompson Falls.
FRIDAY, March 5
Bigfork 52, Thompson Falls 50
The Lady Hawks' season ended when Bigfork's Emma Berreth had a huge, 33-point game in a 52-50 win.
Megan Baxter's 21 points led Thompson Falls. Detlaff scored 16 for the Lady Hawks.
The game was as close as it appeared with the teams tied after the first, second and third quarters.
It was the final game for four Lady Hawks seniors, including Baxter, Detlaff, Frields and Riley Wilson.
Megan Baxter led the team in scoring with 17.5 points and rebounding with 11.6 per contest. Detlaff was next in scoring with 11.5 ppg. and 8.4 rebounds per game.
Host Eureka won the tournament Friday with a 64-50 win over Anaconda.
Missoula Loyola claimed third with a 51-36 win over Bigfork Friday.
---