State champion Thilmony leads Sanders, Mineral county medalists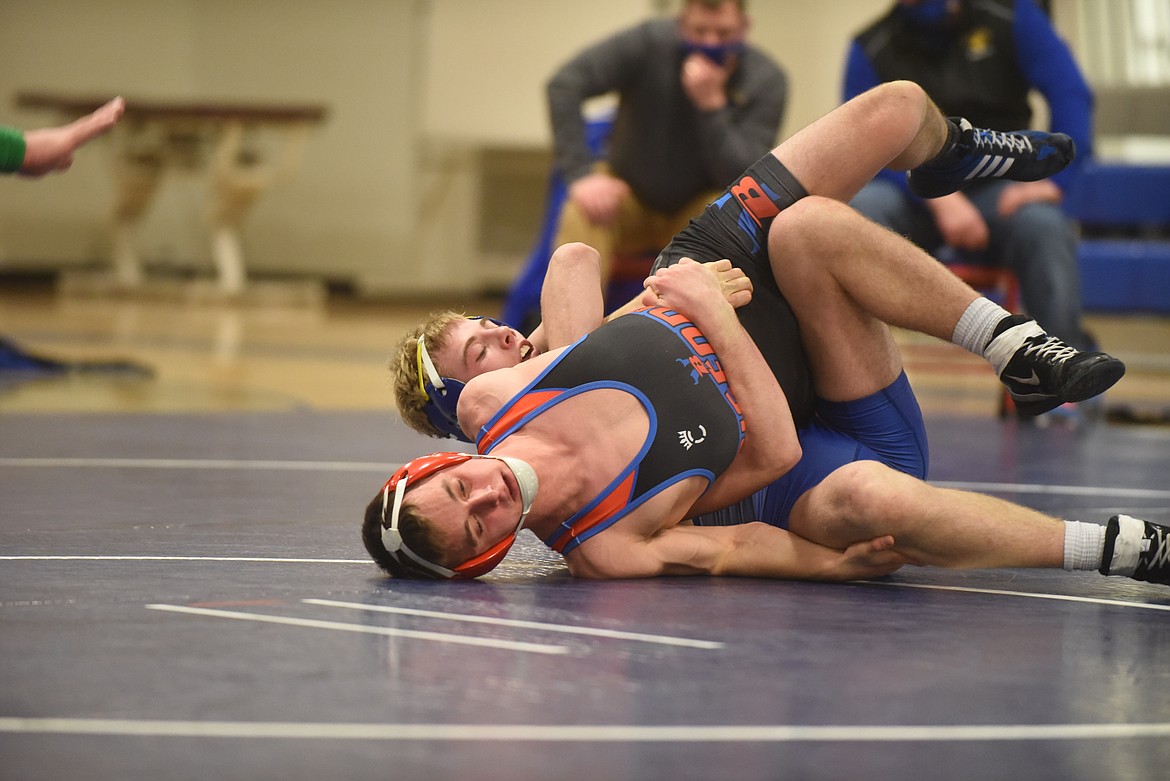 Thompson Falls wrestler Trae Thilmony, shown here in a match against Bigfork earlier this season, won his second straight state championship at the Montana High School Association B-C tournament last weekend. (Scott Shindledecker/Valley Press)
by
SCOTT SHINDLEDECKER
Clark Fork Valley Press/Mineral Independent
|
March 10, 2021 12:00 AM
Wrestlers from Sanders and Mineral counties enjoyed successful weekends at the Montana High School Association Class B-C state championships last weekend in Shelby.
Thompson Falls-Noxon had four medalists while Plains-Hot Springs had two and Clark Fork had one.
At 132 pounds, junior Blue Hawk Trae Thilmony beat Eureka's Gunnar Smith, 7-4, for his second consecutive championship.
Smith was gunning for his fourth straight title, but Thilmony handed Smith his second of third defeats on the season, including one the weekend before last at the Western B-C divisional championship match, 12-10, in overtime.
Thilmony will set his sights on a third straight title next year. He was third as a freshman while battling an injury.
Joining Thilmony as medalists were 145-pounder Eli Ratliff, who was fourth, 160-pounder Max Hannum, who was fourth, and 182-pound Dane Chojnacky, who was fifth.
Plains-Hot Springs had two medalists in 120-pounder Drew Carey, who was sixth, and 126-pounder Peter Carey, who was fourth.
For the Clark Fork Mountain Cats, 120-pounder Decker Milender placed sixth. Senior teammate Hunter Haskins was 1-2 at states and finished 22-7.
Glasgow won the team title with 181 points. The Blue Hawks were ninth with 70. Plains-Hot Springs was 14th with 48.
Complete results are available at trackwrestling.com.
Team scores: Glasgow 181, Huntley Project 151, Circle 96, Three Forks-Ennis 91, Fairfield-Augusta 78, Cut Bank 73, Eureka 72.5, Colstrip 72, Thompson Falls-Noxon 70, Jefferson 68, Malta 55.5, Columbus-Absarokee-Park City 55, Whtiehall 53.5, Plains-Hot Springs 48, Anaconda 44, Cascade 42, Conrad 41, Fort Benton-Big Sandy 40.5, Chinook 32, Simms 32, Florence-Carlton 31, Forsyth 30, Poplar 30, Red Lodge 27, Bigfork 23, Choteau 23, Broadus 20, Shepherd 20, White Sulphur Springs 20, Baker 18, Shelby 18, Superior-Alberton 16.
120
1st Place - Cooper Lane of Huntley Project (Worden)
2nd Place - Riley Devries of Red Lodge
3rd Place - Tugg Taylor of Circle
4th Place - Decker Milender of Superior/Alberton
5th Place - Jase Frederick of Poplar
6th Place - Drew Carey of Plains/Hot Springs
3rd Place Match
Tugg Taylor (Circle) 12-5, Jr. over Decker Milender (Superior/Alberton) 23-7, So. (Dec 6-0)
5th Place Match
Jase Frederick (Poplar) 20-7, Jr. over Drew Carey (Plains/Hot Springs) 13-7, Fr. (Dec 5-1)
126
Guaranteed Places
1st Place - Kyle Durden of Lincoln County (Eureka)
2nd Place - Miguel Ramos of Fairfield/Augusta
3rd Place - Krayle Stormer of Circle
4th Place - Peter Carey of Plains/Hot Springs
5th Place - Dayne Sullivan of Simms
6th Place - Cameron Mikes of Malta/Whitewater
3rd Place Match
Krayle Stormer (Circle) 32-3, Sr. over Peter Carey (Plains/Hot Springs) 18-5, Sr. (Dec 10-4)
132
Guaranteed Places
1st Place - Trae Thilmony of Thompson Falls / Noxon
2nd Place - Gunnar Smith of Lincoln County (Eureka)
3rd Place - Tommy Sawyer of Anaconda
4th Place - Bryson Bartelson of Circle
5th Place - Dawson Powers of Whitehall
6th Place - Tyler Niles of Shepherd
1st Place Match
Trae Thilmony (Thompson Falls / Noxon) 34-1, Jr. over Gunnar Smith (Lincoln County (Eureka)) 33-3, Sr. (Dec 7-4)
145
Guaranteed Places
1st Place - Zach Valdez of Colstrip
2nd Place - Canyon Casterline of Circle
3rd Place - Brady Ellison of Columbus/Absarokee/Park City
4th Place - Eli Ratliff of Thompson Falls / Noxon
5th Place - Mathew Larson of Cut Bank
6th Place - Devon Nesbitt of Glasgow
3rd Place Match
Brady Ellison (Columbus/Absarokee/Park City) 28-7, Jr. over Eli Ratliff (Thompson Falls / Noxon) 37-3, So. (Fall 3:52)
160
Guaranteed Places
1st Place - Coy Cohenour of Three Forks/Ennis
2nd Place - Wylee Lindeen of Huntley Project (Worden)
3rd Place - Camryn Mears of Malta/Whitewater
4th Place - Max Hannum of Thompson Falls / Noxon
5th Place - Miguel Perez of Fairfield/Augusta
6th Place - Damien Nesbitt of Glasgow
3rd Place Match
Camryn Mears (Malta/Whitewater) 27-9, So. over Max Hannum (Thompson Falls /Noxon) 32-9, Fr. (Fall 1:26)
182
Guaranteed Places
1st Place - Rylin Burns of Colstrip
2nd Place - Stran Selman of Huntley Project (Worden)
3rd Place - Cameron Brusven of Shelby
4th Place - Cooper Larson of Glasgow
5th Place - Dane Chojnacky of Thompson Falls / Noxon
6th Place - Mason Garfield of Wolf Point
5th Place Match
Dane Chojnacky (Thompson Falls / Noxon) 34-4, Sr. over Mason Garfield (Wolf Point) 14-8, Jr. (UTB 6-3)
---