Blue Hawks cap season to remember with fourth at state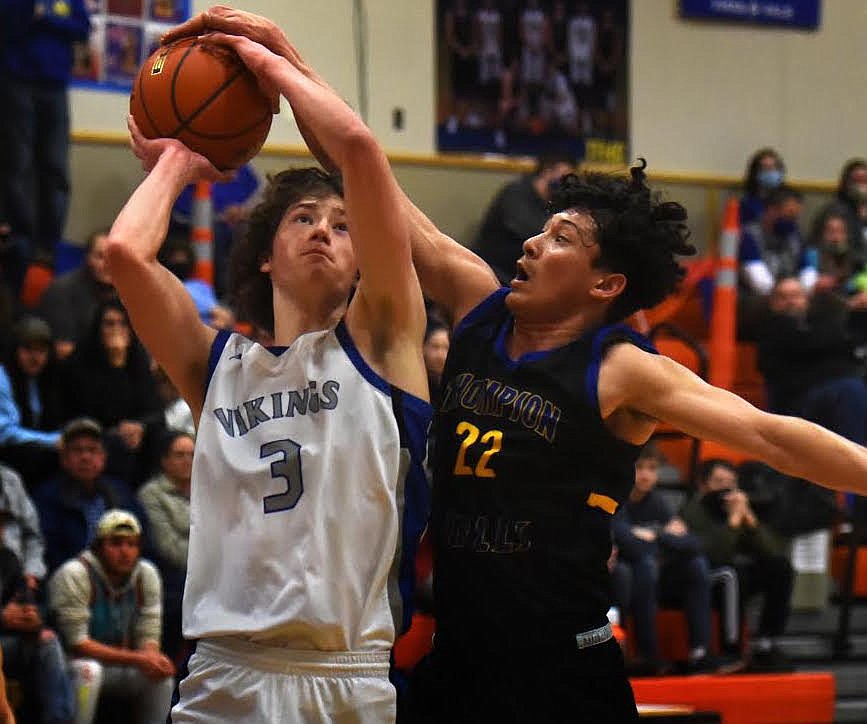 Thompson Falls basketball Dante Micheli helped lead the Blue Hawks to a fourth place finish at the M H S A Class B playoffs last week. (Jeremy Weber/Valley Press)
by
Clark Fork Valley Press
|
March 17, 2021 12:00 AM
The Thompson Falls Blue Hawks basketball team capped a season to remember with a fourth-place finish at the Class B state tournament last weekend in Billings.
The Blue Hawks were 17-7, third in the West Divisional and fourth in the state. Only a narrow loss in the divisional and an overtime defeat in the state semifinals kept them from playing for championships in each tournament.
The Hawks reached states for the first time in 15 years. Head coach Jake Mickelson told 406sports.com the fourth place game was the furthest the Blue Hawks had went in Class B.
Here's a look at how the Hawks fared at First Interstate Arena at MetraPark.
WEDNESDAY, March 10
Thompson Falls 70, Shelby 34
Shelby had 6-foot-9-inch Rhett Reynolds, a University of Montana recruit, but the Coyotes (20-4) got hammered by the faster and quicker Hawks.
Shelby was ranked No. 4 in Class B, but a huge second quarter propelled the Hawks to a rout. They outscored the Coyotes 24-7 in the second to make it 39-20 and a big run, 20-1, to begin the fourth enacted the running clock for the Mercy Rule.
Thompson Falls senior Dante Micheli scored 23 points and eight rebounds, while senior Kade Pardee added 18 points and junior Nathan Schraeder had eight points.
THURSDAY, March 11
Manhattan 60, Thompson Falls 55, OT
The No. 2 Tigers led 15-5 before the Hawks rallied to keep the game close the rest of the way.
Manhattan led 29-28 at halftime and 40-38 after three.
Thompson Falls went ahead 44-42 in the fourth before the Tigers led 47-45 in the final minute.
But heroics by Micheli and senior Kade Pardee, who scored a layup with 17 seconds left, forced overtime.
But Manhattan dominated the extra period to reach the title game.
Pardee led the Blue Hawks with 17 points, 11 rebounds and seven assists while senior Cody Burk had 12 points and seven boards.
FRIDAY, March 12
Thompson Falls 65, Florence-Carlton 52, OT
Thompson Falls played its second straight overtime game and a 17-4 extra period was the difference.
Micheli led all players with 22 points and five assists. Pardee added 21 points, a game-high 12 rebounds and four assists.
SATURDAY, March 13
Huntley Project 64, Thompson Falls 47
Schraeder led Thompson Falls with 10 points and Pardee added eight points and eight rebounds.
The Blue Hawks program's last state trophy was in 1953, when it lost the State C title game 52-46 to Belfry.
---