Football roundup: Undefeated Blue Hawks wallop Circle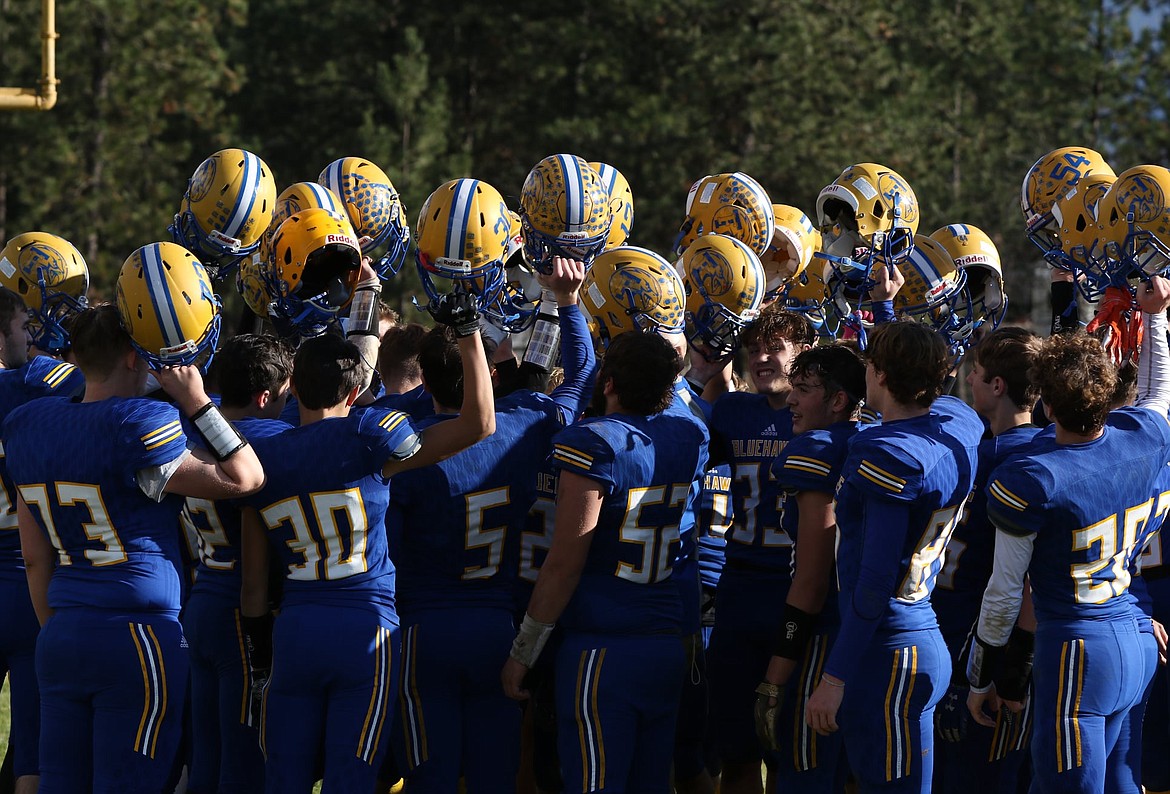 The Thompson Falls Blue Hawks celebrate after defeating Circle in 8-man playoff action Saturday. (John Hamilton photo)
by
Valley Press
|
November 3, 2021 12:00 AM
Thompson Falls advanced in the 8-man football playoffs with a convincing 55-6 victory over Circle on Saturday.
The undefeated Blue Hawks (10-0) took the early 21-0 advance in the first quarter, the tacked on anther dozen to lead the Wildcats 31-6 at the break.
The third quarter was all Thompson Falls with 22 more points before they let off the throttle in the final quarter.
The Blue Hawks move on in the bracket to host Belt on Saturday at 1 p.m. Belt defeated Culbertson 55-6 to advance.
Circle;0;6;0;0 — 6
Thompson Falls;21;12;22;0 — 55
Alberton-Superior fell in a classic shootout with Park City 60-40 to end their season.
The Mountain Cats had the first quarter advantage 14-6 and went into the half tied up at 22 each.
However, Park City (8-1) outscored Alberton-Superior in the second half 38-18 to take the victory.
The Mountain Cats finished the season with a 5-3 overall record.
Alberton-Superior;14;8;6;12 — 40
Park City;6;16;16;22 — 60
Hot Springs lost a heartbreaker 26-20 to defending champs from Froid-Lake in the 6-man playoffs.
Hot Springs (6-3) brought a more balanced attack, but a big second quarter was enough for undefeated Froid-Lake (10-0) to advance.
Jack Mcallister had a 43-yard TD run for the Savage Heat in the first quarter, and added TD runs of 17 and 18 yards in the third and fourth frames.
Hot Springs;6;0;6;8 — 20
Froid-Lake;0;26;0;0 — 26
The Noxon Red Devis fell 43-55 to Shields Valley Rebels in 6-man playoff action on Saturday at Wilsall.
Noxon trailed 19-20 at half-time, but was outscored 12-0 in the third frame. That proved to be the difference in the game.
Noxon ends the season 3-6 overall.
Noxon 14;15;0;14 — 43
Shields Valley 16;14;12;13 — 55
---