Superior sophomore Alysha Ryan has an eye for art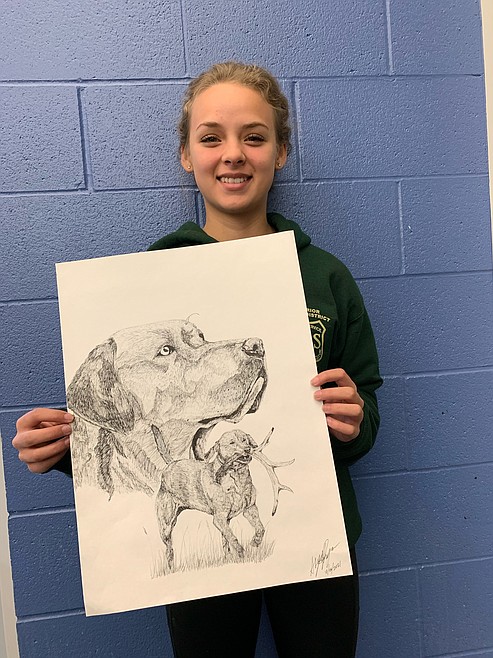 Alysha Ryan is a sophomore at Superior High School.
by
Monte Turner Mineral Independent
|
November 3, 2021 12:00 AM
When Alysha Ryan was in second grade at Superior Elementary School, she picked up a pencil with something else in mind besides practicing the alphabet or arithmetic.
"I had a love of art and wanted to become good at drawing, so that's when it started," she explained in the hallway outside of Mrs. Sara Forsythe's art class. Ryan, now 16 and a sophomore at Superior High School, has a gift along with a very humble gratefulness. Nothing out of the ordinary for training as she had school art classes during her elementary and middle school years.
She took industrial arts from Mr. Jeff Schultz last year, but this year she decided to return to fine art to learn new techniques and test new medias. No private or group classes, ever. Her dad did some pencil drawings, but this passion was developed on her own.
"My family has always been very supportive and encouraging me and that makes a big difference. I come from a huge family so that's a lot of support," she smiles.
Ryan uses a reference photo or painting for every art piece she creates which involves pen, charcoal or acrylics at this point. Hands down, animals are her favorite subjects for drawing because she has such strong feelings them.
This young artist has already sold her work and is currently working on a commissioned piece for a local family.
She lights up as she talks about the herd of elk they almost got into on opening weekend. Anything outdoors is what she enjoys doing and that includes being the football manager after school each day. She worked for the Forest Service last summer with plans to do it again next year.
For her future, she has another interest but plans to keep her art talent moving on the side.
"I love welding. It's super fun", she said. "It's actually an awful lot like art as you have to have patience with the project".
Forsythe grew up in a creative environment with her dad in his 70s today still teaching professional art in Rapid City, South Dakota. She founded Zootown Arts Community Center (ZACC) in Missoula, which is a non-profit arts center supporting artists in every medium focusing on art education, studio access and exposure for budding artists.

She has been teaching for 15 years and this is her second year in Superior. This educator knows her stuff.
"Alysha's one of those rare talented artists who is self-taught," she said. "I've only worked with her for a couple of months, and it goes without saying how much I enjoy her enthusiasm."
Recent Headlines
---