Blue Hawk gridders reach state semifinals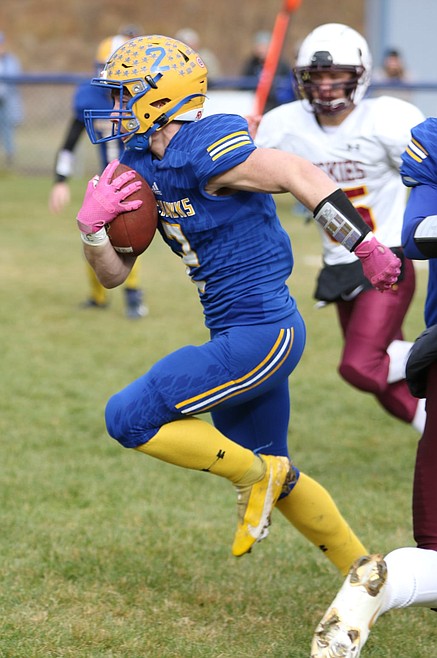 Thompson Falls Ryan Bucher scored two touchdowns to help the Blue Hawks beat Belt, 31-10, last Saturday in the 8-man state football playoffs. (Photo courtesy John Hamilton)
by
Clark Fork Valley Press
|
November 10, 2021 12:00 AM
The Thompson Falls Blue Hawks are in the state 8-man semifinals after beating Belt, 31-10, Saturday afternoon at Previs Field.
It's a step beyond what the team achieved in the 2020 season when the Blue Hawks lost in the state quarterfinals against Scobey, 40-24.
Thompson Falls (11-0) will host Park City this weekend in the semifinals.
The Blue Hawks remained perfect by scoring 25 points in the opening quarter.
The Huskies (8-2) got within 15 points, 25-10, after three quarters. But the Blue Hawks added another TD in the fourth quarter to set the final.
Ryan Bucher's kickoff return staked the Blue Hawks to an early lead over Belt. Bucher also scored a second TD. Trae Thilmony also scored a pair of touchdowns in the win.
The winner will play Saturday, Nov. 20 for the state championship against the winner of the Drummond/Philipsburg-Fort Benton game. Drummond beat Fort Benton 48-18 in the 2020 semifinals and won the state title with a 44-6 win over Scobey.
Park City, who is enduring the death of team member Jed Hoffman, beat Scobey, 32-20, last week.
The 9-1 Panthers held a tribute for Hoffman before taking the field. Hoffman collapsed during a practice and later died.
Quarterback Jake Gauthier threw three TD passes to Wyatt Hamilton. Hamilton also ran for a fourth score.
Gauthier and Hamilton connected for two 37-yard TD passes. Hamilton's 2-yard run in the third quarter gave the Panthers a two-score lead and a 27-yarder in the fourth quarter sealed the win.
Recent Headlines
---