Sanders Co. residents: Tourists are welcome for brief time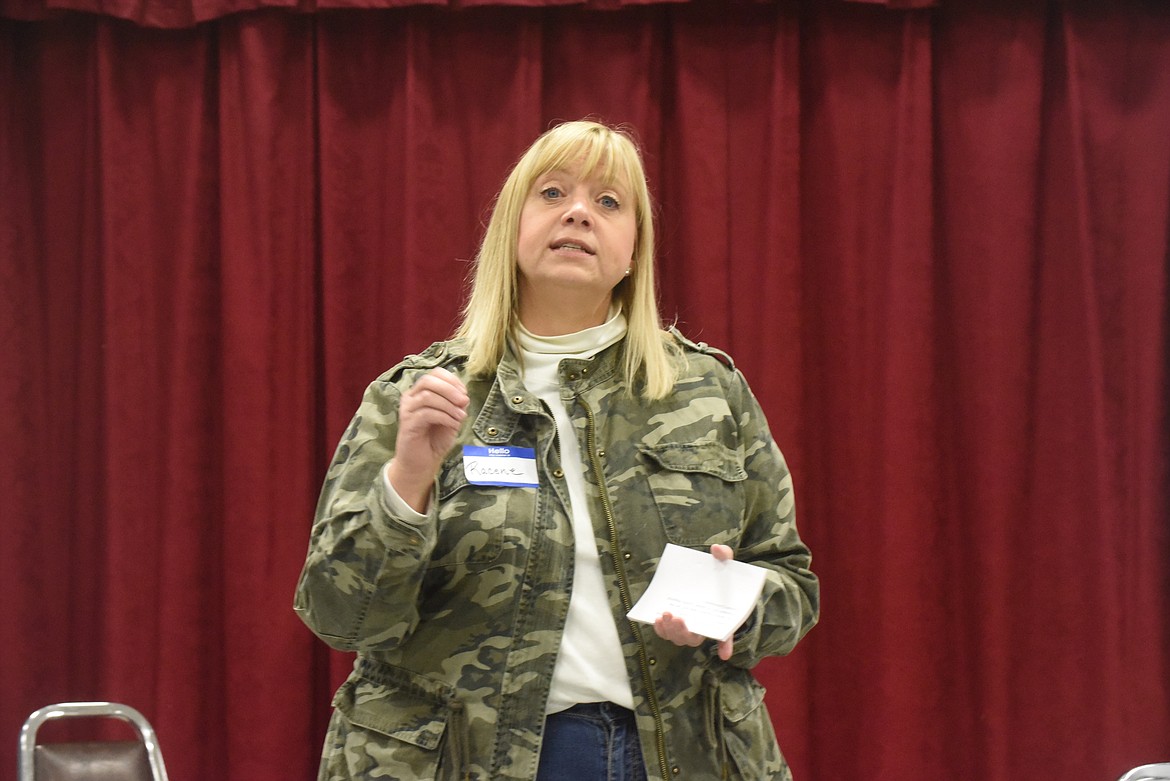 Glacier County Tourism President and CEO Racene Friede speaks at a meeting last week at the Paradise Center in Sanders County. (Scott Shindledecker/Valley Press)
by
SCOTT SHINDLEDECKER
Hagadone News Network
|
November 10, 2021 12:00 AM
Tourists are welcome to come to Sanders County, but there's a general consensus the time they spend there should be limited.
County residents who attended a meeting about tourism last Wednesday voiced those feelings and others during a 2-hour session put on by Glacier Country Tourism.
Racene Friede, President and CEO of the company which promotes tourism across the eight-county area of western Montana, heard from about a dozen folks while also discussing the importance of tourism to Montana's economy.
"Non-residents visitors spent nearly $4 billion in Montana in 2019 while in-state residents spent another $1 billion," Friede said. "Montanans benefit from these dollars with better airline service, lodging choices and restaurants."
Even as Covid-19 restrictions hampered travel in 2020, University of Montana figures indicated out-of-state visitors spent $3.15 billion.
"2020 was a year with people seeking wide-open spaces and the huge influx of people really stressed local communities because there weren't enough employees and services to handle the visitors," Friede said.
Change was another subject of intense discussion.
Shelly Rummel, the wife of Sanders County Sheriff Tom Rummel, both who are lifelong residents, said her concerns and many other locals were of change forever altering what makes the county special. Those fears included tourists who may decide to relocate to the area.
"The majority of people fear an altering of their quality of life," Rummel said. "We want to keep our rivers clean and our forests pristine.
"There has to be a balance in terms of the needs of the business owners and locals," she said.
Two Thompson Falls business owners, Zach Whipple-Kilmer and Daniel Moore, spoke of their desire to have tourists in the area.
Whipple-Kilmer, who hails from northwest Pennsylvania, operates Limberlost Brewery.
"As a business owner, I need people to come here. I have a family to feed," Whipple-Kilmer said. "I hear people say 'We don't want tourists here, but I tell them they come here, spend their money and go home.'"
Moore, who used to work for Microsoft for 20 years and arrived from Arizona, bought the Black Bear Inn in 2018, said change is inevitable.
"I know there are a large faction of residents who don't want it to change, but things always change, whether it's for better or worse," Moore said. "What we would like to see is more visitors who interact with locals on a respectful basis and clean up after themselves."
Whipple-Kilmer said visitors are inevitable.
"You can't stop it (visitors) but you have to prepare for it," Whipple-Kilmer said.
For Plains resident and business owner Carissa McNamara, who operates Wild Horse Lavender, a small farm, offered her thoughts on tourists.
"There are always going to be people who are a train wreck and you just have to deal with it," she said. "But they are people who you can direct to your friends and neighbors where they will spend money.
She also said she believes local businesses can have a positive effect on visitors.
"We want to accommodate people and we want them to care about the land because when farm land starts to disappear, they'll fight for it," McNamara said. "We've seen people come in and leave a different person. If they don't care, they won't protect it."
Infrastructure was also a topic of some discussion.
A long-time Thompson Falls resident complained of not being able to go camping because she had to make a reservation a year in advance to secure a spot.
"I live here and I don't typically plan on when I'll go camping, so it's frustrating when they aren't sites available," she said.
Sewage pumping stations and a lack of them in Sanders County was also mentioned as a problem.
One man who was not a business owner summed up the feelings of those who don't depend on visitors for a livelihood after he was asked when does it feel too crowded.
"It feels too crowded 365 days a year. We don't want you here," he said.
Friede wrapped up the meeting by asking residents to fill out an online survey which it believes will help determine general attitudes toward living in Glacier Country and tourism's impact on resident quality of life.
It can be found at glaciermt.com/resident-survey.
For those who couldn't attend last week's meeting, there will be a virtual meeting from 10 a.m.-noon Tuesday, Nov. 16. Online registration can be done at glaciermt.com/town-hall.
For more information, visit glaciermt.com/stewardship.
Recent Headlines
---