Blue Hawks rout Park City; will play for state title on home field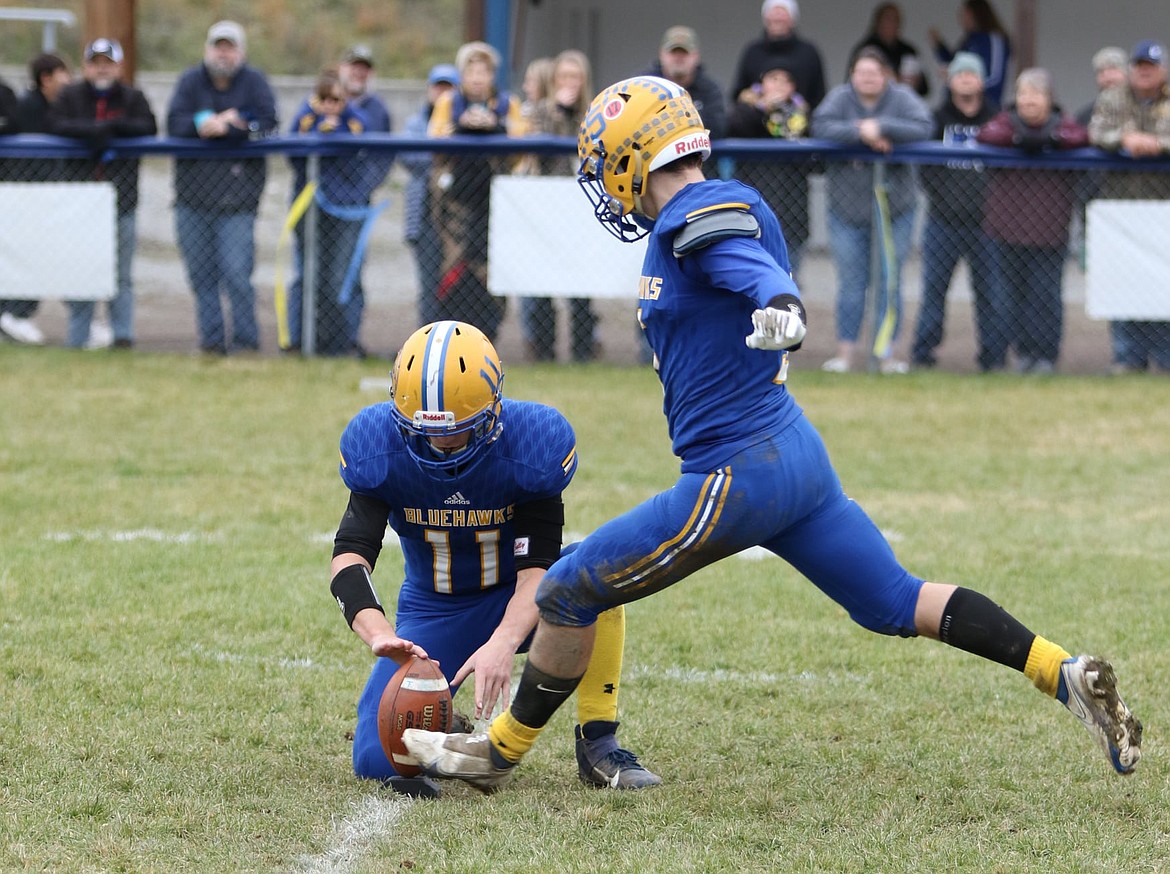 Thompson Falls kicker Nathan Schraeder boots one of three extra points in his teams' 41-16 win over Park City in last Saturday's 8-man semifinal playoff game. Schraeder scored three touchdowns to help the Blue Hawks to this Saturday's state title game. (Photo courtey John Hamilton)
by
SCOTT SHINDLEDECKER
Clark Fork Valley Press/Mineral Independent
|
November 17, 2021 12:00 AM
The Thompson Falls Blue Hawks football team rolled to the state championship game with a 41-16 win over Park City in last Saturday's semifinals.
The Blue Hawks will host this Saturday's game at Previs Field against the defending 8-man champs, Drummond-Philipsburg. The Titans beat Fort Benton 38-22 on Saturday.
Kickoff is set for 1 p.m.
According to Blue Hawks Nation sports expert John Hamilton, it's the first time Thompson Falls will host a state title game since 1974. The Hawks beat Huntley Project 60-22 for the Class B crown. Thompson Falls followed that title with another in 1975 when it beat Sweet Grass Co., 13-7.
It was the Blue Hawk's last title game appearance and championship. Hot Springs was the last Sanders County school to play in a state title game. The Savage Heat won the 6-man title in 2016 when it beat Westby-Grenora 54-20.
Drummond has had more than its fair share of success in the state finals. The Titans beat Scobey-Opheim 44-6 in 2020. In 2018, they beat Great Falls Central 50-14. In 2017, they beat Forsyth 44-30 for the 8-man crown.
In 2009, Drummond beat Wilbaux County 32-24. They also won state titles in 2007, 2003-05. According to Montana High School Association records, Drummond owns eight state championships. The co-op was formed in 2014.
The Blue Hawks are 12-0 and have outscored their opponents by an average of 39.5 points per game. They are averaging 51.2 points per game while allowing 11.7.
Drummond-Philipsburg (10-0) is scoring 53.2 ppg. while allowing 19.3 points per game for a differential of 33.9 ppg.
Both teams share several common opponents.
Thompson Falls beat Charlo 42-0, Mission 63-6, Superior 49-0, Seeley-Swan 62-6, Darby 49-26, and Troy 56-12.
Drummond beat Darby 58-12, Troy 84-6, Mission 76-62, Superior 54-22, Charlo 38-36 (OT), and Seeley-Swan 42-6.
Offensively, the Blue Hawks have a number of players who have made big plays.
Junior quarterback Elijah Ratliff has completed 55% of his passes for 684 yards with 12 touchdowns and just one interception in 66 attempts. Ratliff has also ran for 775 yards on 141 carries and a team-high 21 touchdowns.
Senior running back Trae Thilmony eclipsed the 1,000-yard mark last week and has 1,095 yards on 130 carries with 17 TDs. Senior Ryan Bucher has also ran for nearly 400 yards and nine TDs. Bucher also had three TD catches.
Senior Nathan Schraeder has made the most of his nine catches for 170 yards with six TD receptions. Junior Josh Wilhite's two catches for 45 yards are both TDs.
Defensively, Bucher and Thilmony each have 12 tackles for loss. Thilmony leads in tackles with 101. The Hawks have 57 sacks with Bucher first with 15 and Thilmony 14. Senior Erik Strom had eight sacks.
The Hawks also are adept at picking off opposing quarterbacks' passes with 23. Ratliff is first with five with Schraeder and Brock Ferris snagging four each. Jordan Fisher and Wilhite each have three picks.
Even the kicking game is a strength for Thompson Falls. Schraeder has 31 touchbacks in 80 kickoffs while Jeff Mennen has 10 touchbacks in 17 kickoffs.
In the scoring column, Ratliff leads with 22 TDs and 10 conversions. Schraeder has 12 TDs, two conversions and 38 PAT kicks. Thilmony has 12 TDs and four conversions.
In last Saturday's semifinal against Park City, Schraeder scored three touchdowns and kicked three PATs.
Bucher's fourth-quarter TD gave the Blue Hawks a 28-8 lead.
For the Titans, Avery Metesh had TD runs of 33 and 52 yards while Andrew Tallon's two TD runs helped them recover from a 14-0 deficit to Fort Benton.
The Trojans are seeking a fourth 8-man state title in the last five seasons. Metesh was a key member of last year's title team. He scored a TD and intercepted two passes.
Recent Headlines
---