Mineral County life coach wants to help people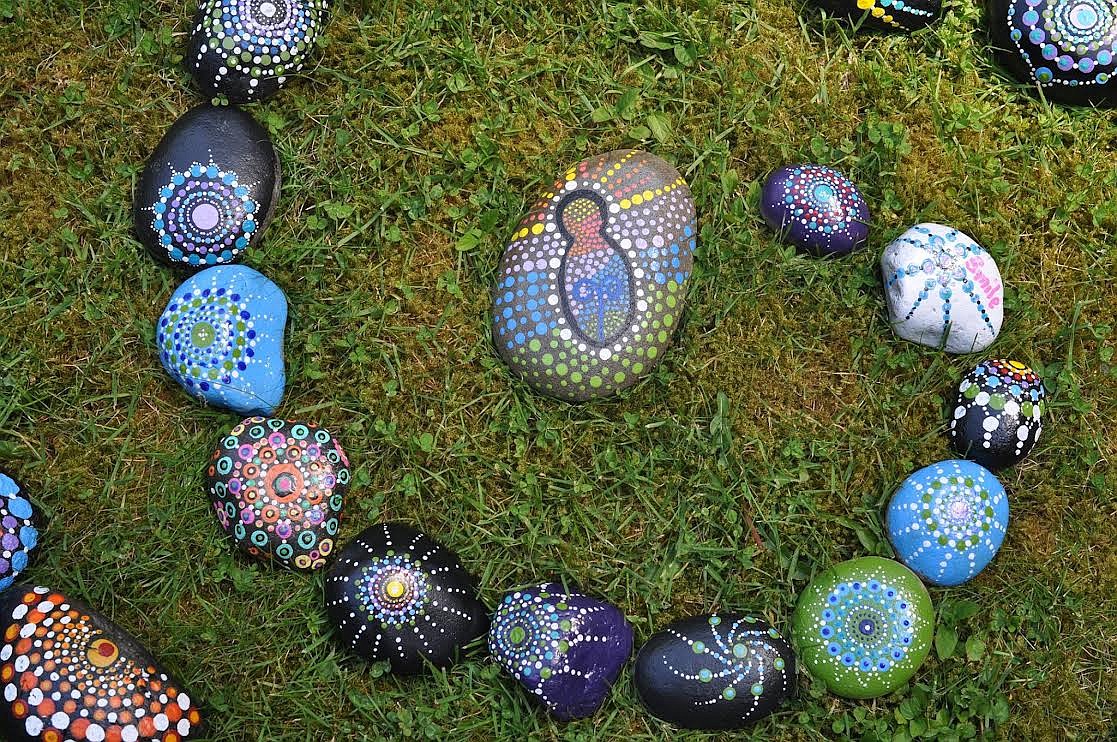 A collection of Mandala stones made during a previous art class of Kelly Morrison's is displayed in an artistic swirl in the grass. Participants made their own Mandala stones during a painting class on Sunday, Nov. 14, at the St. Regis Community Center. (Photo courtesy Kelly Morrison)
by
AMY QUINLIVAN
Mineral Independent
|
November 24, 2021 12:00 AM
When life coach Kelly Morrison moved to Mineral County this past May she brought with her a desire for helping people.
Through her various certifications and trainings she has received, Morrison is eager to make a difference in her new community.
A life coach is a type of wellness professional who helps people make progress in their lives in order to attain greater fulfillment. Life coaches can help you clarify your goals, identify the obstacles holding you back, and then come up with strategies for overcoming each obstacle.
Morrison expressed, "My passion is to awaken fresh perspective in others through one-on-one or group coaching. I love awakening and nourishing creativity in others through art classes. I bring a creative approach to everything I offer. I have an extensive tool box to offer that helps bypass logic and get to the heart of the matter, using writing, drawing, games and more."
She continued, "I am a noticer. I notice what others may often overlook. Then, I help them step back, take a breath, gain fresh perspective and choose their next steps."
Morrison's clients are often those who are feeling held back or overwhelmed in life. These individuals have specific visions or goals but they just need some support to make their dreams reality. She also has a special gift and heart for guiding people through the landscape of grief.
Offering coaching groups is something that Morrison is fond of, she believes this makes the individual investment more affordable and coaching more accessible for people.
She said, "There is a sort of magic that happens in a group setting, with shared hearts and perspectives, deeper wisdom is discovered. Groups may look like friends who want deeper relationships, couples looking to revitalize their bond, co-workers seeking conflict resolution, employers who want to see more employee retention, leaders who want to refine their leadership skills and/or gain new tools, and more."
A typical coaching session, whether in a group or one-on-one, starts with an open-ended question, such as, "What would you like to focus on today?" Primarily Morrison's intent is to focus on deep listening and intuitively asking clients thought provoking questions. She explained, "I intuitively offer tools to help my clients bypass logic and access their own inner wisdom. I help clients set coaching goals and plan together to reach those goals. I provide gentle accountability and encouragement."
While being a life coach, Morrison integrates other training methods she's learned, such as her coaching certification in Artbundance. This artistic training program was founded by Marney Markakis in 2009 to help creatively minded people design a successful business rooted in true passion, personal joy, and creative meaning.
"This training truly meshed my coaching skills with dynamic creative tools," noted Morrison.
As a life coach, whether she is offering a coaching experience or an art class Morrison stated, "I am an encourager. I stand strongly against the "Comparison Monster", and I talk about that at every class or gathering. I notice when participants need to be seen and heard. I celebrate the unique creativity of every individual and I entice participants to celebrate themselves and others. My intuition is strong and my trustworthy partner."
Morrison held her first public art event at the St. Regis Community Center on Sunday, Nov. 14. Participants were registered online to come and learn the meditative art of painting Mandala Stones.
The art of Mandala has been around for centuries. Many cultures believe the practice is capable of increasing peace and focus within one's self. The word Mandala means circle.
First the group started on a paper plates to get familiar with the method as Morrison provided instruction. After that, participants were free to choose their own paint colors and rocks and let their creativity flow free. The atmosphere was carefree and uplifting, an opportunity to playfully create and also connect with others.
Those at the class learned that a Mandala represents wholeness, a cosmic diagram reminding individuals of their relation to infinity, extending beyond and within their bodies and minds. "Mandalas are circular designs symbolizing the notion that life is never ending," said Morrison. And many mandalas can have a spiritual significance to an individual or group of individuals.
She shared, "Painting Mandalas is meditative, fun and peaceful. This is one of the only classes I offer that has a specific formula/method that easily creates stunning mandala patterns, personalized by colors and designs of the painter's choice.
Morrison learned the art of dotted Mandala painting three years ago. She likes to paint rocks for family and friends and also to hide in nature.
She described, "I have also painted Mandalas on other surfaces such as canvas, cloth and wood. I find the process relaxing and I like that it can be done with little mess in a small work space. It is exciting how each is unique, just as each of us is unique."
Sixty percent of the proceeds made from Morrison's art class went towards another new group in the area. Pathways to Help Mineral County which was recently established by Amy Kelsey in hopes of offering assistance to those struggling with hygiene poverty.
When Morrison heard of Kelsey's mission, she was happy to donate towards the cause. She related, "I have a heart for helping others. I am eager and happy to offer my skills to raise funds for Pathways to Help, Mineral County.
"I first became aware of Amy's group when I saw the post on Facebook stating their big goal of adopting 20 families to help this holiday season. I will always be open to contributing my training and talent in any way I can to make a difference in the lives of others."
As the holiday season revs up Morrison will be hosting more classes and groups of her own.
Some events to watch for: Handmade Christmas card class, projected date Dec. 4, Vision Board Playshop in January 2022, a Grief and Gratitude group launching in January 2022, acrylic flow art classes in February 2022, and an alcohol ink art class in March 2022.
When she is not busy teaching or leading small groups from her home studio in St. Regis, she will also utilize the St. Regis Community Center.
Morrison reported, "In addition to paid classes and groups, I will offer complimentary events to the community using some of the games I use as coaching tools. My goal is to keep the investment for classes and groups around $25 per person, depending on supplies and time commitment."
Morrison's ambition for her coaching business is to create ongoing coaching and support groups, but particularly she'd like to focus on those who are grieving, and for veterans. She plans to offer her services as a corporate trainer to local businesses who want to realize greater profit through employee retention, improving quality of service and conflict resolution.
During the summer and fall he even crafted the concept of offering "walk and talk" coaching sessions, and maybe even "coach and float" river sessions.
In the future Morrison looks forward to using more of her artistic life coaching skills.
She said, "I will continuously refer to my ARTbundance coaching toolbox, as well as resources from my other training, to help people easily and naturally access their own inner wisdom."
---