Clark Fork Valley Hospital gets help from National Guard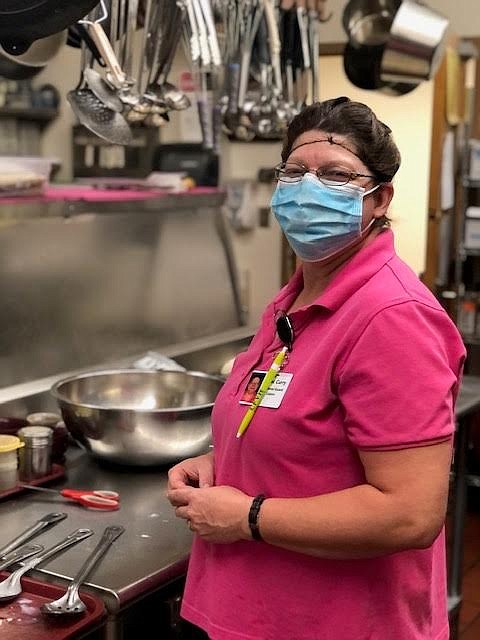 Montana National Guard member Spc. Crystal Curry, a Thompson Falls resident, has been part of the Guard for 12 years. Her recent assignments included this summer's fire detail and helping in Helena at a warehouse where she helped assemble Covid-19 PPE kits. Curry also worked at Clark Fork Valley Hospital for three years so it was a seamless transition to have her help in the Dietary Department during this current assignment. (Clark Fork Valley Hospital photo)
|
October 13, 2021 12:00 AM
Clark Fork Valley Hospital may not be a large facility but even it has welcomed help from beyond its staff to cope with the increasing demands brought on by the Covid-19 pandemic.
According to information hospital CEO/Dr. Greg Hanson, it sought assistance from the Montana National Guard on Sept. 23.
"As we began seeing high volumes of patients needing hospitalization due to Covid-19 and unprecedented use of our drive-up antigen testing service, we asked for National Guard assistance," Hanson said in a press release. "The numbers of our patients have put stress on our ability to provide routine tasks usually done by our support departments."
Between Sept. 30 and Oct. 7, Sanders County has had at least 54 new cases while Mineral County has had 46.
According to state coronavirus numbers through Oct.7, Sanders County remains at 37% of its eligible residents vaccinated. Mineral County has made strides in its vaccination numbers as it is up to 54%.
Sanders County has 1,243 cases with 119 active and 18 deaths. Mineral County has 637 cases with 39 active and 10 deaths.
Overall, Montana has had 2,079 deaths.
Four guard members from communities in Northwest Montana arrived on Oct. 1 to support the hospital's care teams for 15 days.
"These individuals are assisting us in a variety of departments including nutrition services, environmental services, the laboratory and long term care," Hanson said. "Their presence has been greatly appreciated as they are helping with essential services like floor care and working as the intermediary between the antigen testing site and the lab," Hanson said. "Our laboratory has completed almost 1,600 antigen tests since August and already over 225 antigen tests in the month of October.
"It has been a great community service to local residents needing quick insight as to whether their symptoms are covid-related or if they can safely return to school or work."
According to the hospital, two of the quartet hail from Thompson Falls while one is from Hot Springs and another from Kalispell.
Here's a look at the four who have worked to help ease the strain and stress of caring for the increased number of patients:
SPC Crystal Curry, Thompson Falls resident. She has been part of the National Guard for 12 years. Recent assignments included this summer's fire detail and helping in Helena at a warehouse where she helped assemble Covid-19 PPE kits. Curry also worked at the hospital for three years so it was a seamless transition to have her help in the Dietary Department during this current assignment.
PFC Bradley Lantz, Thompson Falls resident. He has been part of the National Guard for one year. He plans on going back to college in the Fall to get a degree in Business Administration. Helping at CFVH is his second assignment after working on a fire detail and the Thorne Creek Fire in Thompson Falls this summer.
Lantz is assisting our Laboratory department with the drive-up antigen testing service. He greets community members as they arrive, ensures they complete the necessary registration forms and testing, and then takes the collected sample to the lab where it can be analyzed.
SFC Elijah Hanson, a Kalispell resident, has been part of the National Guard for six years. He has been on other Covid assignments already and says, "We are here to support in any way possible. It instills community pride and we are here to help Montanans."
Hanson works for Applied Materials, a materials engineering firm that provides technology solutions out of Kalispell.
Hanson is helping with floor maintenance and our Environmental Services team to ensure CFVH can maintain cleaning protocols that ramped up once Covid hit.
PFC Cameron Stearns, a Hot Springs resident. He has been part of the National Guard for 1 1/2 years and this is his first assignment. He will most likely be headed to St. Patrick Hospital in Missoula next to keep assisting Montana hospitals in need during the pandemic. S
tearns joins CFVH from Helena where he is a Federal Technician who works on military vehicles. Stearns is also assisting our Environmental Services team as needed.
---