Mineral County community helps one of its own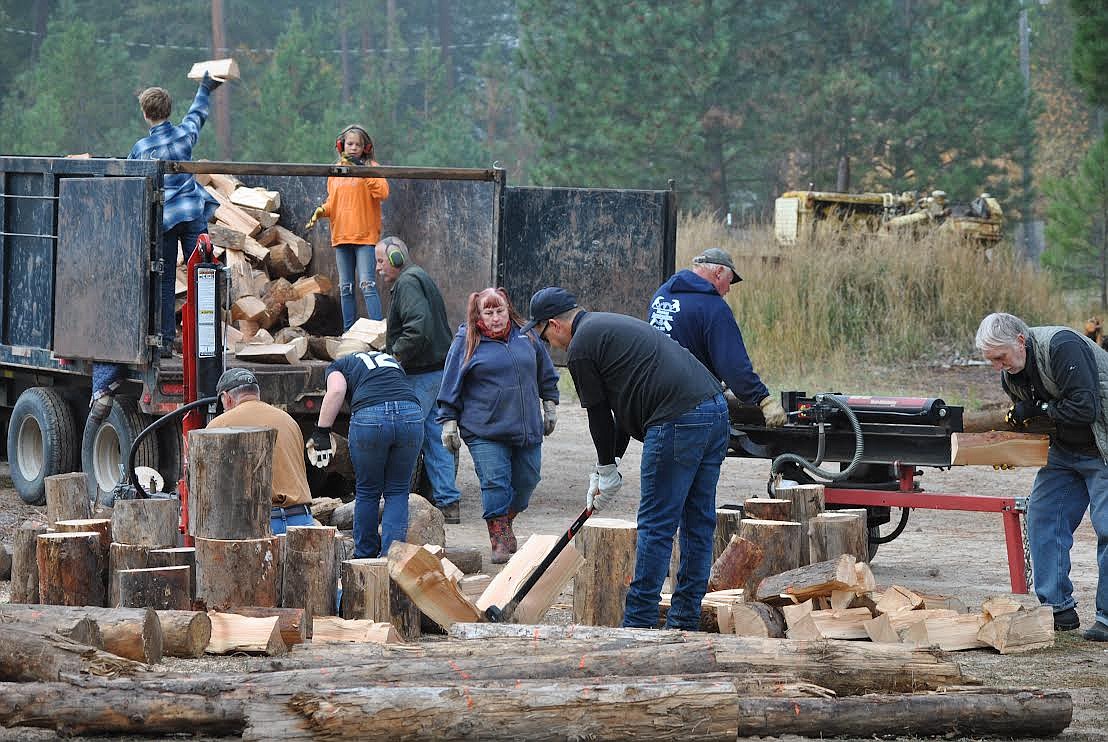 This firewood crew made quick work of hauling, cutting, splitting and stacking a winter's supply of wood heat for Lawana Hutchins on Saturday during this impromptu community gathering in St. Regis. (Amy Quinlivan/Mineral Independent)
by
AMY QUINLIVAN
Mineral Independent
|
October 13, 2021 12:00 AM
As neighbors, friends, and community members drove up Lawana Hutchins driveway in St. Regis on a foggy Saturday morning, she breathed a sigh of relief for the first time in many months.
A calvary of volunteers armed with their work gloves, chainsaws, axes, loaders and wood splitting machines to ensure that Hutchins would have one less thing to worry about this winter after losing his husband Brad this past summer to Covid-19.
The pile of wood in their yard had been there since last year when Brad Hutchins brought it home from the IFG lumber mill.
There was a generous supply left over after Brad went and delivered logs for those needing firewood the year before. His legacy of hard work and dedication to his family was felt in the atmosphere of bustling helpers at the Hutchins home.
After losing her husband and best friend, watching the dozens of helping hands sawing, chopping, and throwing firewood was emotional for Lawana.
"I'm really overwhelmed," she said with tears in her eye. "I've never been the kind of person to ask for help, and this is going to be so amazing to not have to worry about it this winter."
Without even having to ask, her community stepped up for her. At the monthly Mineral County Search and Rescue meeting, Hutchins was asked what she had going on for the weekend ahead.
She said that her kids were going to come to town to help her get firewood done. That's when Search and Rescue member Tim Palmer responded, "Hey everyone who just heard that, I think we all know what we'll be doing on Saturday."
A need was voiced, and a plan was made, then Dan Hollenback used the Mineral County Community Facebook Page and created a post for the event.
"It all came together so quickly I was a little caught off guard," Lawana said.
She had to get her wood shed ready for the surplus of firewood about to be stacked and stored inside. After losing so much, it's incredible to see the hope found in shed full of wood, that and the love and support of her small-town family.
"Brad would be so happy to see all of this today, and to know that we are being taken care of," Lawana said.
---