Plains Horsemen fall to 0-4 after loss at Troy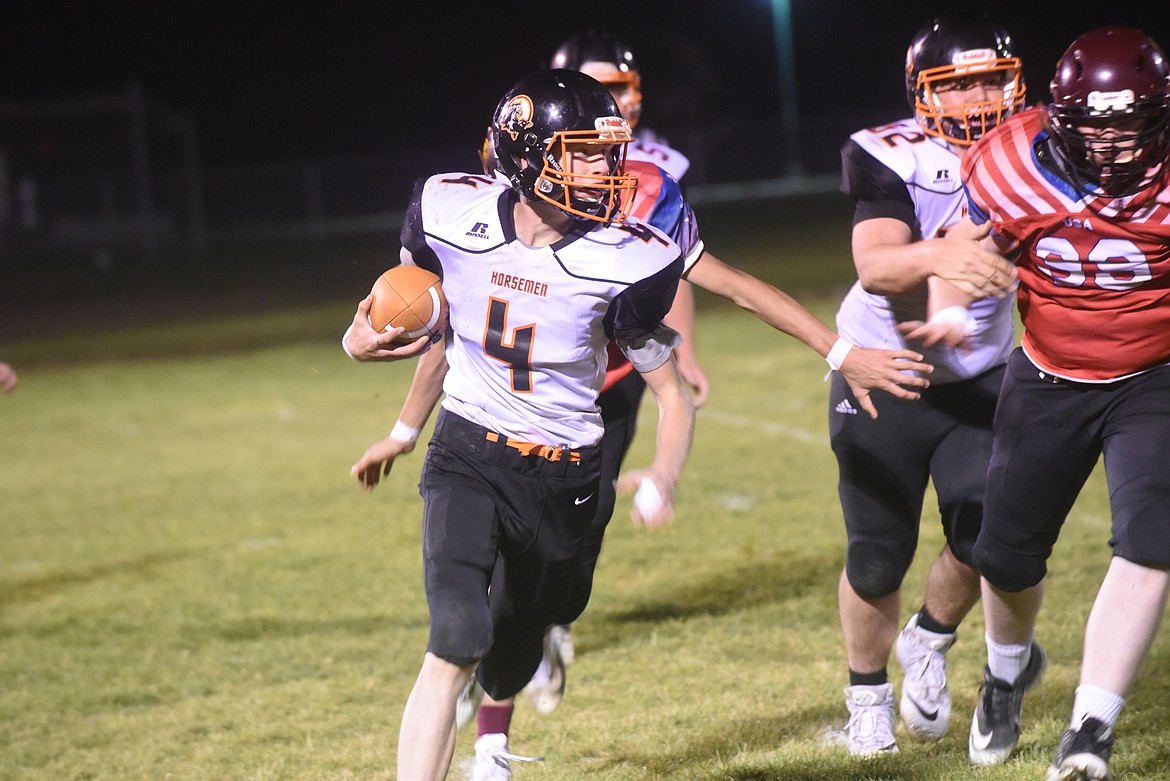 Plains Horseman quarterback Mason Elliott looks for room to run against the Troy Trojans in last week's game. Elliott scored one of two touchdowns for the Horsemen in a 56-14 loss. (Scott Shindledecker/Valley Press)
by
SCOTT SHINDLEDECKER
Clark Fork Valley Press/Mineral Independent
|
October 13, 2021 12:00 AM
The Plains Horsemen are experiencing a season which is all too familiar to last week's opponent, the Troy Trojans.
The Horsemen fell to 0-4 after a 56-14 loss last Thursday in Troy. On the bright side, the team broke a two-game streak of being shut out. And the 14 points were six more than they scored in their three previous games.
But the result was the same. The young and inexperienced Horsemen opened the season with a 66-8 loss to Superior then fell to Seeley Swan, 58-0, and Charlo (74-0).
The Trojans know all too well what Plains is going through. Troy's win was its first of 2021 and the first game in which it didn't lose by at least 22 points.
In fact, Troy's triumph broke a 19-game losing streak. Its last win was Sept. 21, 2019, when it beat Victor, 42-18.
Plains has just two juniors on its roster with the rest of the players being sophomores and freshmen. One of them, quarterback Mason Elliott, put the Horsemen on the board with a 50-yard touchdown run. He added the conversion run to make it 32-8.
Freshman Darren Standeford scored Plains' last touchdown on a short touchdown run to set the final score.
Meanwhile, Trojans quarterback Trevor Grant, led his team with several big plays.
Leading 8-0 after an early touchdown, Grant hit wide receiver Louie Larson with a 39-yard completion and then ran it in from the 8. A.J. Starks' conversion run made it 16-0 after one quarter of play.
Early in the second quarter, Grant ran for a first down on a fourth-and-25 play. Paxton Fisher capped the drive with a 6-yard touchdown run with 9:41 left in the half. Grant's conversion run made it 24-0 with 9:41 left in the second.
Plains fumbled on the next possession and Troy quickly turned the chance into another touchdown. This time, Grant hit Kempton Sloan for a 10-yard TD. Grant's conversion run made it 32-0.
But Elliott's long TD run gave the Horsemen some life.
On Troy's next possession, a holding penalty and a sack left the Trojans facing a third-and-18 from its 28. But Grant scrambled for 18 yards and a new set of downs.
Starks and Grant then took turns gashing the defense for positive yardage. It ended when Grant hit pay dirt from the 2 with 1:38 left in the half to make it 38-8.
The Horsemen did hit on a long pass play, but a bad snap and a sack on the last two plays ended any chances of scoring.
Troy opened the third quarter with a touchdown run and conversion by Fisher to make it 44-8.
The Horsemen nearly answered it with a score after Drew Carey's 30-yard catch and run from Elliott gave them a first-and-goal from the 10. But three plays later, an interception ended the opportunity.
Starks scored on a 1-yard run and Braxton Yeadon caught an 18-yard TD to make it 56-8.
Standeford added his short scoring run and it was over.
The Horsemen, which lost one game in September due to Covid-19 issues, are scheduled to play twice this week. Wednesday, they play at Victor and Saturday, they host Thompson Falls.
The Pirates are 0-3 with losses to Mission (66-44), Superior (48-14) and Flint Creek (56-6).
---