Linda Lou "White" Horn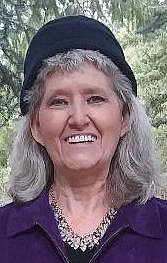 |
October 20, 2021 12:00 AM
Linda Lou "White" Horn was born March 15, 1964 to Roger and Lou White in Hamilton, Montana.
She was the fifth of 12 children. She lived nearly all of her life in the western United States, but called Plains, Montana, home.
The White family moved to Superior, Montana, in 1980 and Linda was ready for a big change in her life. She moved to Potlatch, Idaho, never knowing the biggest change was yet to come. She found a childhood friend that was dating a young man there. They introduced her to this young man's younger brother Pat Horn.
When Linda saw Pat she clearly heard the voice of God say "This man will be your husband."
Linda and Pat were inseparable from that moment for the next nearly 40 years. Linda and Pat were married April 9, 1982, in Coeur d' Alene, Idaho.
Linda has three children, Roger Horn, Melissa Horn Norris and NahKyung Horn Worral.
Linda was mostly a stay at home mom, but did work at an adult assisted living center for a time. She was later blessed with nine grandchildren whom she adored. She loved to cook, garden, fish, hunt and Christmas movies played year round in the house. She attended Lighthouse Baptist Church in Superior for many years until declining health kept her away in body but not spirit.
She was an inspiration to all that met her with her kindness, creativity and fashion sense. Linda leaves behind her husband Pat of 39 years, three children and nine grandchildren.
She was preceded in death by her father Roger White, an infant brother and an infant grand daughter. She went to Heaven Oct. 3, 2021 and will be missed forever.
Linda's celebration of life will be held Oct. 23 at noon, in the Lighthouse Baptist Church, 305 Main Avenue, West, Superior, Montana.
A light lunch will be provided after.
---