Mullan/St. Regis slams Charlo, 64-20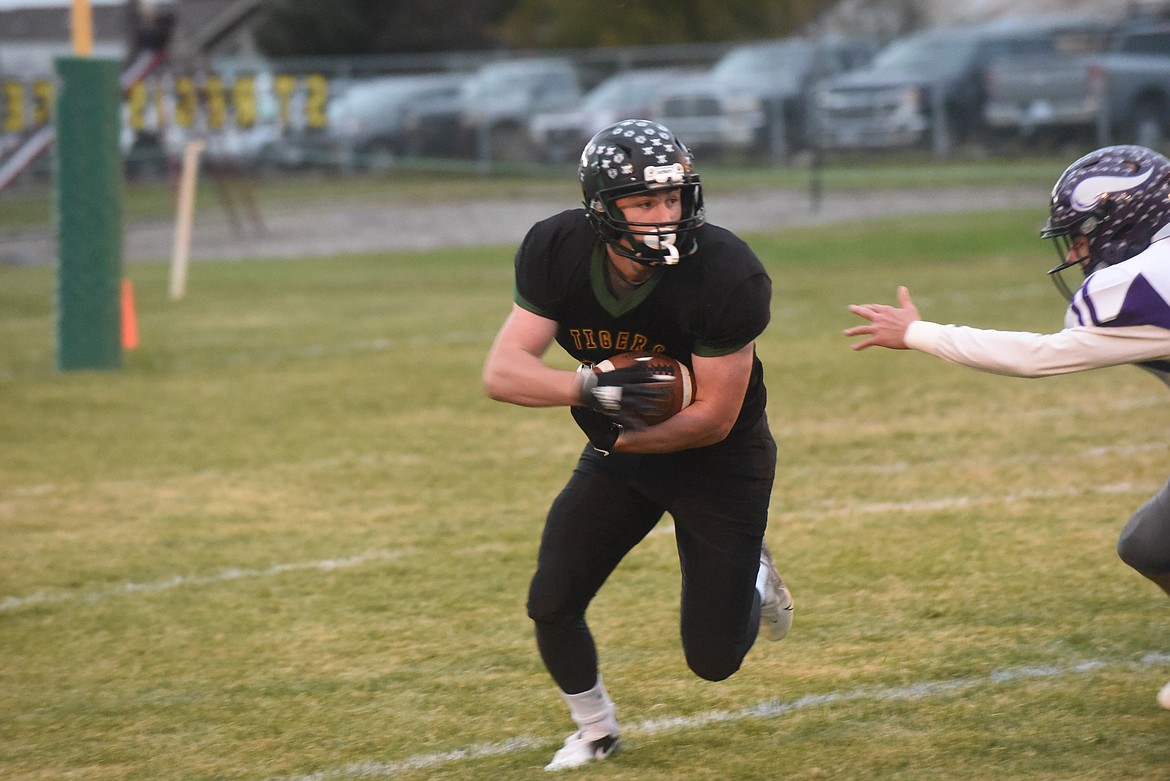 Mullan-St. Regis senior running back Adam Ball had a big game against Charlo in a lop-sided win last Friday in St. Regis. He ran for two touchdowns and was recognized before the game on Senior Night.(Scott Shindledecker/Mineral Independent)
by
SCOTT SHINDLEDECKER
Clark Fork Valley Press/Mineral Independent
|
October 20, 2021 12:00 AM
The Mullan/St. Regis Tigers football team continued to roll Friday night in St. Regis with a 64-20 win over Charlo.
The Tigers, who opened the season with a 44-26 loss to Thompson Falls, have rattled off six straight wins, five on the field, by lopsided margins.
After the season-opening defeat, the Tigers smashed Lakeside, 72-20, Wallace, 54-22, Clark Fork, 68-8, a forfeit win over Kootenai, 62-20 over Clark Fork and last Friday's win over the Vikings (4-4).
Senior running back Adam Ball was honored before the game during St. Regis' senior night. Ball, the son of Shaun and Jamelle Ball, is a 4-year varsity letterwinner and was the North Star League Co-MVP in 2020, All League from 2019-21 and Second Team All-State in 2021.
Ball went over the 100-yard rushing mark on just two carries which went for touchdowns. He scored on runs of 74 and 52 yards in the first half when the Tigers rolled to a 46-6 halftime lead.
Neither team scored on their initial possessions, both getting stopped on fourth down plays.
But that changed on the Tigers' second possession when junior Caleb Ball scored on a 2-yard run with 4:11 to play in the first quarter. The conversion failed, but it ultimately didn't matter much.
Charlo put on a good drive and reached the Tigers 5 before a Vikings fumble was recovered by a Tigers player.
One play later, Mullan/St. Regis pushed its lead to 14 when Adam Ball ripped off a 74-yard TD run. Ball was elusive and reversed field on the run which saw him seemingly cover most of the field.
The Tigers got the conversion this time when Caleb Ball threw to Blake Layton.
Tigers linebacker Luke Trogden sacked Vikings QB Coyle Nagy to force a punt, but a fake resulted in a first down when Nagy ran for 33 yards.
Four plays later, Nagy threw a 10-yard TD pass to Braydon Zempel to make it 14-6.
The Tigers then scored on their next four possessions to make it 46-6 at halftime.
Adam Ball got his second TD run on a 52-yard jaunt and Trogden ran for the conversion with 9:09 left.
The defense forced a Charlo punt and Caleb Ball returned it 55 yards for another TD. Trogden's run made it 30-6 and the rout was on.
Another defensive stop gave the ball back to the Tigers. They faced a fourth down, but a great 23-yard run by Caleb Ball finished in the end zone. Ball called his number on the conversion made it 38-6 with about two minutes left.
Charlo completed a pass on the next possession, but it was fumbled and Tigers jumped on the loose ball.
The Tigers didn't have much time, but they didn't need it when Trogden ran for a 35-yard score. He caught the pass from Caleb Ball to make it 46-6.
The Tigers scored three more times in the second half, including on a Trogden run and a 70-yard kick return by sophomore Kori Appiah.
The Tigers will take on Kootenai this week before the Idaho 8-man state playoffs begin.
---