Commissioner Brooker announces her resignation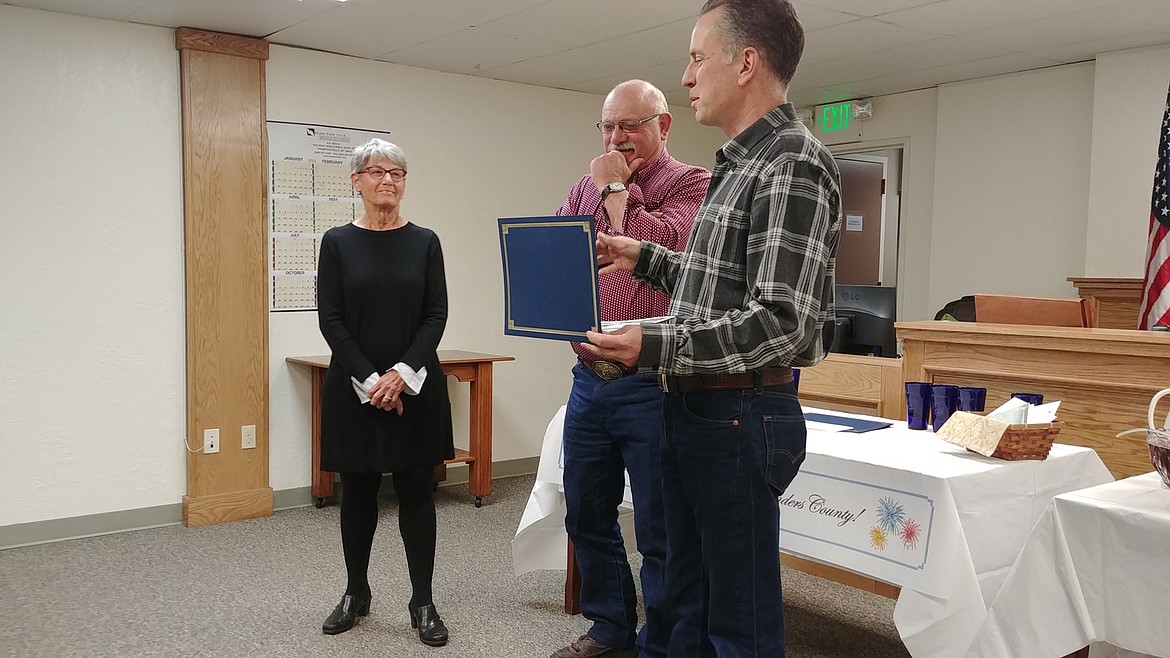 Sanders County commissioners Tony Cox, right, and Glen Magera, middle, present a 25-year service award to fellow commissioner Carol Brooker at the county awards ceremony in Thompson Falls. (Chuck Bandel/Valley Press)
Sanders County Commissioner Carol Brooker will resign at the end of the year.
Brooker, a commissioner for 27 years, addressed a letter dated Oct. 13 to her fellow commissioners, Glen Magera and Tony Cox, announcing her decision.
She wrote "It is with a heavy heart that I submit my resignation. The last 27 years with Sanders County have been wonderful. However, it is time for me to retire. I am looking forward to traveling, fishing, getting my health in order and spending time with my family."
Brooker said Dec. 31, 2021, would be her last day as a commissioner.
"I would be happy to help with the appointment and transition of my successor. I wish all the elected officials and employees of Sanders County much success in the coming years," Brooker wrote.
It has been a contentious time in Sanders County due to the feelings of many surrounding Covid-19 and vaccines for the virus.
Brooker wrote a letter that was published in the Clark Fork Valley Press last week.
She wrote she supported public health and the Sanders County Health Board.
"I also want to thank Nick Lawyer for his service on the Board of Health, and his passion for the health of others. It's been said I'm a public serpent, an evil person. I'm not! I've dedicated 37 years of my life, with the support of family and friends to serve the people of Sanders County.
"One person and maybe 150 followers aren't going to take my good works away from me. There have always been diverse ideas in Sanders County, we have always agreed to disagree. Never have we resorted to calling others degrading names, in a public meeting. We need to get back to civility in our county. Let's help others to succeed, not tear them apart."
According to an Associated Press story, county commissioners and the county Board of Health endured several meetings where the room was packed and people were angry with health recommendations to prevent COVID-19, Cox said. The three commissioners are members of the health board.
They requested the resignation of county Public Health Officer Nick Lawyer in September.
Lawyer said he resigned to ease "the strife and conflict coming from a minority of people objecting" to his recommendations in responding to the coronavirus.
Brooker said previously that one issue with Lawyer was that he used his title as county health officer in submitting a letter to the editor to several regional newspapers urging people to get the COVID-19 vaccine and explaining why the vaccine is safe and effective. However, he did not clear the letter with the county Board of Health first, Brooker said.
Brooker is serving her fifth six-year term as Sanders County Commissioner. She is an experienced businesswoman and a valued public servant with a strong work ethic.
According to information on the county website, Brooker has served on a wide variety of federal, state and local boards and committees, dealing with economic development, fiscal responsibility, sensible growth, and preservation of quality of life.
She has been an advocate for the timber industry as well as supporting ecological concerns, and has served on the MACo Natural Resources and Public Lands Committee, Sanders/Lolo National Forest Collaboration Group, the National Forest Counties and Schools Coalition, the National Forest Advisory Council, and the Montana Forest Action Advisory Council, working to form broad, long-term strategies and build collaborative partnerships.
Recent Headlines
---