Mineral County Sheriff Toth juggles management of the office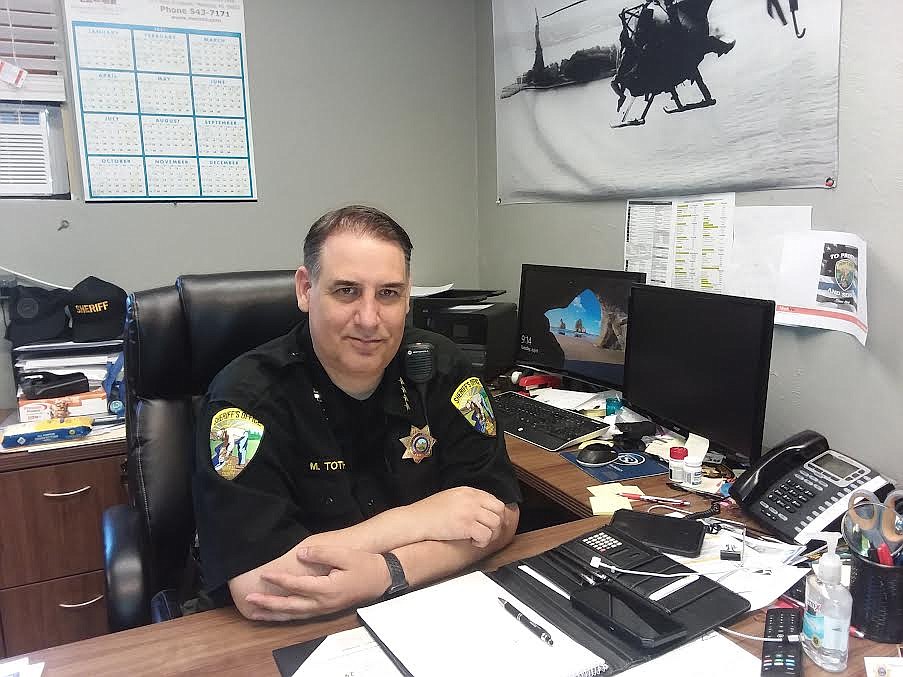 Mineral County Sheriff Mike Toth has brought many changes to the county's primary law enforcement office since he took office a little more than one year ago. (Monte Turner/Mineral Independent)
by
MONTE TURNER
Mineral Independent
|
September 1, 2021 12:00 AM
On Aug. 3, 2020, Mike Toth took the oath of office to become the new sheriff of Mineral County.
Toth had been a deputy for the Mineral County Sheriff's Office before going to the Seattle Police Department and had always wanted to return.
Since he has been back, he's made changes in personnel, equipment and overall morale and attitude.
What has he discovered about his position that he wasn't aware of before taking the reins a little more than one year ago?
"First off, we have to understand that Mineral County has become complex enough that we can't have a working sheriff as I thought we could. With 20 employees (deputies, detention officers and
dispatch) I have the largest department of any in the county and that requires constant management," Toth said. "Money coming in, the grants, the budget, the equipment, meetings, personnel issues. Without having an administrative assistant, these responsibilities keep me pretty close to this desk, but I get out as much as I can driving the county and visiting with people."
Toth said his varied responsibilities keep him very busy and he's loving it.
"Sometimes that has me at 7 days a week to get that in, but it's important for me to hear what is on people's minds," Toth said. "But don't get me wrong as I am really enjoying this position!"
Toth has brought new life to the Mineral County Sheriff's Office through professionalism, leadership and replacing outdated equipment.
"When I walked in the door, I'd say we were at critical mass, close to implosion. On a scale from 1 to 10 on morale and attitude, I'd say we were at a 2 or 3 and I'd say today we're at an 8 or a 9. Morale is super high. We have a good crew, and a new deputy has been hired to fill a slot that recently became available."
Toth's first priority was to reopen the jail. It had been closed a couple of years and transporting prisoners was expensive and frustrating with the few people on staff that could transfer either to Plains, Missoula or Warm Springs. It was also more complicated the further he dug into it.
"I had no idea of the process. We could have tried to dot every I and cross every T and there would have never been a perfect time, so we just jumped into it, taking into account safety and legality responsibilities."
Missoula County Detention Center officers helped train the jailers and they started small. Two prisoners, then 4. Short steps to review and evaluate and make any corrections.
Today, the Mineral County Jail has an average of about 14 prisoners every day out of 27 beds. They are in negotiations with the U.S. Marshal Service to house some federal prisoners which will bring in some additional income.
Next, Toth purchased 7 brand new patrol SUVs with state-of-the-art equipment inside (laptops,radios, dash cameras) with the monthly cost being lower than the repair tickets on the previous fleet of patrol cars that were all second hand from the Montana Highway Patrol.
One of the old vehicles remains in service which the newest deputy will drive it. The county has six deputies along with the sheriff and undersheriff.
While the vehicles were being built, Toth procured new tasers and body cameras for his deputies. What they had were antiquated and dependability was shoddy. He also secured new pistols for the deputies (Glock 17s) which were purchased with drug forfeiture money, not county money.
The 911 equipment is being replaced as its life span expired many years ago. This was another hefty purchase, but it is being covered through COVID money so again, no cost to the tax paying residents in the county. Then all new uniforms for the deputies with a
professional appearance and the return of the Mineral County shoulder-patch which has received a warm "welcome back" from everyone who remembers it from many years ago.
"We've got some really good guys. It's the best crew the county has had in quite some time, and I don't see any of them leaving soon. They enjoy living here and they have all bought homes, so everyone has a stake in the county," Toth said.
A wish-list for Sheriff Toth would be two more deputies.
"Especially now with the new people moving into the area. We've added more time and attention to Alberton which has driven the need. They have a subdivision on the table with over 30 homes. "Today, if a deputy is training or on vacation the schedule goes cattywampus. An administrative assistant would be a very welcome relief. I'd like a School Resource Officer that works all three schools and then during the summer they go to patrol.
"I'm working with the schools on this. And if it was a perfect
world, we would demo the old firehall maintenance building behind the courthouse and make a work area for evidence processing and storage along with a small gym and a bunkbed for a quick nap when deputies have to be in court after working all night."
Toth said it's been a fast year and he is pleased with where the MCSO is today from where it was last August.
"I think the silent majority, the voters, are supportive and I'm hoping that they are seeing what we are doing and that at least they know I'm trying and giving it my all. I may not get it right every time, but I am doing my best.
"I lean on Wayne (Cashman, Undersheriff). I lean on the commissioners. I lean on Ellen (Donohue, County Attorney). I call Missoula a lot and TJ (McDermott, Missoula County Sheriff) has been extremely helpful.
"Other county sheriffs are calling me wanting to know how we got the cars and who our vendors were for the other equipment, so we are getting our name back out there, and that is very gratifying," Toth said.
Toth attends weekly commissioner meetings and town council monthly meetings but wants people to know he has an open-door policy to drop in and see him or call with questions. With the first year behind him, Toth is excited with the progress and changes that have been made and wants to residents of Mineral County to feel very comfortable in knowing that the MCSO is solid and moving forward.
Recent Headlines
---