Hope for Harlee Foundation committed to battling pediatric cancer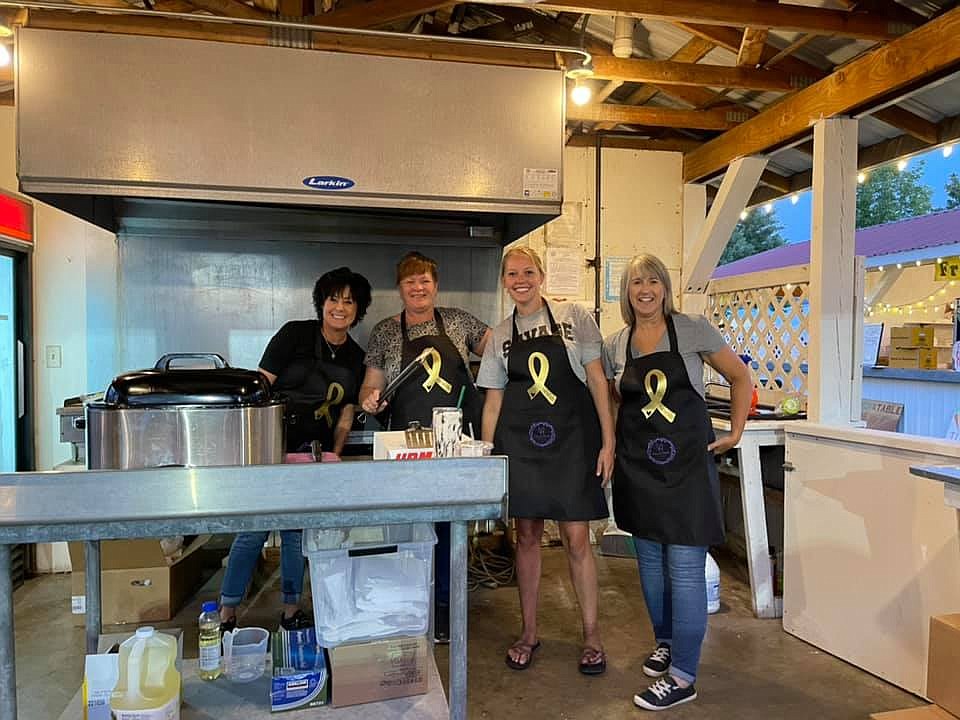 Members of the Hope for Harlee Foundation spent the weekend making and serving delicious food and refreshments at the Sanders County Fair. The foundation supports children battling pediatric cancer and their families. (Courtesy photo)
by
SCOTT SHINDLEDECKER
Clark Fork Valley Press/Mineral Independent
|
September 8, 2021 12:00 AM
Six-year-old Harlee Joanne Salmi touched the lives of those she knew and those she didn't across Northwest Montana.
The angelic little girl from Hot Springs died of cancer a little more than one year ago, but a foundation in her name is helping support those who battle cancer and their families.
Last weekend at the Sanders County Fair, the "Hope for Harlee" Foundation crew was busy serving up tasty burgers and refreshments for fair-goers while raising money for the fight against pediatric cancer. It also works to provide support and resources for families with children fighting life threatening illnesses and fund research for finding a cure.
Lisa Hodgson, Harlee's grandmother and mom of Taylor Salmi, talked about the foundation's work.
"There is so much that needs to be done for families who have kids battling cancer," Hodgson said. "Parents miss time from work and there is a lot of costs that aren't covered, such as travel, hotel and food expenses.
"We were helped by so many and we wanted to pay it forward," Hodgson said.
Taylor helped lead the foundation and she also is the director of the Cabinet Mountain Cooperative, formerly known as the Sanders County Educational Services Co-op.
It employs a full-time occupational therapist, two speech language pathologists and school psychologists. She herself is a speech language pathologist.
Hodgson said Taylor, through her many connections with the schools in Sanders County, has also organized a change drive in the institutions of learning for the month of September.
"All county school students will receive a bag which will be sent home with them and the change they collect will go to the foundation," Hodgson said.
It also has homemade soaps, candles and apparel for sale with the proceeds going to the foundation.
The foundation, in a short time, has raised more than $100,000. It has supported 16 Montana families with children battling pediatric cancer, given $10,000 to the Montana Children's Hospital in Kalispell to support neurological programs for Montana kids and also gave $10,000 to Dr. Nicholas Vitanza's DIPG research.
Dr. Vitanza is a pediatric neuro-oncologist and translational scientist at Seattle Children's Hospital whose career is dedicated to the care of children with tumors such as DIPG (diffuse intrinsic pontine glioma).
Those who wish to make a gift in Harlee's name may donate to the Hope for Harlee Foundation.
Donations can be sent to P.O. Box 397, Hot Springs, Montana 59845.
For more information, contact the foundation at hope4harlee@gmail.com or see their Facebook page at https://www.facebook.com/harleesalmidipg/ or go to hopeforharlee.org.
---