Donna Jane (Ellis) Tompkins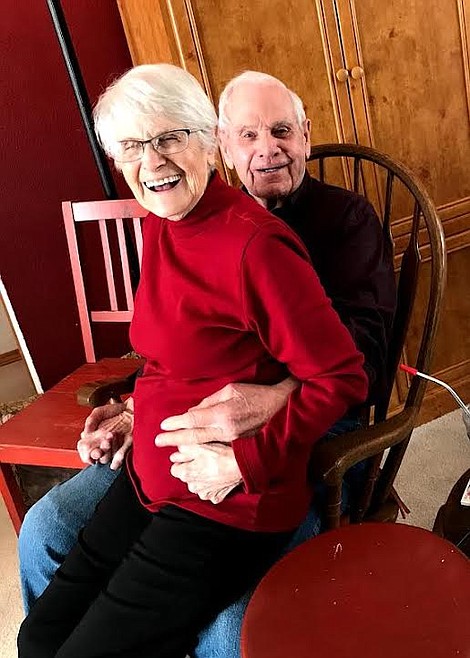 |
September 15, 2021 12:00 AM
Donna Jane (Ellis) Tompkins went home to be with the Lord on Sept. 2, 2021.
Donna passed away surrounded by family at the age of 92. Donna was born on April 14, 1929, in Blackfoot, Idaho, to Alfred and Suvella Ellis. Donna was the oldest of four siblings, Jim, Ted, and Andrea.
She was both mother and sister to her siblings as her parents worked to provide a living working in the shipyards of Vancouver, Washington, during World War II.
While living in Vancouver Washington, Alfred and Suvella met another young couple, Elmer and Virgie Hensley, who had their much younger brother living with them, Billy Charles.
In 1945, the Ellis family relocated to Bonners Ferry. Bill returned to Plains, Montana, to live with his mother. Bill and Donna continued to stay in touch exchanging letters until they were married on Oct. 4, 1947 in Meadow Creek, Idaho.
After being married, Bill and Donna lived in Plains, Montana, where they welcomed their eldest son, James Anthony, and daughter Billie Carolyn into the world.
In the 1950s, Bill and Donna followed construction to live in Dalles, Oregon, where daughter Wilie Ann was born. In 1958, Bill and Donna then welcomed their third daughter, Teresa Kim while living in Mosier, Oregon.
That same year, the family relocated back to Boundary county to raise their young family while Bill worked for a local lumber company. The young couple built a home in Highland Flats and welcomed their fifth child, Todd Lee into the family and then Mary Elizabeth, their youngest daughter joined the fun two years later.
They would eventually settle on Oak Street in Bonners Ferry.
As devout members of the LDS Church, Bill and Donna gave their kids a childhood rich in love and grounded in the value of hard work and family. Bill and Donna often welcomed 'extras' into their home offering safety love and a warm meal. A slight, but fearless Donna was a force of nature when it came to caring for her family and those around her.
When someone in the northern hemisphere needed help, Bill and Donna were always there. Donna devoted time to volunteer work through the LDS church and in the community.
She is survived by her beloved husband Bill, children Tony and (Linda) Tompkins, Billie and (Dan) Stanton, Wilie and (Lynn) Kaney, Teresa and (Rick) Dodd, Todd and (Joi) Tompkins, Mary and (Jim) Griffin. Also, brother Ted Ellis and sister Andrea Ellis.
Donna Jane is preceded in death by her parents Alfred and Suvella Ellis and brother James Ellis. Donna's memory will always be cherished by each of her 17 grandchildren and 21 great-grandchildren.
The family plans to have a private service with a celebration of life at a later date. In lieu of flowers or gifts, the family requests that you do something kind for someone around you.
Bill and Donna have always recognized the value of kindness and generosity; Donna would want the people who knew and loved her to carry her legacy forward helping those around them.
Recent Headlines
---