Thompson Falls harriers compete at Flathead Invite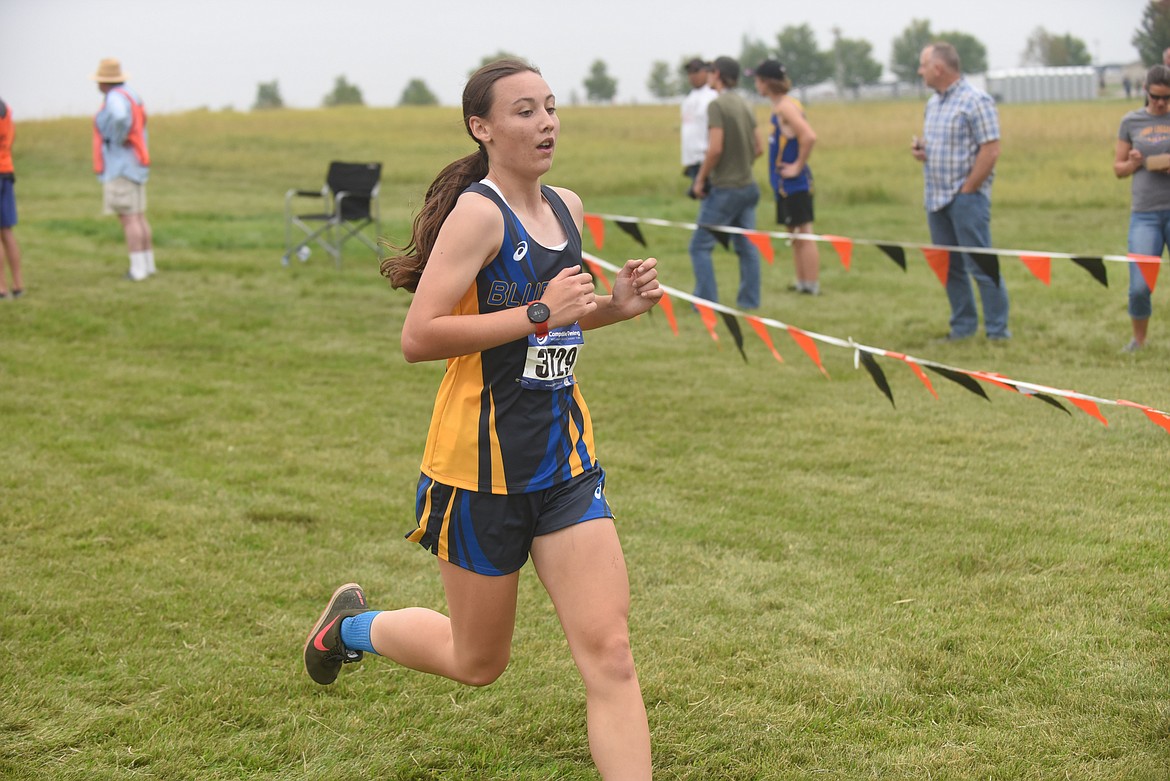 Thompson Falls' Hattie Neesvig heads to the finish line at last Friday's Flathead Invite in Kalispell. Neesvig placed 18th. (Scott Shindledecker/Valley Press)
by
SCOTT SHINDLEDECKER
Clark Fork Valley Press/Mineral Independent
|
September 15, 2021 12:00 AM
Cross country runners from schools across Western Montana competed at last Friday's Flathead Invite at Rebecca Farm in Kalispell.
In the varsity event, sophomore Hattie Neesvig led Thompson Falls with an 18th place finish in 22:12.38. Teammate Roni Hanks, a senior, was 72nd in 30:07.13.
Flathead won the team title with 32 points, well ahead of Missoula Sentinel's 58. Columbia Falls was third with 68.
Flathead sophomore Lilli Rumsey Eash led the Bravettes to the team title with a first-place finish in 19:33.90.
In the middle school girls race, Thompson Falls seventh-grader Aubrey Baxter was third in 9:54.06 in the 2,500-meter race. Eighth-grader Solveig Nygaard was 23rd in 11:12.50 while sixth-grader Lexi Franck was 28th in 11:23.34.
The Lady Hawks middle school team finished fifth.
Blue Hawks seventh-grader Kylee Huff was 31st in 11:32.61 and sixth-grader Cora Anderson was 43rd in 12:15.07. Sixth-grader Brooke Flemmer was 103rd in 16:52.72.
For the boys, senior Will Hyatt led the Blue Hawks with a 59th place finish in 19:14.95. Junior Levi Myers was 64th in 19:35.22. Senior Ben Croft was 101st in 23:58.52.
In the junior varsity race, freshman Ethan Geisbusch was 117th in 24:38.45
In the 2,500-meter middle school race, eighth-grader Brock Ryan led the Blue Hawks with an eighth-place finish in 9:22.18.
Sixth-grader Evan Lofthus was 64th in 11:25.18 and classmate Remington Ryan was 93rd in 12:42.01.
In the varsity event, Missoula Sentinel was first with 55 points. Hamilton was second with 80 while Flathead was third with 105. Whitefish was fourth with 117 and Corvallis was fifth with 136.
Glacier's Sam Ells was the varsity winner in 15:53.67.
For complete results, go to athletic.net.
Thompson Falls returned to action Tuesday at the St. Ignatius Invite Tuesday. Saturday, the Blue Hawks will run at Mountain West.
---