Justin Cole Payzant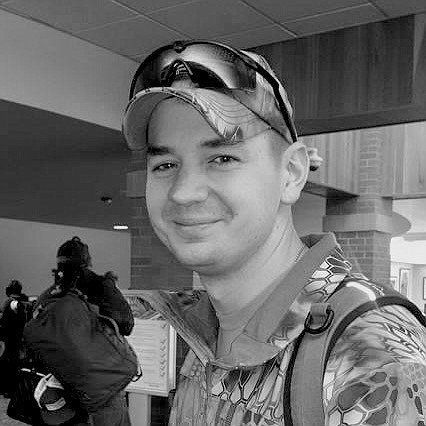 |
April 13, 2022 12:00 AM
On Oct. 8, 1989, the world became brighter with the birth of Justin Cole Payzant in Missoula Montana.
Justin's childhood was spent with his two sisters and parents growing up in the rural community of Plains, MT. His school years in Sanders County were primarily spent at Paradise Grade School, where he left his mark not only on the building itself, with pride (like all students did), but also on the teachers and classmates who were lucky enough to have witnessed his lisped voice and beautiful, childish smirk.
Growing up in Plains was incredibly special to Justin. Not only did it provide him with the opportunity to be in the great outdoors with his family; it also gave him a tribe of people invested in him and his life. He took pride in that small town way of life and carried it with him, forever.
Justin spent his high school years in Missoula, MT and attended Big Sky High School. There, unknowingly to the both of them, he would meet the love of his life. While his focus wasn't always on books and teachers, he brought his small town light to the dark halls of this "big city" school, and his strength of character proved too big to be corralled by the typical high school norms. No matter what table you sat at, you always had a friend in Justin. And in Mr. Moe's after-lunch government class (and in between naps), Justin laid eyes on a girl, Krista Maier, who would one day steal his heart.
Shortly after graduating, he committed to his first love, patriotism and honor. The United States Army and his brothers in arms welcomed him into the family of our nation's armed service members, and he would later become Sgt. Justin Payzant of the 672nd Engineer Company, a leader among soldiers. His bright outlook and positive "can do" attitude inspired his soldiers; he was, in all aspects, a soliders' soldier. Justin was respected by his peers and his leaders alike, and whenever Justin was tasked with a mission, he led his squad with initiative and stewardship. He helped train a multitude of soldiers and gained the respect and trust of those he taught. Even when the task was tedious, Justin was able to bring a light to any of those working around him, making every part of the day more enjoyable. 672nd Engineer Company, Essayons!
In 2011 he voluntarily joined a deploying unit to fight the war in Afghanistan as part of the Operation Enduring Freedom campaign. This decision was made shortly after reuniting with Krista, that same girl from government class so many years before. On leave from this year-long tour, he met his "big city" at the courthouse on Valentine's Day to say "I do." He returned to duty as a husband, looking forward to the day he would be reunited with his new wife.
Krista and Justin spent the early part of their marriage enjoying life together as any young couple does, navigating new roles, chores, fun, and becoming adults together.
Nov 28th 2016, Justin welcomed his greatest role yet: fatherhood. Everett Barton was the rainbow that he and Krista had been waiting for. The family they had created marked the best years of Justin's life. Memories of him being an amazing father and husband will be hard for anyone to forget.
Just two short years into fatherhood, the world turned upside down with the words: Frontal Temporal Dementia. Justin started a new battle with this little known, insidious disease. While FTD tried to steal Justin of all that he was, it failed to take the most treasured qualities: his calm comforting demeanor, infectious laugh, contagious smile, and unwavering love. He refused to go without a fight, resisting the tragic decline all along the way, in classic, extraordinary, Justin fashion.
Justin leaves behind a legacy that will be impossible to forget. His love of God, family, and country is an inspiration to all who knew him, and we move forward not saying goodbye to a man who was larger than life itself––but looking forward to that time we will hear his laugh again.
Justin is survived by his adoring wife Krista Maier Payzant, son Everett Payzant, mother Jane Duboise (Dave), father Gary Payzant (Terri), sisters Cassie Craft (Kasey) and Cayla Payzant (Josh), brother Aaron Duboise (Bobi), a gaggle of nephews: Kort, Mason, Beau, Connor, Wyatt, Luke, Blake, and his only niece Lexa, whom he fondly called Rex.
Recent Headlines
---