St. Regis graduate interns with Sen. Daines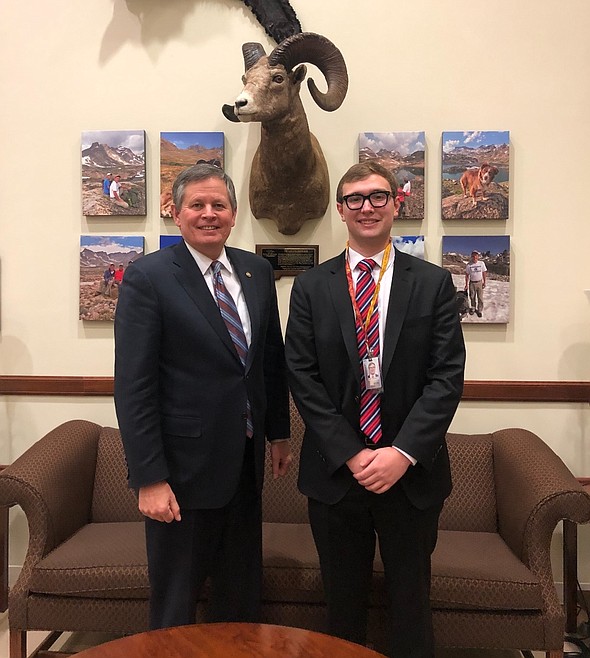 Connor Dunlap, right, may be from the small town of St. Regis but that didn't stop him from obtaining a once in a lifetime opportunity of working in Washington D.C. this spring as part of an internship team for Montana Senator, Steve Daines. (Photo courtesy/Connor Dunlap)
by
AMY QUINLIVAN
Mineral Independent
|
April 27, 2022 12:00 AM
The closest the average citizen gets involved with democratic processes of America is usually earning their "I voted" sticker each election year. And for most Montanans, the ins and outs of government and representatives is unchartered territory.
But for one young Mineral County native, he's just returning home to the Treasure State after spending the last four months in Washington D.C., working on Sen. Steve Daines' internship team.
A 2018 St. Regis graduate, Connor Dunlap shared, "As you could imagine life in D.C. is a lot different from the town I grew up in. People end up being taken back when I tell them I graduated in a class of eight people."
And after leaving the small town of St. Regis, Dunlap enrolled at the University of Montana where he is majoring in political science with a minor in philosophy.
"Moving to Missoula for college and living in Seattle for a short time in high school made me a bit more prepared for life in the big city. I am still not an expert with the metro system here but I have managed very well since I arrived and have enjoyed living in the beautiful city immensely," he said.
The busy senior was thrilled to have the opportunity to gain insight and wisdom while interning at the nation's Capitol this spring.
"I have always been interested in the political world. I believe that everyone should be knowledgeable on the subject of politics and being able to witness the democratic process in action on the Hill was a life changing experience," Dunlap remarked.
Several of his friends applied for similar positions and programs in D.C.
Dunlap said, "I applied directly through Senator Daines' website, where after a couple rounds of interviews I was lucky enough to get a spot on the team. The process took a couple months, but the senator's team was very communicative for any questions I had about the process to help me along the way."
So instead of returning to the campus this semester, Dunlap headed for the East Coast. His internship began on Jan. 10, and was comprised of various tasks throughout his time there.
Dunlap explained, "Different responsibilities such as basic office upkeep like filling printers and sorting the mail. We also are available to take calls from Montana constituents which can be a roller coaster in itself."
He continued, "Along with that we assist staff members with legislative projects, take visitors from Montana on staff lead tours, as well as deliver important documents around the offices and the Capitol."
As part of the intern team, Dunlap's daily routine started at 9 a.m.
He stated, "We were responsible for checking and filling the printers, setting out the daily mail and congressional calendars, and reading the current press releases by the Senator to be all caught up on his positions on current issues. After our morning duties are done, we spend the rest of our day doing things like filing the mail, answering phone calls from Montana constituents, and filing the daily voicemails and faxes that the office receives."
The interns had to be prepared to assist with numerous projects, such as acquiring contact information on other staff members from fellow Senator's offices if they wished to work with them on a bill. Also, they compiled research information for briefs for the Senator, and wrote summaries on committee meetings that the senator's team might wish to reference later.
Dunlap noted, "The biggest event I got to take part in recently was the confirmation hearings for Supreme Court Justice Ketanji Brown Jackson. I was lucky enough to be able to sit in the Senate Judiciary Committee room for a short section of their questioning and I was in the room when Senator Cruz did his intense questioning."
Being a part of the intern team in Washington D.C., was a dream come true for Dunlap.
He expressed, "The internship positions here on the Hill are very competitive and I am so grateful to be selected by the senator's team. I can't express how fantastic it has been to be able to see our Congress run with my own eyes."
While at the Capitol, Dunlap was grateful for his on the job learning and career development opportunities.
He recalled, "I only got to work closely with the senator a few times while working there, but I did get to shadow him for a day and it was amazing to experience. The senator is extremely polite to everyone he communicates with and is more than happy to go out of his way to help out his team."
Dunlap added, "I have even seen him make time in his schedule for last-minute visitors from Montanans visiting D.C. From everything I have seen while working in his office he is an excellent leader."
He was also happy to learn that office life and the atmosphere of D.C. was more pleasant than he expected.
Dunlap said, "Everyone on the senator's team made such a welcoming environment for the interns and made an effort to get to know us and make us feel like we were a part of the team. From what I understand, not all offices on the Hill are as inviting and it made acclimating to the job very easy."
When Dunlap wasn't occupied with staff work in D.C., he spent most of his spare time with his fellow interns he met on the Hill and those from his temporary housing.
He said, "I had plenty of time to explore some of the amazing museums here in D.C. and to try some of the amazing restaurants in the city. Restaurants that I will sincerely miss when I return to Montana."
His internship concluded on April 15, so the remainder of his semester will be spent completing a group project for the Global Leadership Initiative which is a student group at the University of Montana.
Dunlap detailed, "I will be returning soon and will be taking a fifth year at UM due to taking the majority of my classes off this semester. I will graduate in spring of next year."
So does Dunlap have any future endeavors in the world of politics, surprisingly not.
He admitted, "My eventual career goals are actually not politically related. I plan on going to law school after I graduate and I am currently preparing for the LSAT which I will take this August."
Recent Headlines
---